The Garmin Forerunner 55 is the latest entry-level unit in Garmin's line-up, and it offers and an impressive array of features for runners specifically. 
The Coros Pace 2 is a super light and super affordable GPS triathlon watch that packs a mighty punch given the price tag. You could argue that it is the best value-for-money multisport triathlon watch currently available. 
Key Similarities - Garmin Forerunner 245 vs Coros Pace 2
Forerunner 55
Coros Pace 2
GPS + GLONASS
Optical Heart Rate Monitor
24/7 Activity Tracking
Sleep Tracking
Running Indoor + Outdoor
Cycling Indoor + Outdoor
Pool Swimming
Accelerometer + Compass
Gyroscope + Thermometer
Bluetooth & ANT+ Connectivity
Quick Release Band
Stryd Compatibility
Display Size
Display Resolution
Waterproof Rating
Key Differences - Garmin Forerunner 245 vs Coros Pace 2
Forerunner 55
Coros Pace 2
Price
Physical Size
Display Size
Display Resolution
Weight
Screen Material
Satellite Systems
Smartwatch Battery
GPS Battery
Max GPS Battery
Total Sports Modes
Running Power From Wrist
Open Water Swimming
Triathlon Tracking
Barometric Altimeter
Running Coach Training Plans
V02 Max Estimates
Safety/Incident Detection
Body Energy Score (Body Battery)
Stress Tracking
Running
Treadmill Running
Track Running
Indoor Track Running
Virtual Running
Cycling
Indoor cycling
Pool Swimming
Cardio Training
Elliptical Training
Stair Stepping
HIIT (High Intensity Interval Training)
Pilates
Yoga
Run
Indoor Run
Track Run
Bike
Indoor Bike
Pool Swim
Open Water
Triathlon
Gym Cardio
GPS Cardio
Strength Training
Reasons To Choose The Forerunner 55

1. Excellent Choice For Runners
The Forerunner 55 excels as a budget-friendly GPS watch for runners. If running is your primary sport, the FR55 could be the perfect partner for training sessions and race day. On this point, it's worth mentioning that the Forerunner 55 offers the following running specific features: 
Running
Treadmill Running
Track Running
Indoor Track Running
Virtual Running
Distance, Time & Pace
Cadence
PacePro Pacing Strategies
Run Workouts
Race Predictor
Foot Pod Compatible
2. Better Activity Tracking Features
Both watches can tracking your activity 24/7, while offering sleep tracking features as well. However, the Forerunner 55 also offers body battery technology together with stress tracking. This puts it a notch above the Coros Pace on the activity tracking front. 
Body Battery Energy Monitoring: Track your body's energy levels so you can find the best times for activity and rest.
Stress Tracking: Find out if you're having a calm, balanced or stressful day. Relax reminders will even prompt you to do a short breathing activity.
3. Better Build Quality & Design
While the design of the Coros Pace 2 is super light, it has a 'cheap' look and feel that you can't really shy away from. 
Conversely, the Garmin Forerunner 55 offers a simple yet attractive design, together with excellent build quality. This could be a dealbreaker for some people.
Reasons To Choose The Coros Pace 2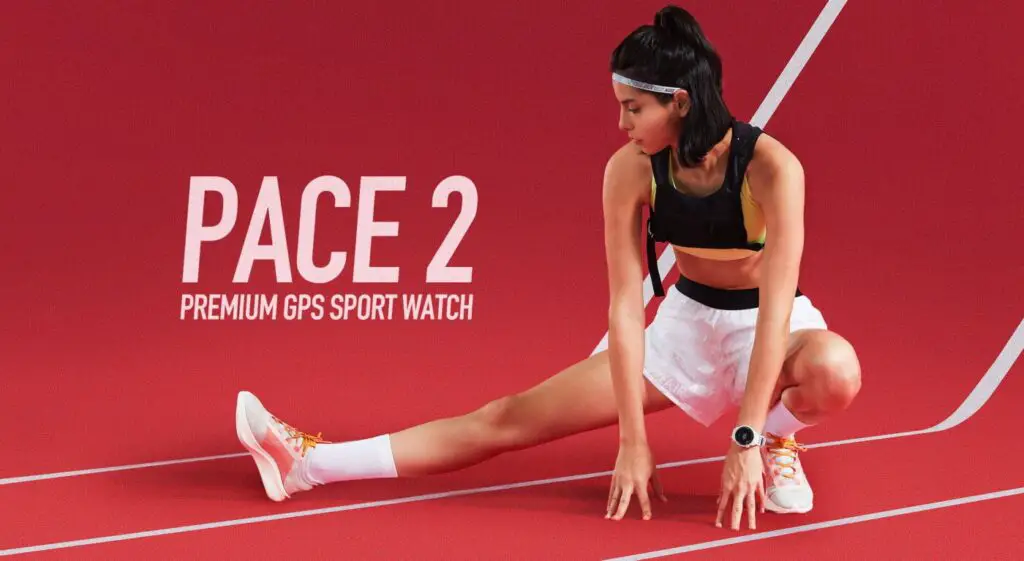 Both the Coros Pace 2 and the Forerunner 55 support pool swimming. However, only the Pace 2 can track open water swimming, which is obviously important if you participate in triathlons. 
In addition to open water swimming, the Coros Pace 2 also offers full support for triathlon tracking. If you're a triathlete looking for a budget-friendly GPS sports watch, the Coros Pace 2 should definitely feature on your shortlist. This is arguable the biggest advantage that the Pace 2 has over the Garmin FR55. 
3. Running Power From The Wrist
Polar was the first tech company to introduce running power from the wrist. With the Pace 2, Coros is the second tech company to do so. 
The obvious benefit here is that you don't have to use an accessory like Stryd or the Garmin Running Dynamics pod in order to unlock your running power stats. It's also worth noting that the Forerunner 55 doesn't have a barometric altimeter, which means that it doesn't support Garmin running power. 
In the end, this product comparison should make it clear that the Coros Pace 2 actually trumps the Garmin Forerunner 55 as a sports watch. It has a very compelling unique selling point for runners (running power from the wrist), it's an affordable option for triathletes, and it offers all the most important sports modes for most people. 
On top of all this, it manages to fit all these extra features into a package that is basically the exact same price. 
With that being said, if you prefer the Garmin brand and running is your primary sport, the Forerunner 55 is a very good choice, offering plenty of running features in a sleek and attractive design.