The Garmin Venu is one of the best activity trackers that Garmin has ever made. It's packed with sports modes, the fitness tracking features are excellent, it has a gorgeous HD touchscreen and it can store music directly on the watch. 
Then we have the Polar Ignite. This is another product which is leading Polar's revival in the wearable technology space. The fitness tracking functions are superb, the optical heart monitor is world class, and Polar's advanced sleep tracking technology goes above and beyond it's Garmin rival.
But that's just the tip of the iceberg in this particular product battle. To help you understand which watch is better suited to your needs, we are going to unpack all the key similarities and all the key differences, with a few simple buying tips at the end.  
It's time to dive into the details. 
What are the main differences between the Garmin Venu and the Polar Ignite?
The Garmin Venu has a beautiful HD AMOLED touchscreen. The Polar Ignite also has a touchscreen, but it isn't AMOLED, and the resolution isn't nearly as sharp. 
The Garmin Venu can store music directly on the watch and it supports music apps like Spotify and Deezer. 
The Venu supports  3rd party running power accessories like Stryd & RunScribe. The Polar Ignite does not. 
The Polar Ignite supports pool swimming and open water swimming. The Garmin Venu is limited to pool swimming. 
The Polar Ignite has a slightly better wrist-based heart rate monitor.
The Venu has a pulse oximeter, which can measure your blood oxygenation levels.
The Polar Ignite can track more endurance sports in total (100+ sports modes) compared to the Venu (20 sports modes).
The Venu tracks activity, sleep and stress levels. The Ignite only tracks activity and sleep levels (ie no stress tracking). 
The Garmin Venu is significantly more expensive than the Polar Ignite. 
The Venu supports ANT+ connectivity. This means it connects with more cycling accessories like chest straps and bicycle computers. 
Garmin Venu vs Polar Ignite - Key Similarities
GPS & GLONASS
Touchscreen
Wrist-Based HRM
24/7 Activity Tracking
Sleep Tracking
Smartphone Notifications
Indoor + Outdoor Running
Indoor + Outdoor Cycling
Pool Swimming
Indoor + Outdoor Rowing
Strength + Cardio Training
Customized Running Plans
Guided Breathing
Guided Workouts
Smartwatch Battery Life
Triathlon Mode
Price
Weight
Screen Resolution
Physical Size
Water Resistance
Galileo Satellite
Barometric Altimeter
Music Storage & Apps
Body Battery Score
Running Power
Pulse Oximeter
Proper Golf Tracking
ANT+ & WiFi
Safety Tracking
Payments from Watch
Menstrual Tracking
Polar FitSpark
Open Water Swimming
Total Sports Modes
GPS Battery
Comparison of Sports Modes
| Garmin Venu Sports Modes | Polar Ignite Sports Modes |
| --- | --- |
| 01) Strength Training | 01) Strength Training |
| 02) Cardio Training | 02) Cardio Training |
| 03) Elliptical Training | 03) Elliptical Training |
| 04) Stair Stepping | 04) Stair Stepping |
| 05) Indoor Rowing | 05) Indoor Rowing |
| 06) Yoga | 06) Yoga |
| 07) Running | 07) Running |
| 08) Treadmill Running | 08) Treadmill Running |
| 09) Indoor Track Running | 09) Indoor Track Running |
| 10) Trail Running | 10) Trail Running |
| 11) Cycling | 11) Cycling |
| 12) Indoor Cycling | 12) Indoor Cycling |
| 13) Pool Swimming | 13) Pool Swimming |
| 14) Walking | 14) Walking |
| 15) Snowboarding | 15) Snowboarding |
| 16) Skiing | 16) Skiing |
| 17) Cross Country Skiing | 17) Cross Country Skiing |
| 18) Stand Up Paddleboarding | 18) Windsurfing |
| 19) Outdoor Rowing | 19) Outdoor Rowing |
| 20) Awesome Golf Mode | 20) Average Golf Mode |
| | 21) 100+ Additional Modes |
Main Reasons To Choose the Garmin Venu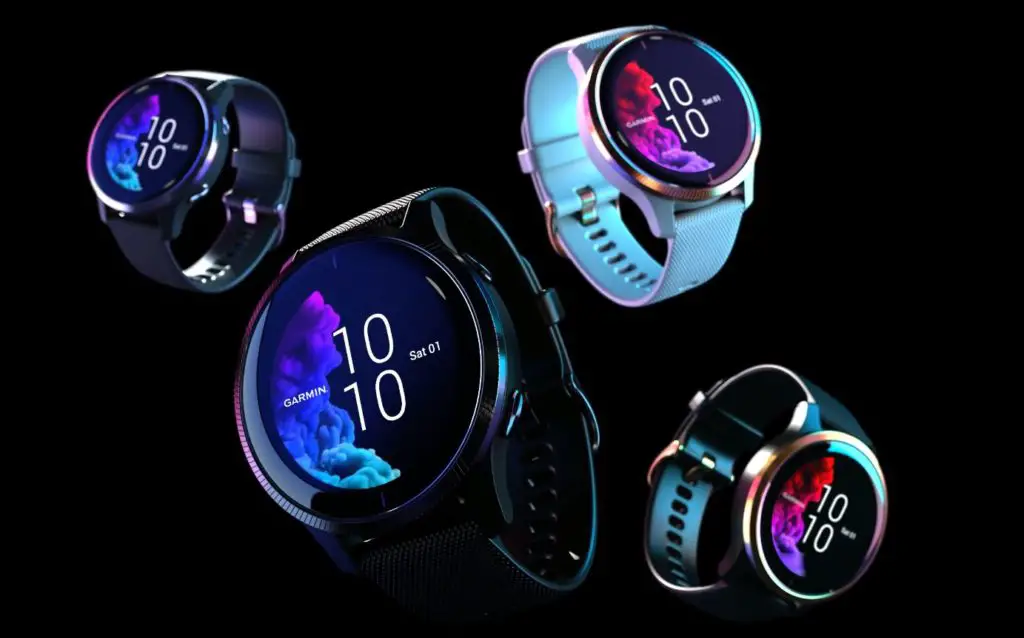 1. That Beautiful AMOLED HD Screen
Of all the sports watches that Garmin has ever made, the Venu definitely has the most impressive screen. It is literally the only watch in their line up that can go toe-to-toe with the Apple Watch from a screen resolution perspective.
In a way, Garmin could have called the Garmin Venu the Garmin Vivoactive 4 HD, because that's essentially what it is. In other words, it has all the same technology as the Vivoactive 4, with the added benefit of a stunning high definition AMOLED screen. 
Unfortunately for Polar fans, the Venu dominates the Ignite from a screen quality perspective. It's sharper, brighter and better in pretty much every way. Well played Garmin. 
1. Music Storage & Music Apps
The Garmin can store up to 500 songs (approximately 3GB's), and you can also use popular music streaming apps like Deezer, Spotify and Amazon Music. 
The Polar Ignite has no integration with music apps. If you enjoy training with headphones on, it's pretty clear that you will be better served by the Venu.  
2. The Venu's Touchscreen works a bit better
While both watches have touchscreens, the Polar Ignite has received a fair amount of criticism for the rise to wake feature. 
The key thing to understand is that the screen of the Ignite will fall into standby mode when you aren't actively using the watch. Usually, you just have to raise the watch into a position that makes the screen easy to read in order for it to wake up automatically. Unfortunately that doesn't always happen, so sometimes have to touch the screen in order to wake it properly. 
Conversely, the screen of the Garmin Venu hasn't received nearly as much criticism from product reviewers. This could be a deal-breaker for some users, and it's a compelling reason to choose the Garmin Venu rather than the Polar Ignite.  
3. It's the better choice for Runners
There are 3 main reasons the Garmin Venu is a better choice for running enthusiasts.
Reason 1: 3rd Party Support for Running Power – The Garmin Venu is compatible with Stryd and RunScribe+. This means you can unlock running power if you invest in either one of these accessories.
Reason 2: Manual Laps + Auto Laps  – The Polar Ignite is limited to automatic laps. The Venu gives you access to manual laps and automatic laps. For super passionate runners, this could be a sticking point. 
Reason 3: Garmin Coach Is Great for Beginners – Admittedly the Polar Ignite also has customized training plans, but for beginners specifically, Garmin Running Coach could be extremely helpful. 
The whole point of Garmin Coach is to create personalized training plans built by some of the most respected running coaches in the industry. It has a nice interface, and it's reassuring to know that your individual training plan ultimately stems from a world class running coach. 
4. It's the better choice for cyclists
There's one main reason the Garmin Venu might be the better choice for avid cyclists. 
The Garmin Venu supports ANT+ connectivity. This is important, because there are tons of cycling accessories like Wahoo chest straps and cycling computers which rely on ANT+ connectivity to sync with your watch during your ride.
So, if you already own several cycling accessories or you want the ability to connect to 3rd party devices using ANT+ connectivity, the Venu is the better choice. Admittedly Polar have their own cycling accessories which can compete with any 3rd party equivalent. However, it's still nice to have the freedom to choose Garmin accessories and 3rd party accessories, if you opt for the Venu.
5. The Golf Mode Is Much Better
When it comes to golf tracking, the difference between the two watches is significant. Even though the Polar Ignite can track your cardiovascular activity and movements during a round of golf, that's where the functionality stops. 
On the other hand, the Garmin Venu gives you the kind of technology that you would expect in a dedicated golf watch like the Garmin S40 or the Garmin S60. Basically, that means: 
Yardage to the whole
Yardage to hazards
Automatic measurement of shot distance
Digital scorecard
Round timer
6. It's a better Smartwatch
Even though neither watch can compare with the Apple Watch in terms of 'smart' features, the Garmin Venu is considerably closer to that ideal than the Polar Ignite.
The Venu is basically a sports and fitness watch, with a decent number of smart features. The Polar Ignite is primarily a sports and fitness watch, without any ambitions of competing in the Smartwatch space. 
Ultimately, the combination of a more reliable touchscreen and additional smart features like music tracking and the ability to download 3rd party apps through Garmin connect makes the Garmin Venu the better smartwatch overall. 
Main Reasons To Choose the Polar Ignite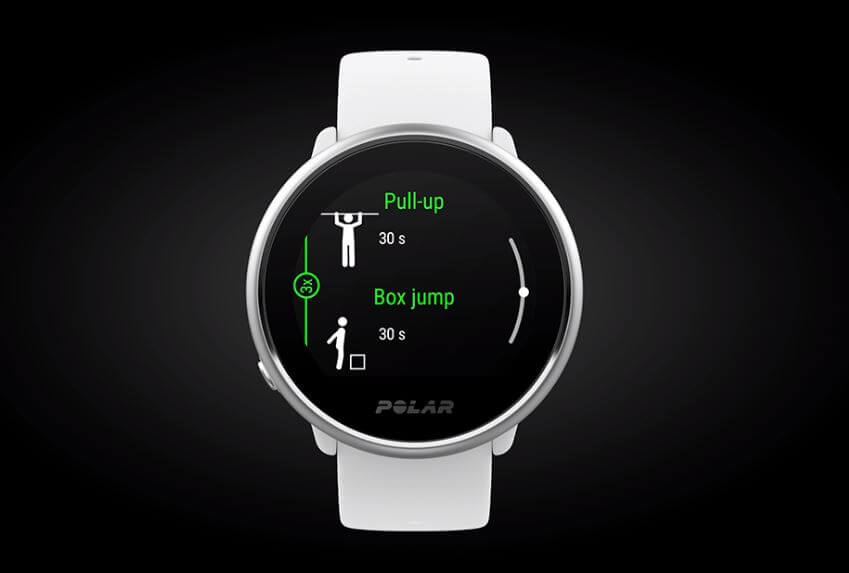 1. It's a lot cheaper (and almost as good)
You only need to re-look at all the similarities listed at the top of the article to appreciate just how good the Polar Ignite is, as a dedicated fitness watch.
It might not have all the bells and whistles that Garmin offers, but for straight up sports and fitness tracking, it can go toe-to-toe with the Garmin Venu quite easily. 
This is especially important when you bring price into the equation. Because the watches are so similar from a sports and fitness perspective, you could easily just save yourself a few bucks and go for the Ignite. 
2. The Optical Heart Rate Monitor is a bit better
It's worth mentioning that Garmin have been improving their wrist-based heart rate monitor over the years, and the Garmin Venu is equipped with the latest elevate HRM (V3). 
However, the simple reality is that Polar have gone a step above every other fitness company by introducing two variables that no one else can compete with. 
Variable 1: 9 LED's to measure bloodflow
No other brand is using as many LED's to help ensure the best possible average measurement. While Garmin, Suunto and Coros usually have less than 4, Polar have taken it to the next level with 9 LED's in total. This allows Polar's precision prime heart rate technology to calculate an average reading, based on multiple measurement points. It's hard to fault this approach. 
Variable 2: Skin Contact Measurement Points
This is another key differentiator from Polar. Where the Garmin Venu will continue to try reading your heart rate (even when the watch is not on your wrist), the Polar Ignite is a bit smarter.
As soon as the watch detects that it has lost  contact with your skin, it will stop taking in measurements from the optical heart rate monitor. No Garmin, Suunto or Fitbit product will do this automatically. It's definitely one of the key selling points of Polar's precision prime optical heart rate technology, which is only found in the Polar Ignite, the Polar Vantage M and the Polar Vantage V. 
3. The Sleep Tracking Technology Is Awesome
The Polar Ignite was actually the first product in Polar's line-up to introduce their nightly recharge technology. The whole point is to measure how well you are sleeping, and how well your autonomic nervous system is resting during your periods of sleep. 
In other words, your nightly recharge status is a combination of sleep quantity and how well your body is recovering during that sleep. Moreover, this measurement is actually taken over a 28 day period, which helps to stabilize the data and identify any noticeable deviations from the norm (that could indicate that there's a deeper issue at play and that you deeply need to get some more quality sleep). 
Ultimately, Polar have done a great job with their nightly recharge technology. It is now available in the Polar Ignite and the Polar Vantage series of watches. 
4. The Polar Flow App Is Excellent For Tracking Your Fitness
While Garmin connect is perfectly adequate for keeping track of your fitness levels, the Polar flow app takes it to another level. 
The insights that you gain are deeper, the dashboards are well thought out, the layout is intuitive and the data is easy to understand.
Ultimately, Polar Flow is about as good as it gets for measuring your health and fitness levels. With the Polar Ignite, you get to enjoy all the benefits of this amazing software, at no extra cost to you. 
Polar's Fitspark Technology Is Impressive
Polar's FitSpark training guides offers ready-made daily on-demand workouts that match your recovery, fitness level and training history.
How Fitspark Works: In essence, the Ignite will serve you 2-4 workout options every day: one that suits you best and 1-3 other options to choose from. The workouts are built to match your fitness level, training history and  recovery status (based on the quality of your sleep from the previous night). 
Ultimately, Polar's Fitspark technology is like a more advanced version of Garmin's guided workouts. If you're a fitness fanatic that wants challenging, custom made workouts delivered to your watch every single day, the Polar Ignite could be the perfect watch for you. 
We've run through all the major differences between the two watches, and highlighted some of the best features along the way. If you're still on the fence at this point, these simple buying tips might help you make the final call. 
Go for the Garmin Venu if: 
You want the better Smartwatch
You need music storage and music apps
You are partial to high definition touchscreens
You're a passionate runner
You're a keen cyclist
You're big into golf
Go for the Polar Ignite if:
You're on a tight budget
You want a world class wrist based heart rate monitor
You're a fitness fanatic that is likely to use Polar's Fitspark workout routines
You want access to more endurance sports modes (the ignite supports more than 100)
You swim outdoors regularly (the Venu only supports pool swimming)
Resources Used In this Post