The Polar Vantage M is arguably the best value for money triathlon watch currently available. It looks good, it has a great battery life, and the triathlon specific features are excellent.
Then we have the Garmin Forerunner 935, which is an extremely popular and highly accomplished multisport GPS watch that has become increasingly more affordable over the years. Even thought it has been succeeded by the Forerunner 945, it still packs a mighty punch if you consider the combination of features, value and price.
But which watch is better suited to you? The goal of this post is to help you make a final decision. Let's get started. 
Summary of main differences between the Polar Vantage M and the Garmin Forerunner 935
More Sports Modes – The Polar Vantage M gives you access to 100+ sports modes. The Forerunner 935 only boasts 22 sports modes, but fortunately most people will be more than covered by these. 
Better Sleep Tracking – The Vantage M has more advanced sleep tracking than the FR935. Polar's nightly recharge functionality is industry leading. 
Optical Heart Rate When Swimming – With the Vantage M, you can measure your heart rater underwater with the wrist-based HRM. The FR935 doesn't share this ability. 
Customized Workout Recommendations – The Vantage M includes Polar's Fitspark technology. This creates individualized workout programs based on your fitness level and nightly recharge score. It's pretty nifty. 
Advanced Running Dynamics – The FR935 supports advanced running dynamics, which include 6 key running specific metrics, like ground contact time and vertical oscillation with each stride. 
Native Running Power – While both watches are compatiable with Stryd, the FR935 is also compatible with Garmin Running power. This is important, because the Garmin accessories needed to unlock running power are much cheaper than Stryd. 
ANT+ & WiFi – This is a big win for the FR935. WiFi makes data transfer with your phone faster and easier, while ANT+ connectivity opens up a bunch of different cycling accessories.  
Proper Golf Mode – The golf mode on the Vantage M is laughable. The golf mode on the FR935 is brilliant. The watches aren't really comparable in this regard. 
Key Similiarities - Polar Vantage M vs Garmin Forerunner 935
GPS, GLONASS & GALILEO
Wrist-based HRM
24/7 Activity Tracking
Sleep Tracking
Triathlon Mode
Indoor + Outdoor Running
Indoor + Outdoor Cycling
Indoor + Outdoor Swimming
Indoor + Outdoor Rowing
Multiple Cardio Modes
Personalized Running Programs
Gyroscope + Accelerometer + Compass
Bluetooth Connectivity
Smartphone Notifications
Replaceable Straps
3rd Party Running Power
Display Resolution
Music Storage & Apps
Payments from Watch
Key Differences - Polar Vantage M vs Garmin FR935
Price
Weight
Physical Dimensions
Optical HRM When Swimming
Polar FitSpark
Stress Tracking
Advanced Running Dynamics
Native Running Power
Proper Golf Mode
ANT+®, Wi-Fi®
Barometric Altimeter
GPS Battery Life
Extended GPS Battery
Smartwatch Battery
Waterproof
Total Sports Modes
Main Reasons To Choose The Polar Vantage M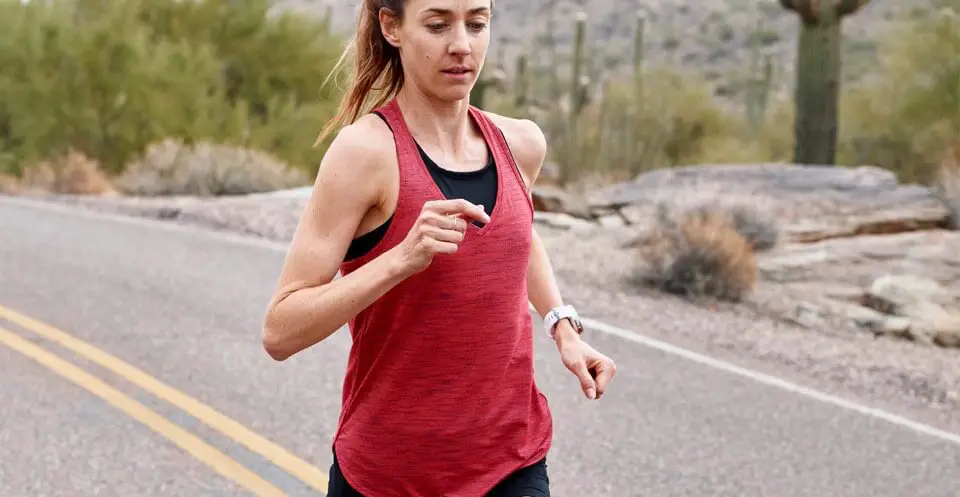 1. Slightly Better Optical Heart Rate Monitor
There are three key improvements that the Polar Vantage M optical heart rate monitor has over the Forerunner 935. 
1 – Skin Contact Points: These ensure that your skin is actually in contact with the watch when the measurements take place. The FR935 doesn't share this seemingly 
2 – More than double the amount of optical measurement points: The FR935 has 3 optical measurement points, while the Polar Vantage M has 8. The watch then takes an average reading from all of them. 
3 – Underwater optical heart rate readings – Technically, you don't actually need a chest strap to power you through a full triathlon if you go for the Polar Vantage M. This is because it can measure your heart rate underwater, using the wrist-based HRM. 
Obviously a chest strap is still the gold standard for heart rate measurements, but it's still nice to have the option of ditching the chest strap during training or even races if need be. 
2. Over 70 Additional Sports Modes
If there's one area where Vantage M truly shines, it's the sheer number of sports modes that you can track. With the Forerunner 935 you are limited to 29 sports and fitness modes. With the Vantage M, you can access to 130+ sports and fitness modes. 
Admittedly most people will almost certainly be able to track their sport of choice if they opt for the Forerunner 935, but still, you can't deny that the Vantage M is the outright victor in terms of total sports modes. 
3. The Polar Vantage M Is More Affordable
Simply put, the Polar Vantage M is about 50-70 dollars cheaper than the Garmin Forerunner 935. 
This is significant, because the Polar Vantage M can match the Forerunner 935 in most departments. It also further emphasizes that the Polar Vantage M is one of the best value for money triathlon watches currently available.
Ultimately, if you are an experienced endurance athlete in need of a reliable GPS watch to power you through running, cycling and swimming sessions, the Vantage M could be a very good fit. 
Better Sleep Tracking Technology
The key to Polar's advanced sleep tracking is called Nightly Recharge. "Nightly Recharge™ is an overnight recovery measurement that shows you how well you recover from the demands of your day. It helps you make optimal choices in your everyday life to maintain overall wellbeing and reach your training goals."
You do get sleep tracking with the Forerunner 935, but it's not quite ad advanced. It essentially gives you total sleep, periods of movement and periods of restful sleep.
Polar's FitSpark technology is all about recommending workouts that can take your fitness to the next level. In essence, it factors in your current fitness levels and your sleep data, and then suggests multiple workout options for your next session.
Garmin has similar guided workout technology, but it is not found in the Forerunner 935.
Main Reasons To Choose The Garmin Forerunner 935

1. Advanced Running Dynamics + Garmin Running Power
Advanced Running Dynamics – The bullet points below further explain all the benefits that come with advanced running dynamics. 
Ground Contact Time – The amount of time your foot spends on the ground with each stride.
Ground Contact Balance – The symmetry between your left and right foot when running. 
Vertical Oscillation –  The degree of upward 'bounce' in your running motion. Lowering this stat can increase running efficiency. 
Vertical Ratio  – The cost-benefit ratio with stride length. This allows you to discover the ideal stride length for chasing down a new PB. 
Cadence – Real time cadence stats displayed on the FR935. 
Stride Length – Real time stride length stats displayed directly on the Forerunner 935.  
Garmin Running Power: Even though both watches support 3rd party running power devices like Stryd and RunScribe+, the Forerunner 935 also offer support for Garmin Running Power.
It's important to note that in order to unlock advanced running dynamics and Garmin running power, you need to invest in one of the following three accessories.
Although the Polar Vantage M can track your cardiovascular activity during a round of golf, that is pretty much where the functionality stops. 
Conversely, with the Garmin Forerunner 935 you essentially get a fully fledged golf watch as part of the deal. The golfing features include: 
Yardage to front, middle and back of green
Automatic shot distance tracking
Yardage to layups/doglegs
Stat Tracking
Digital scorecard
Green view with manual pin position
For golfers, choosing between these two watches is pretty simple. The FR935 wins the golf battle hands down. 
3. Access To More 3rd Party Cycling Accessories
Support for ANT+ connectivity is the key difference between the Forerunner 935 and the Vantage M from a cycling perspective. The main benefit of ANT+ is that a lot of cycling accessories rely on ANT+ to communicate with the watch in real time. 
The end result is that the Forerunner 935 is fully compatible with more cycling accessories than the Polar Vantage M. This could be a deal breaker. 
4. The Forerunner 935 Is A Better Smartwatch
There are two main reasons the Forerunner 935 is a better Smartwatch than the Polar Vantage M. 
1 – Garmin Connect App & Enhancements: This opens up a large variety of apps that can enhance your experience as a Forerunner 935. For instance, you can customize the watch face, add new data fields to display on the screen when training, and add a bunch of fitness apps and functions that aren't part of the default make up of the FR935. 
2 – Controlling Smartphone Music – Even though neither of these two watches supports music storage, with the Forerunner 935 you can control your smartphone's music playback using the watch. So if you are using your phone + bluetooth headphones to listen to music, it's pretty convenient to be able to change the song using your watch. This is particularly true when you are running, be it on the road or on the treadmill. 
We've run through the high level differences, and we've examined all the finer details of these two watches. If you're still on the fence at this point, these final buying tips might help you make a decision:
Go for the Polar Vantage M if:
You're on a tight budget – The Vantage M offers very good value for money. 
You want access to more endurance sports modes in total – Just about every sport is covered by the Vantage M. 
You want an optical HRM that can measure your heart rate underwater – Only the Vantage M can do this. 
Go for the Garmin Forerunner 935 if:
You want more smart features – The FR935 functions better as a Smartwatch, and the additional apps available through Garmin connect can massively expand the abilities of the watch.  
You're big into cycling – Having access to more cycling accessories through ANT+ support is a gamechanger. 
You play golf – The FR935 is basically a dedicated golf watch and a dedicated triathlon watch. This decision is a no-brainer if you play 18 holes regularly. 
You take running seriously – Advanced running dynamics and native running power support are two pretty big drawcards. 
Resources Used In This Post