The Polar Vantage M is a budget friendly GPS triathlon watch that you should meet the needs of any athlete that specializes in endurance sports. 
The same can be said of the Forerunnner 945, except the FR945 also introduces a huge array of technological features in addition to excellent triathlon tracking. In fact, the Forerunner 945 is basically a Garmin Fenix 6 Pro, with a smaller frame and a more affordable price tag. 
In this post, we are going to unpack all the key similarities and all the key differences between these two watches, to help you understand which unit is better suited to your needs and budget. Let's get cracking. 
What are the main differences between the Polar Vantage M and the Forerunner 945?
Total Sports Modes – Despite the cheaper price tag, the Polar Vantage M actually supports more sports modes (100+) than the Forerunner 945 (30 sports modes).
Pulse Oximeter – The FR945 has a pulse oximeter which can measure your blood oxygen levels. The Vantage M does not. 
Smart Features – The Forerunner 945 is a much better smartwatch. You can download custom apps from Garmin connect, send automatic safety alerts, store music, make payments and a whole lot more. The Vantage M can't compete in terms of smart features. 
Music Storage – This is a key selling point for the FR945. You can store up to 1000GB of music and use popular apps like Spotify, Deezer and Apple Music. 
Stress Tracking – The Forerunner 945 gives you access to stress tracking features. This isn't available on the Vantage M. 
Advanced Running Dynamics – The FR945 trumps the Vantage M as a running watch because of these additional running specific metrics.
Genuine golf mode – Simply put, the FR945 has the same features that you would expect in a dedicated golf watch.  
TOPO Maps – This is arguably the biggest difference. With the FR945, you get full colour TOPO map technology baked into the watch. This is great for running, cycling and hiking outdoors. There is no equivalent feature on the Vantage M. 
Polar Vantage M vs Garmin Forerunner 945 - Key Similarities
GPS, GLONASS & GALILEO
Wrist-based HRM
24/7 Activity Tracking
Sleep Tracking
Triathlon Mode
Optical HRM when Swimming
Indoor + Outdoor Running
Indoor + Outdoor Cycling
Indoor + Outdoor Swimming
Indoor + Outdoor Rowing
Multiple Cardio Modes
Personalized Running Programs
Gyroscope + Accelerometer + Compass
Bluetooth Connectivity
Replaceable Straps
3rd Party Running Power
Display Resolution
Polar Vantage M vs Garmin FR945 - Key Differences
Price
Weight
Physical Dimensions
Polar FitSpark
Garmin Body Battery Score
Stress Tracking
Advanced Running Dynamics
Pulse Oximeter
Payments from Watch
Native Running Power
Garmin ClimbPro + PacePro
TOPO Maps
Heat + Altitude Acclimation
Ski Resort Maps
Pre-Loaded Golf Course Maps
Music Storage
GPS Battery Life
Extended GPS Battery
Smartwatch Battery
Waterproof
Total Sports Modes
Main Reasons To Choose The Polar Vantage M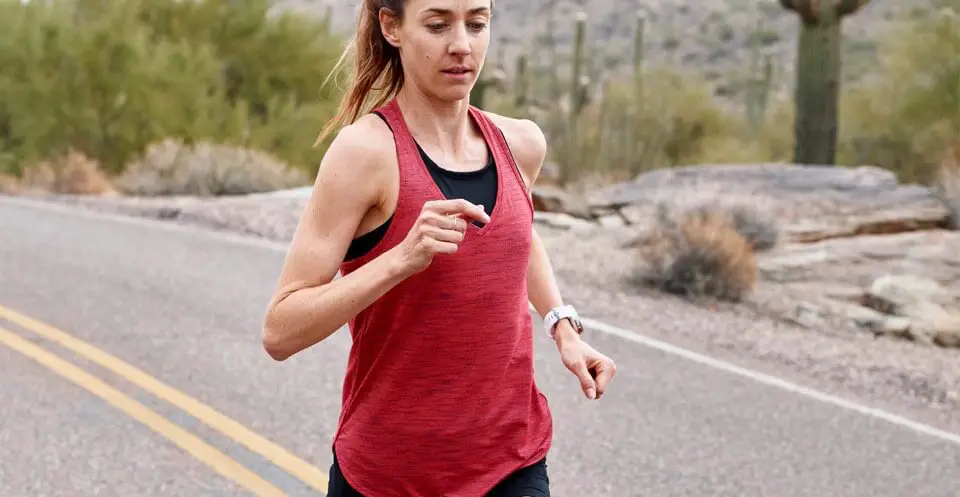 It's much more affordable
The Polar Vantage M is arguably the best value for money triathlon watch in the world right now. 
It might not boast all the technological bells and whistles found in the Forerunner 945, but it still performs exceptionally well as a dedicated sports watch for endurance athletes. 
The optical heart rate is slightly better
There are two reasons the Vantage M can claim the better optical heart rate. 
1 – Skin contact points – The point of these is to ensure that the heart rate is actually in contact with your skin while the heart rate measurements are taking place. This seems like it should be stock standard in all optical heart rate monitors, but that simply isn't the case.  
2 – More optical heart rate measurement points – With the Vantage M, you get 8 optical points, while the Forerunner 945 only has 3. Polar's end goal is to average out all 8, in order to get a more reliable result. 
The Vantage M Has More Sports Modes In Total
The number of sports modes that the Polar Vantage M can track borders on ridiculous. Where the Forerunner 945 can track 30 sports and activities in total, the Vantage M ups the ante with more than 100. 
Main Reasons To Choose The Forerunner 945

Music Storage & Music Apps
This is a solid win for the Forerunner 945. Where Garmin has invested solidly into music functionality, Polar have taken the opposite approach, stripping out almost all functions that aren't directly related to sports and fitness.
To refresh some of the more important details, with the FR945 you essentially get: 
1000 GB of music storage
The ability to use music apps like Spotify, Deezer and Amazon music
The Polar Vantage M excels as a multisport triathlon watch for people who are focused exclusively on endurance sports.
The Forerunner 945 also excels as a multisport GPS triathlon watch, but it has the added benefit of premium Smartwatch features. You can download additional apps from Garmin connect store, customize the watch face, send an automatic safety alert via your phone if something goes wrong, and a whole lot more.
Ultimately, the FR945 is a more competent smartwatch than the Vantage M. If you're a tech geek and a fitness fanatic, it's definitely the better choice. 
It's a better choice for serious runners
There are two mains reasons the Forerunner 945 is better suited to serious runners. 
1 – Native Support for Running Power: Even though both watches support 3rd party running power devices like Stryd and RunScribe+, the Forerunner 945 ups the ante with support for Garmin Running Power as well. Admittedly you will still need to invest in either the Garmin HRM-Run, Garmin HRM-Tri or the Garmin advanced running dynamics pod in order to unlock Garmin running power.  
2 – Advanced Running Dynamics – The bullet points below further explain all the benefits that come with advanced running dynamics. 
Ground Contact Time – The amount of time your foot spends on the ground with each stride.
Ground Contact Balance – The symmetry between your left and right foot when running. 
Vertical Oscillation –  The degree of upward 'bounce' in your running motion. Lowering this stat can increase running efficiency. 
Vertical Ratio  – The cost-benefit ratio with stride length. This allows you to discover the ideal stride length for chasing down a new PB. 
Cadence – Real time cadence stats displayed on the FR945. 
Stride Length – Real time stride length stats displayed directly on the Forerunner 945.  
It's a better choice for avid cyclists
The main reason the Forerunner 945 is a better choice for cyclists is becasue of ANT+ connectivity. There are a huge number of cycling accessories which require ANT+ connectivity in order to pair with the a GPS watch.
Sadly, the Polar Vantage M doesn't support ANT+ connectivity, which can be very limiting in terms of cycling accessories. You should be able to find what you need within the Polar ecosystem, but still, it's somewhat annoying that Polar have limited their watches in this way. Fortunately, you will have no such issues if you go for the Forerunner 945. 
Topographical Maps (TOPO Maps)
Typically, Garmin's TOPO maps are only included with their most expensive watches, meaning the Fenix range and above. However, the FR945 was the first Forerunner to receive this premium feature, making the value offering of the watch very solid overall. 
TOPO maps great for trail running and hiking, and they are also very useful if you're navigating unfamiliar streets in the city.
In a way, it's a bit like having Garmin's car navigation technology packed into a GPS watch. It's safe to say that whenever you find yourself in unfamiliar terrain, TOPO maps will be very handy. You will know exactly where you're going, and how to get back to where you started.  
Garmin PacePro & Garmin ClimbPro
Garmin ClimbPro gives you a better understanding of all the upcoming climbs along your training route (when running our cycling outdoors). It detects all the climbs, and makes all the important information available to you as you approach it. This includes:
Distance remaining in the climb
Ascent remaining in the climb
A chart with a profile of the climb
Average gradient for the climb
Garmin's PacePro technology is designed to help you achieve your target time during training and races. It's a bit like having a pacemaker built into your watch, for the entirety of the race. 
Also, it's worth mentioning that Garmin's PacePro technology factors in both uphill and downhill sections of the course, setting a slower target pace during uphill sections and a faster target pace during downhill sections. This is a nice touch. Factoring in the contours of the route helps the watch set an achievable pace during challenging sections of a course.
Polar list golf as one of the sports tracks by the Vantage M, but the simple reality is that these two watches aren't comparable in this regard. The Vantage M will basically summarize your movement patterns, calories burned and miles walked during a round of golf. 
Conversely, the Forerunner 945 will give you all the same fitness stats, and very valuable golf data, including: 
Yardage to the whole
Yardage to hazards
Automatic measurement of shot distance
Digital scorecard
Round timer
In other words, the Forerunner 945 is comparable to a dedicated golf watch. The same cannot be said for the Vantage M. 
Even though the Forerunner 945 is the overall victor of this product battle, the Vantage M is still a very high quality triathlon watch with a much more affordable price tag. Ultimately, it may boil down to this: 
Go for the Polar Vantage M if:
You're on a tight budget
You want to track just about any sport that a human being can participate in
Your main focus is triathlons, and you aren't too worried about smart features
Go for the Forerunner 945 if: 
You want more smart features
You like listening to music when you train
You want a proper golf mode
You are likely to use the TOPO map technology when running or cycling outdoors
You want access to Garmin PacePro and Garmin ClimbPro
You want one of the best sports watches that Garmin has ever made
Resources Used In This Post