So you want to know if a treadmill is worth buying? The answer to this question depends primarily on 3 things. 
Do you enjoy running?
Will you integrate treadmill sessions into your routine?
Are you willing to buy a treadmill that matches your needs as a runner?
In this post, I'm simply going to explain why these factors are so important when deciding if you should invest in a treadmill. 
Key Factor 1: Do You Actually Enjoy Running?
To be perfectly honest, I'm not sure why someone would commit to buying a treadmill if they don't enjoy running. However, you might still be in the early phases of your running career, or you might be looking at a treadmill as a potential solution for weight loss/weight maintenance. 
The point is this. You need to be 100% sure that running is something you enjoy. If the thought of stepping onto the treadmill (or out onto the road) doesn't give you at least a mild dose of excitement, then it might be better to keep your money in your pocket and find a more appropriate exercise solution. 
If you like running, keep reading
If you don't, it's time to bounce like an olympic gymnast on one of those monster trampolines
Key Factor 2: Will you change your routine?
This is another massively important consideration when making this decision. Changing your behaviors and routines is surprisingly difficult. If you aren't willing to rework your routine, that shiny new treadmill could easily become an expensive dust collector. 
Let me give you an example. 
I installed a pull up bar in my house a few years ago, thinking that I would use it almost every time I stepped into the garage. A mate of mine then let me borrow a bunch of other fitness equipment, and I actually had a pretty decent home gym setup. All of a sudden I was training 3-4 times a week, without even thinking about it.
Then my mate moved overseas and took all of the equipment back (except the pull up bar). My workout sessions quickly dissolved, and I stopped using the pull up bar altogether. 
I stopped using the Pull-up bar for two reasons.
When the other equipment was removed, I fell out of the routine
I didn't feel like I could complete a full workout anymore
The good news with a treadmill is that you can definitely complete a full workout with this piece of equipment alone. For instance, you could comfortably start burning 500+ calories per session, once you get your fitness levels up. That should qualify as a full workout, even by military standards. 
That being said, you still need to be very careful with your routine. A few slip ups could deflate your motivation and destroy all the future exercise sessions that you have planned.
If you're worried about this happening to you, I suggest you read Mini Habits or Mini Habits for Weight Loss, both authored by Stephen Guise. He has some very simple strategies for building exercise habits and routines. 
Key Factor 3: Buying A Treadmill That Matches Your Needs As A Runner
At this point, I think it's fair to assume that you're passionate about running and you're reasonably confident you will be able to build treadmill sessions into your existing routine. 
There are quite a few things to consider when choosing a suitable treadmill, but these factors should be right at the top of your list. 
Maximum Weight Capacity – Aim for 300 lbs or more
Maximum Treadmill Speed – 10 mp/h or more is very respectable
Maximum Incline – 10% incline or more if possible
Treadmill Belt Length – 20″ x 55″ should be your minimum acceptable length
Treadmill Motor Horse Power – Aim for 2.5 CHP or more
Easily foldable – Don't underestimate the convenience of a folding design. 
iPad (Tablet) Holder – A must have for most modern humans. 
Reputable Brand – NordicTrack, Xterra,  ProForm and BowFlex are all great brands.
Warranty – You want at least 5 years. 
Price – Obviously you need to be able to afford it. Try find an option from the brands above that fits within your budget. 
More Tips For Finding The Perfect Treadmill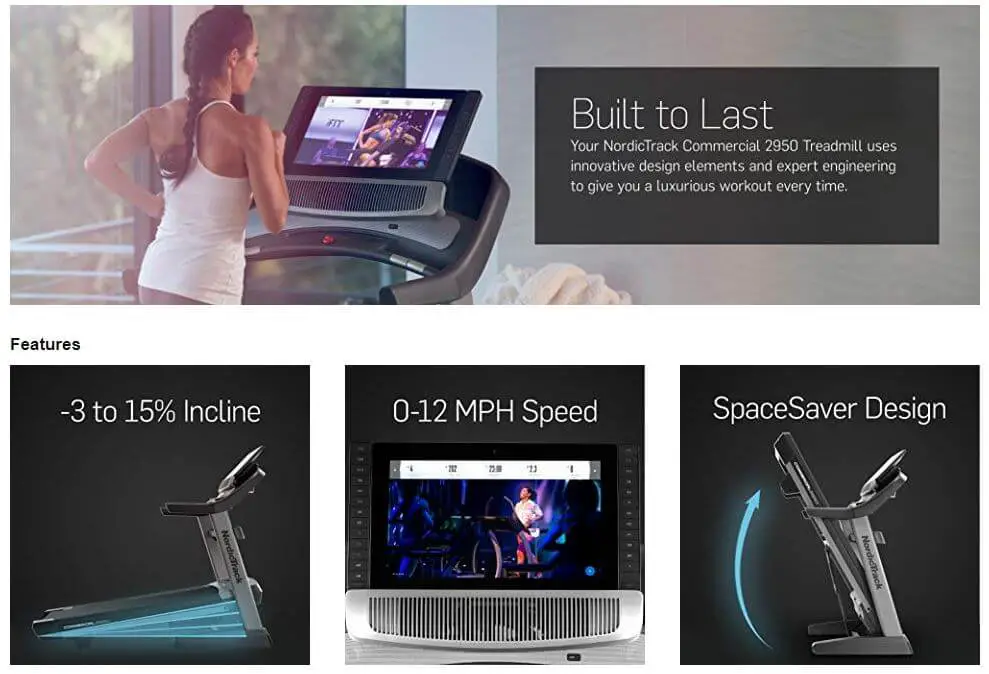 If you're still here, you might be interested in this treadmill buyers guide. It lays out a bunch of great options, and all of them have Tablet (iPad) holders, or built-in screens (or both). 
6 Major Benefits of Owning A Treadmill
If you're firmly set on buying a treadmill, it's worth keeping these simple benefits in mind to reduce the potential for buyer remorse. 
You can save a ridiculous amount of time – For most people, travelling to the gym will take 15 minutes or more. This adds up to more than 30 minutes there and back. If you have the treadmill at your house, you can use that 30 minutes for running rather than driving. This adds up to a lot of hours over the course of a year. 
You never have to worry about bad weather – You don't have to put on sun block, it's never windy, and you don't have to worry about rain when your treadmill is safely stowed inside your house. Basically, you never have an excuse to avoid your daily run. 
You don't have to worry about personal safety – This applies more to women, but men are also at risk when they go for runs outdoors. A decent number of runners get hit by cars every year, and some runners have to carry pepper spray in order to protect themselves. Sadly, the world can be a chaotic place, but you can avoid this chaos altogether by staying in the confines of your own home.
Say goodbye to showers at the gym – I know it's important to be comfortable in your own skin, but some members at the gym are ridiculously obnoxious in the changing rooms. Blow drying your hair, without a towel on should be illegal in a semi-public setting. 
You may reach a whole new level of exercise consistency – This might be the number one benefit of owning a treadmill. There is a strong possibility that you will find more opportunities to exercise during the week than you ever have. This could have a tremendously positive effect on your waistline and your cardiovascular fitness levels over time.
I don't think it's necessary to list any more benefits. At this point, you're either in or you're out. If you're serious about finding a treadmill for your home, remember to check out our buyer's guide.