If you own an android smartphone, you have all the tech you need to start tracking your runs with pinpoint precision. 
In fact, there are bunch of super popular activity Trackers like the Fibit Charge 3 and Fitbit Versa that actually rely on your phone's GPS in order to record accurate running data. So don't underestimate just how powerful your Android device can be as a full blown GPS running device.
However, to unlock your phone's true power, you need to download the best running app for android specifically. Let the countdown to number 1 begin. 
MapMyRun gives you the ability to track and map every run, while recording all your most important running metrics in the process. It is well suited for beginners and veterans of the sport, and has over 40 million users. It currently has a 4.5 rating on Google Play, from 194 124+ reviewers.
It might seem obvious from the name, but it is still worth pointing out. The best thing about MapMyRun is the ability to discover and create new routes. To truly take advantage of this feature, you need to use your desktop rather than your mobile phone. 
When logged on to the desktop version of the app, you can search for routes around your neighborhood. Once you discover a route that looks good, you can send it to the mobile version of the app via email. It will then appear in your bookmarked routes.
For instance, I used MapMyRun to discover a nice 10k training route that literally starts in my street. This benefit alone makes MapMyRun worth a download. 
Setting Goals with MapMyRun
MapMyRun includes a nice goal setting function in the free version of the app, so if you have some important distance targets, it can help you hit them. When creating goals, you get the option of:
Distance goals – Choose a distance and a time frame – Example 30km's in 1 week.
Duration goals – Choose a duration and a time frame – Example – 3 hours of running in 1 week. 
Workout goals – Choose how many times you want to workout – Example – 3 times in 1 week
MapMyRun includes route leaderboards where you can see who ran the fastest time over a particular route. However, you can only see the fastest time, so it is isn't really a leaderboard. 
The reality is that Strava is infinitely better in this respect. If you want to see comprehensive leaderboards that reveal everyone that has run a particular route (and where you rank on the leaderboard) Strava is actually the app for you. 
You can't control your music from the Android version of MapMyRun. The worst part is that this feature is built into the iPhone version of the app. I can only imagine that the developers have struggled to port this functionality over to Android. Very annoying indeed. 
MapMyRun is a solid GPS running app with impressive route discovery technology. You can find new routes, create new routes or even manually track a route that you've completed without your phone.
As a standalone running app, it performs well, giving you all the standard running metrics that you would expect (pace, distance, time etc). The goal setting feature is good for people hoping to take their running to the next level, and it is super easy to view all your running activities.  
Number 4: C25K (Couch To 5K)
This is the original Couch to 5k app, and it continues to lead the pack in terms of running apps for beginners. It has helped millions of runners make it through their first 5k race, and for this alone the C25K app developers should be applauded.  
The real magic of this app is that it provides a really simple guideline for unfit people to follow. 
Instead of assuming that you are a running veteran with plenty of miles under your belt, the C25K app guides you through each and every step on your 5k journey. It is is literally designed for people who are ready to transform from couch potato to running tomato, but need a large amount of help along the way. 


How the C25K App Actually Works
To follow the C25K program, you need to train 3 days a week, for at least 8 weeks. The good news is that by the end of the second month, you should be able to run a 5K comfortably. Here are some examples of what the workouts look like:
Week 1: Brisk 5 minute warm-up walk. Then alternate 60 seconds of jogging and 90 seconds of walking, for a total of 20 minutes. 
Week 4: Brisk 5 minute warm-up walk. Jog for 3 mins; Walk 90 secs; Jog 5 mins; Walk 2.5 mins; Jog 3 mins; Walk 90 secs; Jog 5 mins. 
Week 8: Brisk 5 minute warm-up walk, then jog 2.75 miles (or 28 minutes). 
This is the best running app for absolute beginners that still need to develop their stamina and fitness. The training schedule is designed by experts, and it's gentle enough to ensure that your body doesn't take too much strain along the way. 
If you are a running newbie and you need guidance to get started, this is the running app for you. 
Runkeeper is a super popular android friendly running app with a highly respectable Google play review score. It has been downloaded over 10 million times and has a 4.5/5 rating from 513 216+ reviewers. So it's safe to say that a lot of people back this app. 
Runkeeper has a really nice activity history dashboard that allows you to review all your running, walking, cycling, hiking, swimming and mountain biking sessions (and a few other sports as well). 
The ability to access your personal records is an absolutely essential component of a good running app. With Runkeeper, you get access to this info for free, which sets it apart from its most similar rival, Runtastic (to access this feature in Runtastic, you need to pay for the premium version).  
Surprisingly Awesome Audio Feedback
This took me by surprise, mainly because I've been using the Garmin Forerunner 35 for so long and GPS running watches generally don't speak to you 🙂 
As you start your run, the app automatically churns out your time, distance and average pace. The app will then update you on these stats every 5 minutes. Obviously this feature can be turned off, but to be honest, I quite liked the sound of Kat's voice (the female voice over artist). 
It is worth mentioning that you can change the voice type, the stats that it reads out, and the frequency of the voice updates (the default is 5 minutes, but you can make it whatever time window you want). Overall, it's a pretty cool feature. 
Nice Goal Setting Features:
The goal setting feature of RunKeeper is excellent. You can set monthly distance goals, weight loss goals, race goals and longest run goals. To gain insights into your progress, you need to upgrade to the premium version, but the Free version still allows you to set, track and achieve your goals.
When you start your runs, Runkeeper makes it very simple to start your music at the same time. If you enjoy running with tunes, you will find your rhythm very quickly with Runkeeper. Just remember to use bluetooth earphones rather than normal wired earphones. There is literally no place for wired headphones in a runner's kitbag in 2019. 
You will be encouraged to upgrade to the paid version… a lot. I can only applaud the app developers for how seamlessly they push you toward the paid subscription. Fortunately all the core functionality described above is available as a free user. 
Runkeeper is a well-built, super popular GPS running app that will encourage you to collect more kilometers than ever. It is well designed, easy to use and even easier to recommend. 
Strava is a powerful multisport app that can easily be used as a standalone running app. To start your run, you simply need to select the 'Record using this app' option when you first open Strava on your phone. 
What makes Strava different?
Strava is basically a social network for endurance athletes and a super powerful multisport app.
Every time you go for a run with Strava, your session will automatically be recorded and uploaded to your Strava profile. 
The same is true for all Strava users, which basically means that you can access amazing historical data for your own profile, and everyone else who uses the platform. In terms of the total body of training data available to users, no app can rival Strava. You can spend hours just trawling through the platform, monitoring athletes that tend to run the same routes as you. 
Without a doubt one of the defining features of Strava is a thing called segments. These are basically miniature routes that Strava users can easily create at any point during their run or cycle. 
This automatically creates a leaderboard for that mini-route. From that point onwards, every time a Strava user runs along that route, their time will be added to the segment leaderboard.
Setting your sights on a new position on the leaderboard can be extremely motivating for competitive people. Using this competitive spirit to your advantage can help you put more effort in during your training days and on race day. 
Side-by-side Comparisons with other Users
Whenever you look at someone else's profile on Strava, it will show you a side-by-side comparison of your performance stats relative to theirs. 
I'm not gonna to lie, if I notice that my stats are a bit better than another person's, I do mental victory laps. On the other hand, if my stats are worse, a miniature loser complex can set in. In other words, the comparison feature can be a double-edged sword. 
Lots of Awesome Challenges
This another huge drawcard for Strava that you can access with the free version. There are tons of challenges available to users every single month. When you complete a challenge, you earn a challenge badge, which gets added to your Strava trophy case. Here are some example challenges. 
January 5K Virtual Race – 3.1 miles wherever you want as fast as you can

January Running Distance Challenges – How far can you run this month?

January 10K Challenge – Run a 10k and shoot for a new PR

New Balance Run Your Challenge – Run 91 miles in January 2019
Biggest Drawback of Strava
 It's very social, very open and highly competitive. This can be a good thing or a bad thing depending on your personality. Fortunately, if you want to go for a casual run without the whole world knowing your split times, you can adjust the privacy settings on your profile to limit what other Strava users can see about you and your training runs.
Cyclists claiming runners times. It's hard to figure out if this is caused by user error (cyclists choosing the 'run' mode instead of 'cycle' mode) or just a general fault of the app. 
The point is, it's highly annoying when cyclists dominate the leaderboard of running segments. It's genuinely surprising that Strava doesn't automatically filter these results to maintain the integrity of the data on the platform. It should be clear that anyone running at 42km/h (ie faster than Usain Bolt) is actually on a bicycle. 
Strava is an extremely versatile multisport app than can help you unlock new levels of motivation. 
If you are happy to share your running stats with the world and enjoy seeing how other people are training and performing, Strava is definitely the right running app for you. 
Number 1 - Nike+ Run Club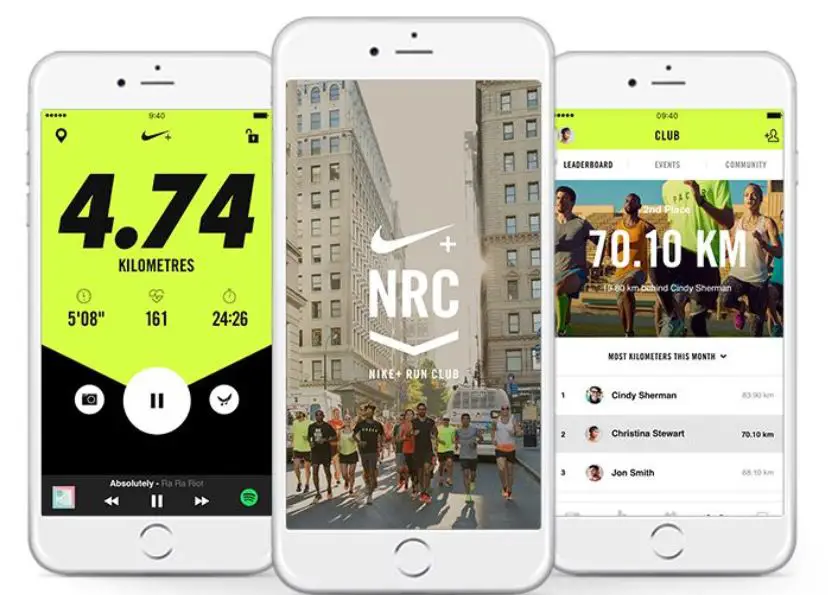 When I first started researching this article, I wasn't expecting Nike Run Club to come out at number 1.  Given the name of the app, I assumed that this was just a brand building exercise from the world's biggest sports company. I could not have been more wrong.
Nike Running Club is the undisputed king of all running apps. It literally gives you all the premium features of Runkeeper, Runtastic, MapMyRun and even elements of C25K. Best of all, you get access to all these premium features… FOR FREE!
How does it perform as a simple running app?
As a standalone running app, Nike Running Club is excellent. It's easy to start your runs, the GPS works well with your phone, and you can control your music easily as well. 
It obviously includes your most important running stats, including distance, pace, time and calories. d
What are the challenges like?
Unlike MapMyRun's borderline irrelevant challenges, Nike Run Club's challenges are clearly structured for runners. This is what Nike's Current Set of challenges look's like:
1) 15K Weekly Challenge – Run 15 km's this week
2) 50K Challenge – Run 50 km's this month
3) 100k Challenge – Run 100km's this month
4) 15K Single Run Challenge – Run 15km's this
All of these challenges above are highly motivating for beginners and even more experienced runners. I've been in the running game for years now and hitting 100km's in a month is very much a goal of mine. With Nike Run Club, I'm now extra motivated to hit this target and earn the challenge badge
What about training plans
 All the other apps require payment before you can access a fully developed training plan. Not so with Nike Run Club. I created an 8 week 5k training plan, totally customized to my current running level, in less than 2 minutes. 
Just to be ultra clear on this, Nike Running Club is the only app that gives you well structured training plans for beginners, veterans and even elite runners, for free. These plans are calculated using your current mileage and your training goals, and they are ultimately crafted by highly respected running coach, Chris Bennett. 
Any other Awesome Features
Yes. Running Levels: This is an awesome feature of Nike Run Club that will keep you motivated for weeks, months and even years. 
It's a bit like the belt grading system in Karate. To unlock each new running level you need to hit the total kilometer target. It starts off fairly gentle, but gets pretty intense with each new stage.
As you can see, the Yellow level is unlocked with 50km's. Volt level, requires you to run 15 000km's. So I wasn't lying when I said this app could help keep you on the running path for years. 
This is an example of gamification done extremely well. And make no mistake. When gamification is done properly, it can influence human behavior. This is why all the top running apps include challenges. 
There are some pretty cool guided runs available through Nike Run Club. For example:


First Run – 20 minute easy run guided by Chris Bennett. 
Next (Second) Run – 25 minute easy run guided by Chris Bennett.
First Speed Run – Guided interval training session with 8 x 1 minute speed intervals. 
First Long Run – 35 minute distance run guided by Chris Bennett. 
Another pretty cool feature of the guided audio runs is that they are paired with Spotify playlists. Each guided run has a different playlist, so you don't have to worry about things getting repetitive or putting any effort into building your own playlists. 
This is just the tip of the iceberg. There are even guided runs with Eliud Kipchoge and Mo Farah. In short, Nike is way ahead of the competition here. 
Integration with Head Space (Meditation App)
Head Space is a super popular guided meditation app. They have partnered with Nike Run Club to create guided meditation runs. If you enjoy guided meditation, you will be very pleased with this cheeky little integration. HeadSpace fans rave about this feature on the Google Play review page.
Personal Bests & Achievements
Nike Run Club stacks up your PB's and achievements very nicely. Every personal record includes an attractive badge, and can be easily accessed within the app. 
Together with the running levels and all the running challenges, Nike Run Club has more motivational tools than any other running app available. There is always another achievement to unlock and more miles for you to run. 
Why Nike+ Run Club is No.1
It's a premium quality app without a price tag – Almost all of the running apps available on Google play require you to pay for the premium version. With Nike+ Run Club, you get access to all the premium features that other apps are charging for, at zero cost to you.
It has more features than any other running app, without feeling bloated. In fact the overall design of the app is extremely attractive. 
It can help keep you motivated – The monthly challenges, running levels and personal record badges are all powerful motivational tools that can help you unlock levels of training consistency that you have 
The training plans are excellent – The ability to create a well structured training plan, customized for your weight and mileage is a massive asset. The fact that they are endorsed (and partially created) by a world class running coach makes them even better. 
It's like having your own personal running coach, except you don't have to pay him at the end of the month. 
Nike have nailed it – They really have. The branding is unobtrusive, the app navigation is simple AF and using the app consistently will make you want to run more. Over the long term, that can only be a good thing for a company that sells running shoes.
All I can say at this point is well done to Nike, and if you haven't downloaded the app yet, visit Google Play immediately and get this bad boy running on your phone.