The Coros Pace 2 is an affordable GPS triathlon watch with an optical heart rate monitor and the ability to measure running power from the wrist. 
The Forerunner 745 is one of Garmin's best dedicated triathlon watches, armed with plenty of sports modes, advanced running dynamics, music storage, excellent fitness features and a solid selection of smart features. 
Now that you know a bit more about each watch, let's unpack all the details. 
Key Similarities - Coros Pace 2 vs Forerunner 745
Coros Pace 2
Forerunner 745
GPS + GLONASS
Optical Heart Rate Monitor
24/7 Activity Tracking
Sleep Tracking
Running Indoor + Outdoor
Cycling Indoor + Outdoor
Swimming Indoor + Outdoor
Triathlon Tracking
Barometric Altimeter
Accelerometer + Compass
Gyroscope + Thermometer
Bluetooth & ANT+ Connectivity
Quick Release Band
Display Size
Display Resolution
Waterproof Rating
Key Differences - Coros Pace 2 vs Forerunner 745
Coros Pace 2
Forerunner 745
Price
Physical Size
Weight
Screen Material
Smartwatch Battery
GPS Battery
Max GPS Battery
Total Sports Modes
Running Power From Wrist
Beidou Satellite Tracking
Galileo Satellite Tracking
Music Storage + Apps
Payments From Watch
WiFi Connectivity
Advanced Running Dynamics
Safety/Incident Detection
V02 Max Estimates
Point-to-Point Navigation
Blood Oxygen Measurements
Running Coach Training Plans
Body Energy Score (Body Battery)
Differences Between Coros Pace 2 and Forerunner 745 - Explained
Running Power From The Wrist – The Coros Pace 2 can measure running power without any accessories. The FR745 can also measure running power, but an accessory is required. 
Music Storage – The Forerunner 745 can store music and use popular apps like Spotify and Deezer. The Pace 2 doesn't support music.
Battery Life – The Coros Pace 2's battery life is basically twice as long as the Forerunner 745.
Sports Modes – The FR745 has significantly more sports modes (28 vs 11).  
Navigation Capabilities – The Pace 2 has very few navigation features. The FR745 gives you point-to-point navigation, back to start functionality, distance to destination and more. 
Payments – You can load your card details and make payments with the FR745 using NFC payment technology. 
Fitness Features – The FR745 has a lot more fitness features, including a body energy score (body battery) and a pulse oximeter to measure your blood oxygen levels. 
Smart Features – The Forerunner 745 has considerably smart features, including WiFi connectivity, automatic accident detection, and a truck load of additional sports and fitness apps that you can download through Garmin connect. 
Coros Pace 2 Sports Modes
Running
Indoor Running
Track Running
Cycling
Indoor Cycling
Pool Swimming
Open Water Swimming
Triathlon Tracking
Gym Cardio
GPS Cardio
Strength Training
Strength Training
Cardio Training
Elliptical Training
Stair Stepping
Floor Climbing
Indoor Rowing
Yoga
Running
Treadmill Running
Indoor Track Running
Trail Running
Skiing
Snowboarding
XC Skiing
Stand Up Paddleboarding
Rowing
Cycling
Indoor Cycling
Pool Swimming
Walking
Pilates
Outdoor Track Running
Virtual Running
Kayaking
Mountain Biking
Open Water Swimming
Swimrun
Triathlon Tracking
Reasons To Choose The Coros Pace 2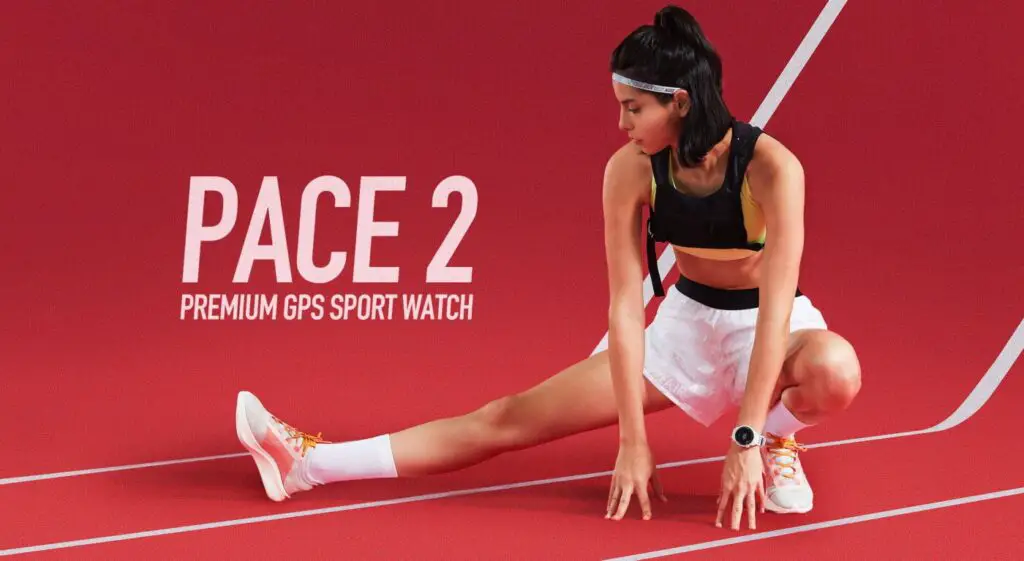 1. Much Longer Battery Life
If there's one area where the Coros Pace 2 absolutely smashes the Forerunner 745, it's battery life. This is mainly because the Pace 2 doesn't have all the technological bells and whistles that typically drain smartwatch battery life. The end result is some very impressive battery life stats. The bullet points below further clarify the differences. 
Smartwatch Battery Life: Up to 20 Days
GPS Battery Life: Up to 30 Hours
Maximum GPS Battery Life: Up to 60 Hours
Forerunner 745 Battery Life
Smartwatch Battery Life: Up to 7 Days
GPS Battery Life: Up to 16 Hours
Maximum GPS Battery Life: Up to 21 Hours
2. Running Power From The Wrist
Polar was the first tech company to introduce running power from the wrist. With the Pace 2, Coros is the second tech company to do so. 
The obvious benefit here is that you don't have to use an accessory like Stryd in order to unlock your running power stats. On this point, it's worth mentioning that the Pace 2 and the FR745 offer full compatibility with Stryd (as opposed to partial compatibility, which affects quite a few Garmin products actually). 
3. The Pace 2 Is Much Cheaper
It should be pretty clear that the Pace 2 isn't actually a true competitor to the Forerunner 745. It is a barebones GPS triathlon watch with great battery life and running power from the wrist. 
However, the Pace 2 is also about 50% cheaper than the FR745. For many people, it can deliver all the functionality they need, without breaking the bank. 
Reasons To Choose The Forerunner 745

At this point in time, music storage is basically a stock standard feature of any decent Garmin sports watch. As a Forerunner 745 owner, you can expect to store about 500 songs directly on the watch, and you can also use popular music streaming apps like:
Spotify
Deezer
Amazon Music
iHeart Radio
2. Advanced Running Dynamics
By opting for the Garmin Forerunner 745, you can open up an array of advanced running stats that aren't supported by the Coros Pace. To be more specific, with the FR745 you can access:
Ground Contact Time – The amount of time your foot spends on the ground with each stride.
Ground Contact Balance – The symmetry between your left and right foot when running. 
Vertical Oscillation –  The degree of upward 'bounce' in your running motion. Lowering this stat can increase running efficiency. 
Vertical Ratio  – The cost-benefit ratio with stride length. This allows you to discover the ideal stride length for chasing down a new PB. 
Cadence – Real time cadence stats displayed on the FR745. 
Stride Length – Real time stride length stats displayed directly on the Forerunner 745.  
Garmin Running Power – Measure your running power output in Watts (kinda like cyclists do).
There is just one thing you need to keep in mind. In order to unlock advanced running dynamics and running power on the Forerunner 745, you need to invest in one of the following four accessories. 
3. Payments from the watch
Like most Garmin smartwatches the Forerunner 745 has built-in payment technology. You just need to set up your debit card or credit card and then you no longer need to take your wallet with you on runs, cycles, or visits to the gym. This isn't necessarily a dealbreaker, but it is a very convenient feature to have at your disposal. 
4. Considerably More Sports Modes
The Forerunner 745 supports 28 sports and activity modes, whereas the Coros Pace 2 only supports 11. The pace 2 has enough modes for most people to get by, but it can't compete with the FR745 in terms of total sports modes and the detailed data that you can access when analyzing your training sessions in the Garmin connect app. 
5. Better Navigation Capabilities
Navigation capabilities is another avenue where the Forerunner 745 dominates the Coros Pace 2. Even something as simple as 'back-to-start' is missing from the Pace 2. Fortunately, if you go for the Forerunner 745, you can access:
Point-to-point navigation
Bread crumb trail in real time
Back to start
TracBack
Distance to destination
Elevation profile
Total ascent/descent
Vertical speed
Trail run auto climb
Barometric trend indicator
Future elevation plot
6. Better Activity Tracking Features
The FR745 brings a lot more to the table from an activity tracking perspective. More specifically, you get:
Body Battery Score: This is an overarching metric that assesses your overall energy levels. It combines training data, heart rate data, and sleep data to calculate your body's score.  
Daily Workout Suggestions: Get daily workout suggestions just for you, based on your recent training.
Pulse Oximeter: The elevate V3 heart rate monitor also measures blood oxygen saturation levels to provide a clearer picture of how you're sleeping or how you're adjusting to altitude.
Training Load: This stat measures your exercise volume from the last 7 days and compares it to the optimal range for your fitness and recent training history.
Training Status: This metric evaluates your recent exercise history and performance indicators to let you know if you're training productively, peaking or overreaching.
6. It's The Better Sports Watch Overall
Simply put the Forerunner 745 is a better multisport GPS watch than the Coros Pace 2. It has considerably more sports features, fitness features and smart features that literally elevate it to a completely different league. If you want the better of the two watches, it's pretty clear that you should opt for the FR745. 
In the end, it should be pretty clear that the Forerunner 745 is the winner of this product battle. That being said, if you still can't make up your mind, these final buying tips may help: 
Go for the Coros Pace 2 if:
You're on a tight budget
You want running power from the wrist
You need a very long battery life
You just need a watch that can measure running, cycling and open water swimming, with a decent triathlon mode
Go for the Forerunner 745 if: 
You want more detailed training data with each sport that participate in
You want a broader selection of sports modes
You like listening to music when you train
You are likely to use all the built-in navigation technology 
You want more smart features and a strong selection of sports apps through Garmin connect
You want the better sports and fitness watch overall