The Wahoo Elemnt Rival marks Wahoo's entry into the GPS sports watch market. As a newcomer, they've done pretty well in terms of build quality, design, and triathlon features. 
However, you will soon come to realize that the Elemnt is no rival to the Garmin Forerunner 945. Garmin have been in this game for a while, and there's still plenty of catching up for Wahoo's line of triathlon watches. 
Now let's get stuck into the details of this comparison. 
Key Similarities - Elemnt Rival vs Forerunner 945
Elemnt Rival
Forerunner 945
GPS + GLONASS
24/7 Activity Tracking
Optical HRM
Running Indoor + Outdoor
Cycling Indoor + Outdoor
Swimming Indoor + Outdoor
Triathlon Mode
Bluetooth & ANT+ Connectivity
Advanced Running Dynamics
Cycling Power Meter Support
Display Size
Display Resolution
Smartwatch Battery
Water Proof Rating
Key Differences - Elemnt Rival vs Forerunner 945
Elemnt Rival
Forerunner 945
Price
Dimensions
Lens Material
Weight
GPS Battery
Strava Live Segments
Touchless Transition
Galileo Satellite
Sleep Tracking
Music Storage + Apps
Payments from Watch
WiFi Connectivity
Safety/Incident Detection
Blood Oxygen Measurements
Golf Mode
Running Coach Training Plans
Point-to-Point Navigation
TOPO Maps
Training Load + Recovery
Body Energy Score
Total Sports Modes
Coros Pace 2 Sports Modes
Indoor Cycling
Outdoor Cycling
Running
Treadmill Running
Pool Swimming (Laps)
Open Water Swimming
Strength Training
Yoga
Strength Training
Cardio Training
Elliptical Training
Stair Stepping
Floor Climbing
Indoor Rowing
Yoga
Running
Treadmill Running
Indoor Track Running
Trail Running
Skiing
Snowboarding
XC Skiing
Stand Up Paddleboarding
Rowing
Cycling
Indoor Cycling
Pool Swimming
Walking
Pilates
Outdoor Track Running
Virtual Running
Kayaking
Mountain Biking
Open Water Swimming
Swimrun
Triathlon Tracking
Golf Tracking
Reasons To Choose The Elemnt Rival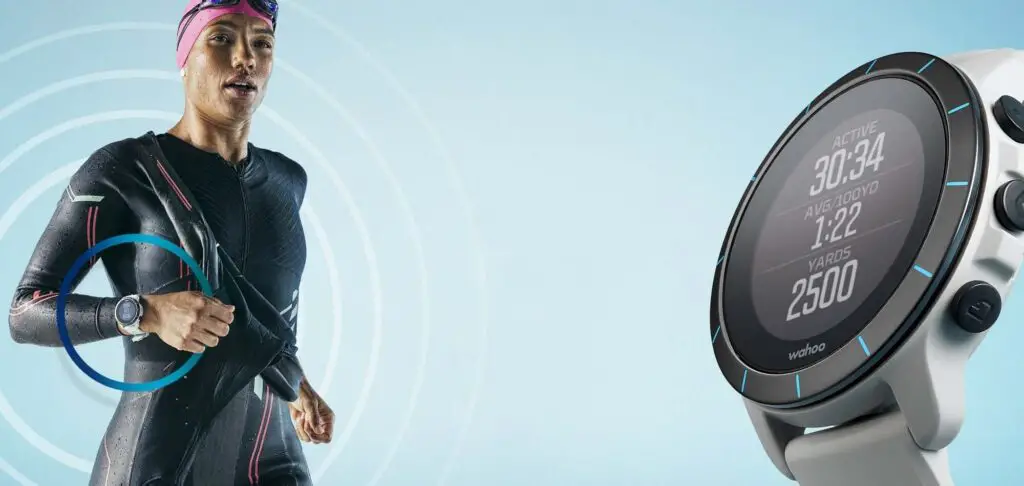 1. Auto-Transition Technology
There is only one main reason to consider the Wahoo Elmnt Rival over the Garmin Forerunner 945, and that reason is the autotransition technology. 
In a way, it's a bit suprising that brands like Garmin have yet to introduce this feature. In fact, we would happily wager that it will become a staple feature in future Garmin triathlon watches. For now though, if you want the watch to take care of the switch between each triathlon discipline automatically, the Wahoo Elemnt is the watch to choose. 
2. It's a good looking triathlon watch
One thing that Wahoo have nailed off the bat is the premium look and feel of the Elemnt Rival. If anything, they've drawn inspiration from Suunto, who've been making very sharp looking units for some time now. 
The looks may not be a dealbreaker, but if you do go with the Elemnt, the design should hold its own when your out and about or in the heat of competition. 
3. Triathlon Training Plans
Given that the Elemnt Rival is a dedicated triathlon watch, the inclusion of triathlon-specific training plans is a nice touch. This is particularly true if you are still new to the sport, and need a bit of extra guidance. 
Developed by Wahoo's sport science team, each triathlon training plan is tailored to your lifestyle patterns. The Rival creates plans based on your weekly time availability, current training, goals, and any  other constraints you have.
1. Better Navigation Features
The Forerunner 945 is packed to the brim with navigation technology. This stands in stark contrast to the Rival, which has little to no navigation capabilities. To be more specific, with the FR945 you effectively get:
3D Topographical maps
Point-to-point navigation
Bread crumb in real time
Back to start
TrackBack
UltraTrac
Elevation Profile
Distance to destination
ClimbPro ascent planner
And more… 
2. Better Fitness & Activity Tracker Features
The Forerunner 945 is a better fitness tracker than the Elemnt Rival. It isn't just the absence of sleep tracking that dents the credibility of Wahoo's watch. It's also lacks a suite of features that have become stock standard in Garmin's modern sports watches including:
Pulse Oximeter – This is used to measure your blood oxygen levels, and it supports advanced sleep monitoring and altitude acclimation. 
Body Battery Score – An overarching metric that calculates your body's energy levels. It uses sleep data, training data and heart rate data to work out a body battery score out of 100. 
Advanced Sleep Tracking – Garmin have improved their sleep tracking technology over the years. With the FR945, you can measure the primary sleep cycle, consisting of light sleep, deep sleep and REM sleep. 
Floors Climbed: With the built-in barometric altimeter, the FR945 will automatically measure how many flights of stairs you tackle during the day. 
Menstrual Tracking:  The Forerunner 945 can track menstrual cycles and pregnancy stages. This is further enhanced by a specific menstrual tracking app and pregnancy app, which can both be downloaded from the Garmin Connectstore. 
This is another area where the FR945 smashes the Elemnt Rival. To be more specific, the Forerunner 945 gives you: 
Safety Tracking: If you feel unsafe or if your watch senses that an incident occurred, assistance and incident detection features3 send your location to emergency contacts (please note – your watch must be connected to your phone in order to use incident detection). 
Massive Selection of Additional Apps: With full Garmin connect compatibility, you can expand the capabilities of the Forerunner 945 using companion apps from the Garmin Connect IQ store. 
Payments from the Watch: Leave your wallet at home on training days and race days. Once your card details are synced with the FR945, you can make contactless payments up to $50 in value. 
Control Phone Music from Watch: Even if you don't use the on-board music storage facilities of the FR945, you can still use it to switch between songs on your phone. 
4. Music Storage and Apps
If you choose the FR945, you will be glad to know that it can store up 1000 songs directly on the watch. In addition, you can also use popular music streaming apps, including:
Spotify
Deezer
Amazon Music
iHeart Radio
5. Much Better Selection of Sports Modes
While both watches can track the indoor and outdoor versions of running, cycling and swimming, the Forerunner 945 has a much broader range of sports modes. In fact, right now the Rival only offers 2 extra sports modes that aren't related to triathlons,  that being strength training and yoga.  
In contrast, the Forerunner 945 is packed to the brim with sports modes. The most notable wins are the snow sports (skiing, snowboarding, XC skiing), but there are also other adventure sports like hiking, rowing, kayaking and stand up paddleboarding that really set the Forerunner 945 apart from the Rival. 
6. More Sophisticated Endurance Sport Technology
While the Elemnt Rival does a decent enough job of tracking triathlons, it can't match the FR945 in terms of endurance sports technology. For instance, the Forerunner 945 provides the following:
Garmin PacePro: This running specific feature analyzes elevation changes along the course to calculate a pace strategy. This helps you tackle uphill and downhill sections with the correct speed, helping you stay on track to meet your training or racing goals. 
Garmin ClimbPro: Built specifically for cyclists, ClimbPro gives you real-time information on current and upcoming climbs, including gradient, distance and elevation gain.
Training Load: This stat measures your exercise volume from the last 7 days and compares it to the optimal range for your fitness and recent training history. 
The Garmin Forerunner 945 includes almost all of Garmin's best golf tracking features. This includes: 
Yardage to the whole
Yardage to hazards
Automatic measurement of shot distance
Digital scorecard
Round timer
In other words, the Forerunner 945 has almost all the same features that you would expect in a dedicated GPS golf watch. The same cannot be said for the Wahoo Elemnt Rival. 
In the end, the Wahoo Elemnt Rival fall short of its claim of being a legitimate rival to Garmin, at least at this point in time. While the company produces high quality products, it's still a game of catch up at this particular moment in time. 
With that being said, if you're still undecided at this point, these final buying tips may help. 
Go for the Wahoo Elemnt Rival if:
You just want a simple GPS triathlon watch
You're a fan of the Wahoo ecosystem
You are particularly drawn to the autotransition technology
Go for the Garmin Forerunner 945 if: 
You want music playback
You want better fitness features
You plan to use the navigation technology
You want access to a lot more sports modes
You play golf
You want one of the best triathlon watches currently available