The Fitbit Charge 4 is a relatively affordable activity tracker with a decent selection of fitness modes and a built-in GPS. It's a good option for people that run, cycle, or workout regularly. The Charge 4 is also pretty compact and it looks more like a bracelet than a watch. 
The Garmin Venu is a versatile GPS sports watch with excellent running, cycling, swimming and fitness features. It also has a high res-screen, making it an upgrade on the Garmin Vivoactive 4. You could call the Garmin Venu the most well-rounded activity tracker in Garmin's product line-up. 
The goal of this post to analyze the differences between the Fitbit Charge 4 and Garmin Venu, so you can be confident decision when choosing between them. 
Key Similarities - Fitbit Charge 4 vs Garmin Venu
Fitbit Charge 4
Garmin Venu
Built-in GPS
Real Time Pace & Distance
24/7 Activity Tracking
Indoor + Outdoor Running
Indoor + Outdoor Cycling
Pool Swimming
Wrist-based HRM
Sleep Tracking
Accelerometer
Altimeter
20 Activity Modes
Female Health Tracking
Smartphone Notifications
Bluetooth + WiFi Connectivity
Payments From Watch
Music Control From Watch
Floors Climbed
Guided Breathing
Customizable Clock Face
Waterproof Rating
Key Differences - Fitbit Charge 4 vs Garmin Venu
Fitbit Charge 4
Garmin Venu
Dimensions
Screen Resolution
Screen Size
Built-in Music Storage
Glonass + Galileo Satellite
Pulse Oximeter
Guided On-Screen Workouts
Customized Running Plans
Hydration Tracking
Respiration Tracking
Underwater Heart Rate Monitor
Color Screen
Advanced Swimming Metrics
Advanced Golf Tracking
Skiing + Snowboarding
Indoor + Outdoor Rowing
GPS Battery
Smartwatch Battery
Main Differences Explained
Price – The Fitbit Charge 4 is considerably cheaper than the Garmin Venu. It should be at least half the recommended retail price. 
Screen Resolution – The Garmin Venu has a 390×390 pixel high resolution screen. The Fitbit Charge 4 screen is much smaller, measuring 160 x 100 pixels.  
Music Storage – The Garmin Venu can store up to 500 songs. The Fitbit Charge 4 can control the music on your phone, but it can't store music. 
Sports Modes – The Garmin Venu has a much wider range of sports, including golf, rowing, skiing and snowboarding. 
GPS Battery Life – The GPS battery of the Fitbit Charge 4 is 5 hours. The GPS battery of the Garmin Venu is 20 hours. That's a big difference.  
Guided Workouts – The Venu includes free guided workouts that are displayed on the touchscreen. 
Additional Satellite Options – The Garmin Venu includes GPS, GLONASS and GALILEO Satellite tracking. The Fitbit 4 only has GPS tracking. 
Swim Tracking – The Garmin Venu has advanced swim tracking, including SWOLF metric, laps, duration, distance and pace. The Fitbit Charge 4 has basic swim tracking, including laps, duration, distance and pace only. 
Reasons To Choose The Fitbit Charge 4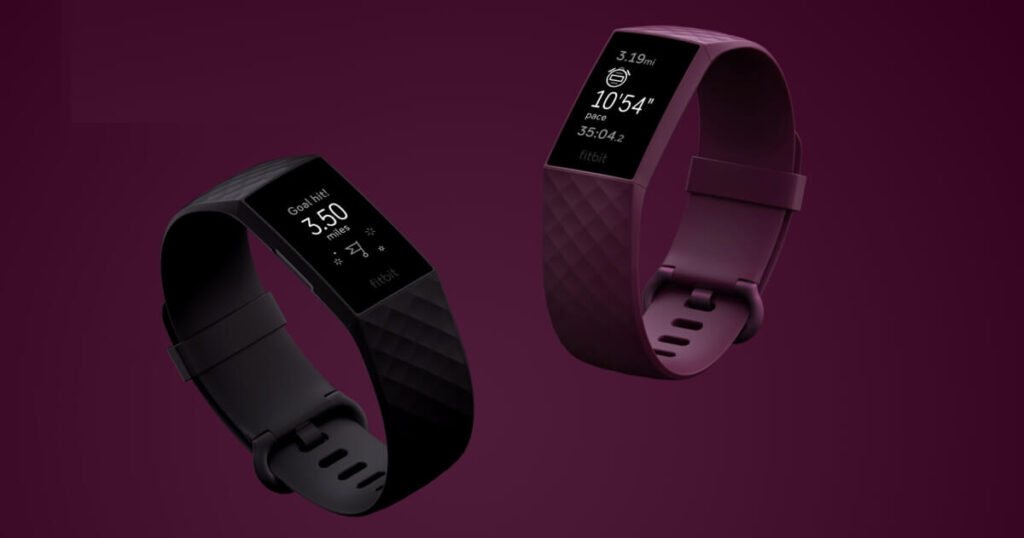 The Fitbit Charge 4 Is Considerably Cheaper
Simply put the Fitbit Charge 4 is less than half the prices of the Garmin Vivoactive 4. For people who just want a stylish activity tracker that can also track running and cycling, the Charge 4 represents good value for money. 
The Charge 4 Can Track Lots Of Different Sports
Bike
Bootcamp
Circuit Training
Elliptical
Golf
Hike
Interval Workout
Kickboxing
Martial Arts
Pilates
Running
Spinning
Stairclimber
Swimming
Tennis
Walking
Weights
Workout
Tennis
Yoga
It's The Best Value Fitbit You Can Buy
When you consider the relatively affordable price bracket, it's easy to conclude that the Charge 4 is the best value for money Fitbit that you can buy right now. The price-to-value ratio is literally as good as it gets from Fitbit. 
Reasons To Choose The Garmin Venu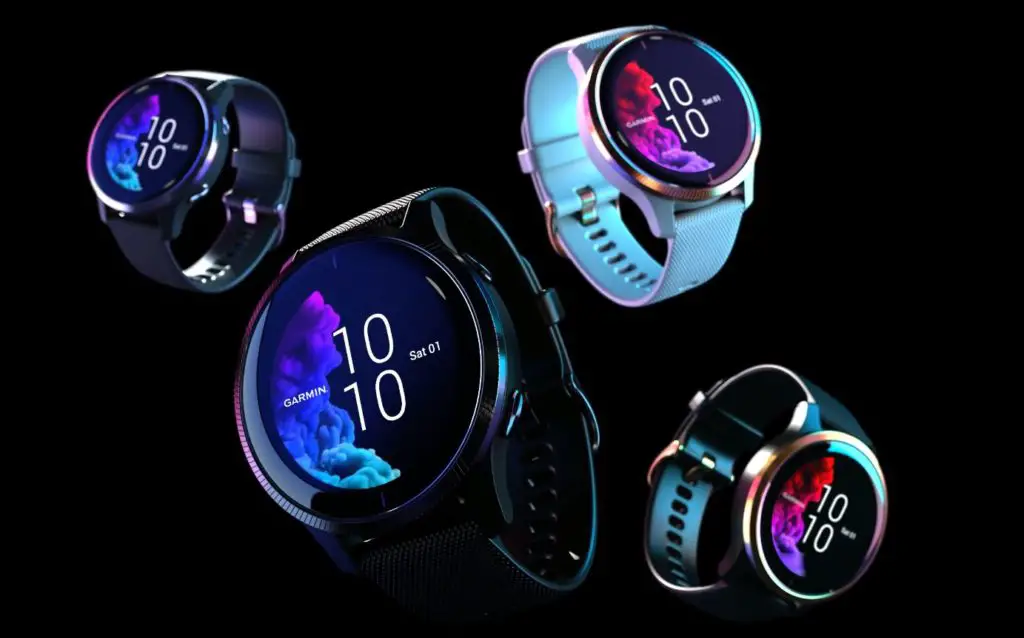 High Resolution AMOLED Touchscreen
The Garmin Venu is the first watch in their product line up to include a high res AMOLED touchscreen. In fact it could also be called a Garmin Vivoactive 4 HD, given that this is the primary difference between the Vivoactive 4 and the Venu. 
Ultimately, this is a good move from Garmin. Generally speaking, the better the screen resolution, the better the user experience will be. Every piece of information on the watch should look sharp, detailed and crystal clear. This is what you want from a high end sports watch. 
The Garmin Venu includes 3.5 GB of music storage, which works out to about 500 songs. In contrast, the Charge 4 can only control music that is being played through your phone (the Venu 4 can also do this). The following music apps are also compatible with the Venu:
Spotify
Deezer
Amazon Music
iHeart Radio
Guided On-Screen Workouts
The Garmin Venu makes full use of the 390×390 pixel screen when displaying the custom training plans that you can access for free. It's a bit like having a personal trainer on your wrist, guiding you through each rep and set of the training plan. 
The Garmin Venu has a pulse oximeter which can measure your blood oxygen levels. This is useful when training at altitudes, and it can also be used to help assess your stress levels at sea level. 
Advanced Swimming Metrics
Both the Garmin Venu and the Fitbit Charge 4 can track pool swimming. This includes: 
Laps
Exercise duration
Total distance
Pace
Calories
However, the Garmin Venu can also track the following advanced swimming metrics:
Swimming efficiency (SWOLF)
Stroke type detection (Freestyle, Backstroke, Breaststroke, Butterfly)
Stroke count
Underwater Wrist HRM
Time and distance alerts
The Garmin Venu gives you access to most of the features that you would expect in a dedicated golf watch. This includes: 
Yardage to greens (front/middle/back)
Yardage to doglegs and layups
Yardage to bunkers and hazards
Automatic shot distance tracking
Manual pin position placement
Digital scorecard
Excellent Selection Of Sports & Activity Modes
Strength training
Cardio training
Elliptical training
Stair Stepping
Floor Climbing
Indoor Rowing
Yoga 
Pilates 
Breathwork
Pool Swimming
Running
Indoor Track Running
Treadmill Running
Cycling
Indoor Cycling
Skiing
Snowboarding
XC Skiing
Stand Up Paddleboarding
Rowing
Much Better GPS Battery Life
GPS battery life is important, because if you use the GPS regularly, it will drain the overall battery of the watch. In this instance, the Garmin Venu's GPS battery life (20 hours) is literally 4 times longer than the Fitbit Charge 4 GPS battery life (5 hours). 
It's The Better Smartwatch Overall
Simply put, the Garmin Venu is a better sports watch and fitness tracker than the Fitbit Charge 4. The extra features may come at a cost, but if you take any of your sports seriously, it's probably worth upgrading to the Garmin unit in this case. 
We've covered all the differences at a fairly granular level. If you're still undecided at this point, these final buying tips may help: 
Choose the Fitbit Charge 4 if:
You're on a tight budget
You prefer the bracelet style design
You want access to Fitbit's fitness tracking features, which can be very motivational
Your main activities are casual running, casual cycling and hitting the gym frequently
Chose the Garmin Venu if: 
You want a beautiful high res AMOLED screen
You want better swimming metrics in the pool
You play golf regularly (the Venu is basically a fully fledged golf watch)
You're passionate about running or cycling (the Charge 4 can't compete with Garmin in this respect)
You like listening to music when you train
You want a much longer GPS battery life
You want the better overall sports watch and activity tracker