The Garmin Forerunner 245 is a midrange GPS sports watch built primarily for running specialists. 
The Garmin VENU is a premium GPS activity tracker with lots of sports modes and a beautiful AMOLED High Res Touchscreen. 
The point of this article is to help you figure out which watch is better suited to your needs.  To help you make this decision, we're going to compare all the key similarities and all the key differences, and present a few  recommendations at the end. 
Let's get stuck in. 
What are the main differences between the Forerunner 245 and the Garmin Venu?
High Res AMOLED Touchscreen  (Venu) – The Venu has a gorgeous 390x390px high res touchscreen, whereas the Forerunner 245 has a 240×240 px screen, and relies exclusively on buttons to work the watch. 
Advanced Running Dynamics (FR245) – Only the Forerunner 245 supports advanced running dynamics. This means real time access to cadence, stride length and other running specific metrics.
Golf Mode (Venu)  – This is a big selling point for people who play 18 holes regularly. The Garmin Venu is basically an advanced activity tracker, that doubles up as a dedicated golf watch. 
Guided Workouts (Venu)  – The Garmin Venu makes great use of its beautiful screen with the guided on-screen workouts. It's a bit like having a personal trainer built into the watch. 
Training Status, Training Load & Training Effect (Forerunner 245): With the FR245, you get access to training load and training status metrics. This can help you identify  you when you're over training, when your under-training, and when you're getting it exactly right. 
Race Predictor (Forerunner 245) – The Forerunner 245 will use your VO2 max  estimate and your training history to predict a potential race time.  
Virtual Partner (Forerunner 245) – Garmin's virtual partner technology allows you to set a pace for the Virtual Partner and race against it. This can be a great tool for achieving target race times. 
Barometric Altimeter (Venu) – Only the Venu has a built-in barometric altimeter. This makes it a bit better for measuring vertical movements during endurance exercises like running, cycling and hiking. 
Six Additional Sports Modes – If you opt for the Venu, you gain golf mode, snowboarding, skiiking, cross country skiing, rowing and paddleboarding, in addition to all the sports modes that both watches share (eg running, cycling, swimming etc). 
FR245 vs Garmin Venu - Key Similarities
Forerunner 245
Garmin Venu
GPS
GLONASS & GALILEO
Wrist-based HRM
24/7 Activity Tracking
Sleep Tracking
Stress Tracking
Indoor + Outdoor Running
Indoor + Outdoor Cycling
Indoor + Outdoor Rowing
Pool Swimming
Waterproof
Garmin Running Coach
Music Storage & Apps
Bluetooth®, ANT+®, Wi-Fi®
Open Water Swimming
Triathlon Mode
Garmin Running Power
3rd Party Running Power
GPS + Music Battery
Screen Size
Forerunner 245 vs Garmin Venu - Key Differences
Forerunner 245
Garmin Venu
Screen Resolution
Physical Size
Weight
Advanced Running Dynamics
Touchscreen
Golf Tracking
Guided On Screen Workouts
Barometric Altimeter
Total Sports Modes
Smartwatch Battery
GPS Battery Life
Sports Modes
Comparison of Sports Modes
| Forerunner 245 - Sports Modes | Garmin Venu - Sports Modes |
| --- | --- |
| 01) Strength Training | 01) Strength Training |
| 02) Cardio Training | 02) Cardio Training |
| 03) Elliptical Training | 03) Elliptical Training |
| 04) Stair Stepping | 04) Stair Stepping |
| 05) Indoor Rowing | 05) Indoor Rowing |
| 06) Yoga | 06) Yoga |
| 07) Running | 07) Running |
| 08) Treadmill Running | 08) Treadmill Running |
| 09) Indoor Track Running | 09) Indoor Track Running |
| 10) Trail Running | 10) Trail Running |
| 11) Cycling | 11) Cycling |
| 12) Indoor Cycling | 12) Indoor Cycling |
| 13) Pool Swimming | 13) Pool Swimming |
| 14) Walking | 14) Skiiing |
| | 15) Snowboarding |
| | 16) XC Skiing |
| | 17) Stand Up Paddleboarding |
| | 18) Rowing |
| | 19) Walking |
| | 20) Golf |
Main Reasons To Choose the Forerunner 245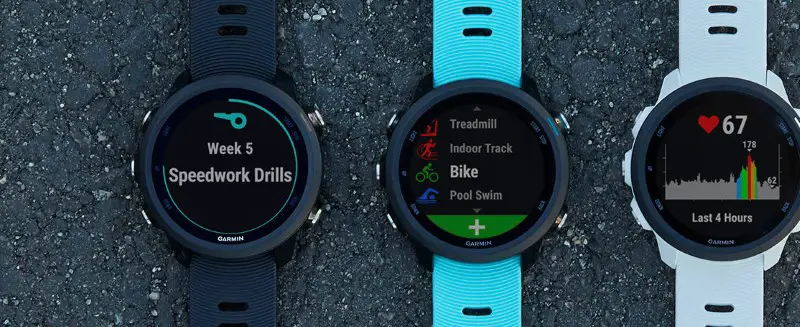 1. It's the better choice for serious runners
The main reason the Forerunner 245 is better than the Garmin Venu for runners, is because it boasts support for Garmin advanced running dynamics. This quite literally opens up the following running metrics on the FR245. 
Ground Contact Time – The time your foot spends on the ground with each stride. 
Ground Contact Balance – Symmetry between left and right foot when running. 
Vertical Oscillation – The amount of 'bounce' in your running motion. Reducing the amount of bounce in your stride can improve your running efficiency/economy. 
Vertical Ratio – the cost-benefit ratio with stride length. This stat can help you find the ideal stride length for setting new a PB, in any distance. 
Cadence – Real time cadence metrics,  displayed on your watch
Stride Length – Real time stride length data, displayed on your watch
However, it's worth mentioning that in order to unlock these advanced running dynamics, you will need to invest in one of the following 3 accessories. 
Garmin HRM-Run (Chest Strap)
Garmin HRM-Tri (Chest Strap)
Garmin Running Dynamics Pod
Then also, we touched on it at the beginning of the article, but's worth repeating. The Forerunner 245 also includes Garmin's virtual partner feature, which is great for trying to achieve pace targets during training or races.
Furthermore, only the FR245 includes a race predictor function. This uses your V02 max and training history to pre-calculate potential race times. 
Ultimately, it's the combination of advanced running dynamics, virtual partner and the race predictor function that make the Forerunner 245 better suited to runners.
2. The Forerunner 245 has a slightly longer battery life
The GPS battery life of the Forerunner 245 is 24 Hours.  The GPS battery life of the Garmin Venu is 20 hours. In addition, the FR245 also has a longer smartwatch battery life during everyday use. The bullet points below should make things clear. 
Forerunner 245 GPS Battery: Up to 24 hours
Forerunner 245 Smartwatch Battery Life: Up to 7 Days
Garmin Venu GPS Battery Life: Up to 20 Hours
Garmin Venu Smartwatch Battery: Up to 5 Days
3. The FR245 is a lot lighter
Although both watches are reasonably light, the Forerunner 245 is is definitely one of the lightest watches in Garmin's line up. Again, the bullet points below clarify the difference in weight. 
Garmin Venu – 46.3 grams
Forerunner 245  – 38.5 grams
Main Reasons To Choose the Garmin Venu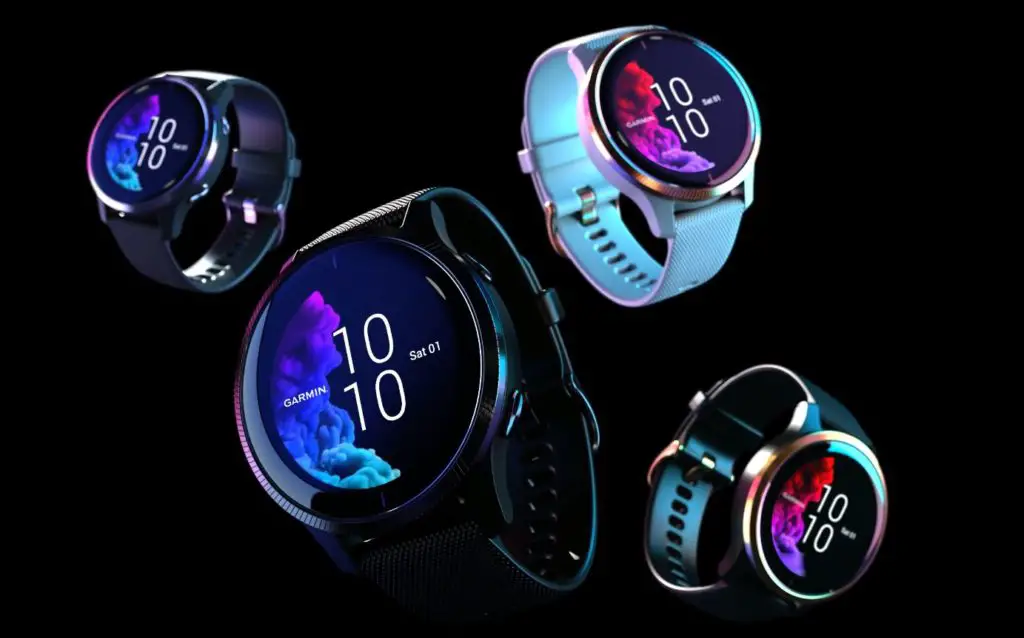 1. It has 6 additional sports modes
The total number of sports modes is probably the biggest difference between the Garmin Venu and the Forerunner 245. 
Garmin Venu – 20 Sports Modes
Forerunner 245 – 14 Sports Modes
These are the extra sports modes that you gain access to, if you opt for the Garmin Venu. 
Golf Mode
Snowboarding
Skiing
Cross Country Skiing
Outdoor Rowing
Stand Up Paddleboarding
2. The Guided Workouts Technology Is Impressive
The Garmin Venu comes with pre-loaded cardio, strength, yoga and pilates workouts that are super easy to follow on the 390×390 px screen.  
Perhaps more importantly, you can download additional workout routines through the Garmin connect app, so you can upgrade your routines as your fitness levels improve. 
Ultimately, Garmin have done a pretty good job here. The guided workouts are a great addition for anyone who needs a bit of help with their fitness routine, be it at the gym or even in the comfort of your own home. 
3. It feels more like a Smartwatch with the Large Touchscreen
It's worth repeating that the Garmin Venu has the most impressive screen of all the sports watches they have ever made. 
As a result, the Garmin Venu definitely feels like more of a smartwatch than the Forerunner 245. 
Basically, if you're comfortable navigating a phone with a touchscreen, transitioning to the Garmin Venu should be pretty seamless for you. 
4. The Garmin Venu has a Built-in Barometric Altimeter
The main benefit of the built-in barometric altimeter is better calculation of vertical movements during exercise. This is particularly relevant for road runners, trail runners, road cyclists and mountain bikers. 
Instead of relying on the watch's GPS alone to calculate vertical movements, the Garmin Venu also uses changes in atmospheric pressure from the altimeter to assess upward and downward movements. 
This is also why the Venu can track how many flights of stairs you take during the day (which the Forerunner 245 can't do). It relies on the built-in altimeter to do this. 
If you want some super simple thoughts on how to choose between these two watches.
Go for the Forerunner 245 if:
You're passionate about running
You prefer sports watches that don't have touchscreens
You're likely to buy one of the accessories that unlocks advanced running dynamics
Go for the Garmin Venu if: 
You want the more well-rounded fitness watch
You want a beautiful AMOLED touchscreen and the feel of a premium smartwatch
You want access to all the extra sports modes like golf, snowboarding and rowing
You can see yourself using the guided on-screen workouts
Resources Used In This Post