The Garmin Lily is the latest fashion focused wearable from Garmin. It offers a beautiful design, together with an excellent selection of fitness features. 
The Garmin Venu is one of the most well-rounded sports watches in the Garmin family. It has an excellent selection of sports modes, a beautiful AMOLED high-resolution screen, and it is packed with all the fitness features that Garmin has to offer. 
Now that we have a high-level understanding of what each watch is all about, it's time to dive into the details of this comparison. 
Key Similarities - Garmin Lily vs Venu
Garmin Lily
Garmin Venu
Color Touchscreen
24/7 Activity Tracking
Smartphone Notifications
Outdoor Running
Treadmill Running
Outdoor Cycling
Basic Pool Swimming
Wrist-based Heart Rate Monitor
Advanced Sleep Tracking
All-day Stress Tracking
Pulse Oximeter (Blood Oxygen)
VO2 Max Estimates
Women's Health Tracking
Body Battery Energy Monitoring
Bluetooth Connectivity
Respiration Tracking
Mindful Breathing
Safety Tracking
Accelerometer
Fitness Age
Control Smartphone Music
Find My Phone + Find My Watch
Lens Material
Waterproof Rating
Smartwatch Battery
Key Differences - Garmin Lily vs Garmin Venu
Garmin Lily
Garmin Venu
GPS
Physical Size
Display Size
Display Resolution
Display Type
Weight
Sports Modes
Smartwatch Battery
GPS Battery
GPS + Music Battery
GLONASS
GALILEO
Music Storage & Apps
Underwater HRM
Barometric Altimeter
Advanced Pool Swimming
Indoor Cycling
Golf Mode
On-screen Workout Animations
Compass
Gyroscope
Connect IQ
Floors Climbed (Stairs)
Indoor + Outdoor Rowing
Indoor + Outdoor Rowing
Skiing + Snowboarding Modes
Reasons To Choose The Garmin Lily

If you just want a stylish activity tracker and you aren't really into running or cycling, the Garmin Lily could potentially be the better choice. 
It might not have as many features as the Venu, but it will serve you well if you burn most of your calories in the gym, and you just want a watch that keen keep tabs on your physical stats in the process. 
The style of the Garmin Lily is arguably its best feature. The combination of a thin band and circular watch face should suit the eye of many women that want a fitness watch that can pass as an attractive timepiece.
In many ways, the Garmin Lily is basically a slimmed-down version of the Garmin Vivomove.  Everything about it is sleek and sophisticated. Garmin have done a great job with the overall design of the Lily. 
Reasons To Choose The Garmin Venu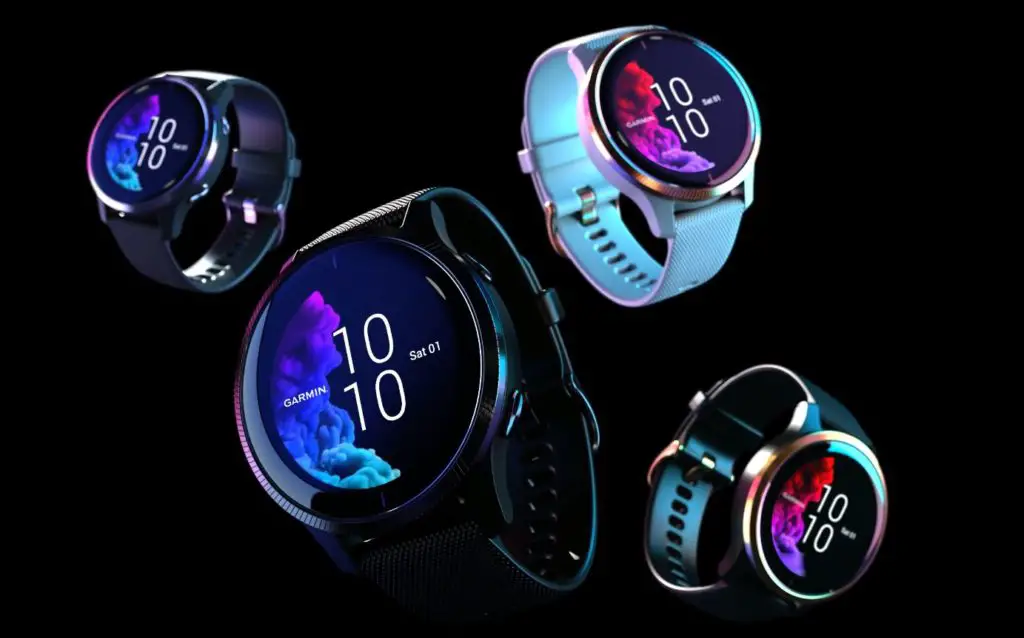 1 Built-in GPS Capabilities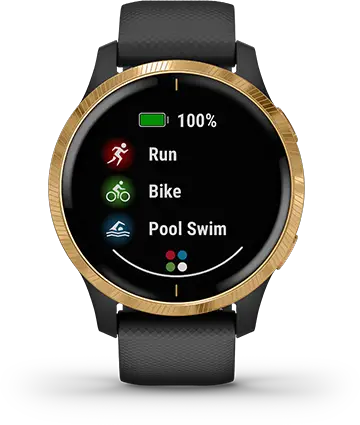 The biggest difference between the Venu and the Garmin Venu is GPS capability. When using the Venu, there is literally no need to take your phone when you go running or cycling outside. All the features you need to track every move during your training session is effectively built into the watch. 
Unfortunately, this is not the case with the Garmin Lily, which relies on your phone's GPS in order to track runs and cycles. To put this in perspective, you could actually leave the Garmin Lily behind, and just use an app on your phone to track running, cycling or hiking.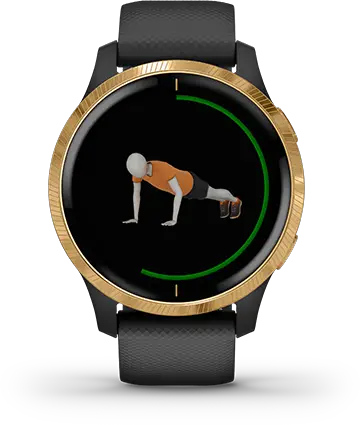 The key selling point of the Garmin Venu over similar models in Garmin's line-up (like the Vivoactive 4) is the high-resolution screen. While the Garmin Lily and the Garmin Venu both have color touchscreens, the size and quality of the Venu's screen sets it apart from the Lily. 
Garmin Venu: 390 x 390 pixels, 1.2″ * 1.2″
Garmin Lily: 240 x 201 pixels, 1.00" x 0.84"
Music storage is another massive advantage if you choose to go with the Venu over the Lily. In addition to being able to store up to 500 songs directly on the Garmin Venu, you can also use popular music apps like:
Spotify
Deezer
iHeart Radio
Amazon Music
4 Payments From The Watch
The ability to pay using the Garmin Venu provides a great reason to leave your phone and your wallet at home when you go for a training session. 
Once your card is loaded to the Venu, you can use NFC payment technology to transact at most stores that accept electronic payments in the US. Just be mindful of the $50 spending limit. 
The Venu includes easy-to-follow cardio, strength, yoga, and pilates workouts that are preloaded on the watch. Importantly, if you work through all recommend workouts you can simply download more from using the Garmin Connect app.
6 Additional Sports Modes
To gain a better understanding of just how many extra sports and activities:
Garmin Venu Sports Modes: 20
Garmin Lily Sports Modes: 11
7 Barometric Altimeter & Built-In Compass
The main purpose of the barometric altimeter is to help calculate your vertical movements during training. It should provide you with a more accurate representation of your elevation stats during runs and cycles.
The altimeter also makes it possible to monitor how many flights of stairs you tackle during the day. 
If you enjoy playing golf, there is literally no comparison between the Garmin Lily and the Garmin Venu. By opting for the Venu, you essentially unlock a dedicated golf watch that can measure: 
Yardage front, middle and back of green
Yardage to layups and doglegs
Measure shot distace automatically
Identify hazards 
Green view with manual pin position
Round timer (odometer)
Strength Training
Cardio Training
Elliptical Training
Stair Stepping
Yoga
Pilates
Breathwork
Running (outdoor)
Treadmill Running
Cycling
Pool Swimming
Strength Training
Cardio Training
Elliptical Training
Stair Stepping
Floor Climbing
Indoor Rowing
Yoga
Pilates
Running
Treadmill Running
Indoor Track Running
Skiing
Snowboarding
XC Skiing
Stand Up Paddleboarding
Rowing
Cyclings
Indoor Cycling
Pool Swimming
Walking
Golf
In the end, it should be fundamentally clear that the Garmin Venu absolutely dominates this particular product battle. With that being said, if you're still on the fence, these final buying tips may help: 
Go for the Garmin Lily if:
You want a slim and attractive activity tracker with great fitness features
You do very little outdoor running and cycling
Go for the Garmin Venu if: 
You like listening to music while you training
You want a beautiful high-res AMOLED screen
You play golf regularly
You're into running or cycling outdoors, and will benefit from the built-in GPS
You want more advanced swimming metrics
You want to measure your heart rate underwater using the wrist-based heart rate monitor
You want access to considerably more sports modes
You like the convenience of being able to pay for things using your watch
You want the better spors and fitness watch overall