The Garmin Forerunner 735XT is a budget friendly GPS triathlon watch that still packs a punch in terms of features, looks and value for money. 
Then we have the Forerunner 945, which is pretty much the best triathlon watch that Garmin has ever made. It's basically a Garmin Fenix 6, with a lighter frame and no power management features (this is a good thing, because the Fenix 6 is an absolute beast). 
In this comparison, we are going to pit the FR735XT against the FR945 in a simple product battle. Our hope is that by the end of the article, you should have a much better understanding of which watch is better suited to your needs and your budget. 
Let's jump in. 
What are the main differences between the Forerunner 735XT and the Forerunner 945?
Battery life – The GPS battery of the FR945 (36 hours) is almost 3 times longer than the GPS battery life of the FR735XT (14 hours). 
Music storage and apps – The Forerunner 945 can store up to 1000 songs directly on the watch. The FR735XT can't store any music. 
Total number of sports modes – The FR945 boasts 30 sports and activity modes. The FR735XT is limited to 15. 
Underwater wrist HRM measurements – The upgraded optical heart monitor in the Forerunner 945 can measure heart rate when swimming. 
Golf mode – The FR945 gives you in-depth golf tracking abilities. The FR735XT does not.
Pulse Oximeter  – The Forerunner 945 can measure your blood oxygen levels with the built-in pulse oximeter. 
Garmin Body battery score – This unique measurement of your body's energy levels can only be accessed through the FR945. 
Garmin running power support – The FR735XT doesn't have a barometric altimeter, which is why it doesn't support Garmin running power. 
TOPO maps – The Forerunner 945 has contour map technology baked into the watch. This is more common in the Fenix range, but it's also found in the FR945. 
Price – The Forerunner 735XT is a lot cheaper than the Forerunner. This can make it super attractive for triathletes on a tight budget. 
Forerunner 735XT vs Forerunner 945 - Key Similarities
FR735XT
FR945
GPS + GLONASS
Wrist HRM
Indoor + Outdoor Running
Indoor + Outdoor Cycling
Indoor + Outdoor Swimming
Triathlon Mode
Bluetooth + ANT+
24/7 Activity Tracking
Sleep Tracking
Advanced Running Dynamics
V02 Max Estimator
Garmin Connect IQ
Cycling Power Meter Support
Running Power
Waterproof Rating
FR735XT vs FR945 - Key Differences
FR735XT
FR945
Price
Display Resolution
Lens Material
Weight
Galileo Support
Barometric Altimeter
Music Storage & Apps
Pulse Oximeter
Underwater Wrist HRM
TOPO Maps
Quick Release Mechanism
Golf Mode
WiFi
Garmin Running Power
Garmin ClimbPro
Garmin Running Coach
Payments from Watch
Safety Tracking
Smartwatch Battery
GPS Battery
Total Sports Modes
6 Reasons To Choose the Forerunner 735XT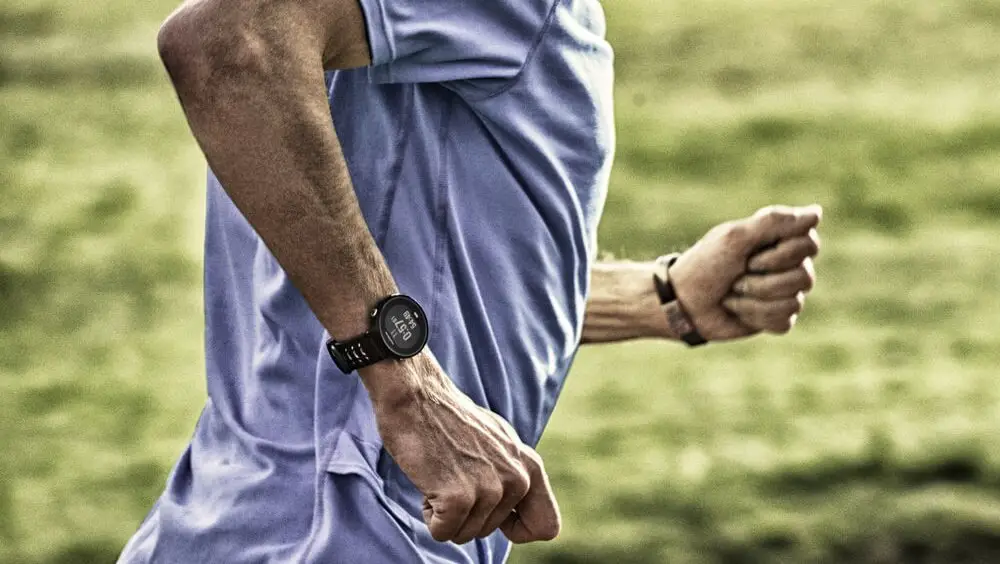 1. It's Much Cheaper (like 50% cheaper)
It doesn't matter who you are. Price will always be a factor when making a purchase decision. 
With the Forerunner 735XT, you can save a heap of cash by investing in the more affordable unit. If you're on a tight budget, this could easily be a deciding factor, and a strong reason to choose the Forerunner 735XT. 
2. It's still an excellent option for Triathletes
The fact of the matter is that the Foreruner 735XT will serve most triathletes very well. It has everything you need to measure outdoor swimming, outdoor cycling and outdoor running, and it does so with an easy to use multisport mode.
The only potential drawback for hardcore triathletes is that the GPS battery life caps out at 14 hours. If you're hoping to complete an full length Ironman at some point in the future, the Forerunner 945 might be the better bet. 
3. It covers a good range of sports modes
Even though the FR945 gives you access to 15 additional sports/activity modes, it's worth pointing out that the range of options with the FR735XT is still pretty impressive. 
The table below lists all the main sports modes supported by the Forerunner 735XT. 
01) Running
02) Treadmill Running
03) Cycling
04) Indoor Cycling
05) Pool Swimming
06) Open Water Swimming
07) Triathlon
08) Multisport
09) Stand Up Paddleboarding
10) Rowing
11) Hiking
12) XC Skiing
13) Strength Training
14) Cardio Training
15) Walking 
4. You can still access running power stats with Stryd
Of course it's a bit disappointing that the Forerunner 735XT doesn't support Garmin running power (you can view all the devices which do support Garmin running power here). 
However, all is not lost. You can still get pretty reliable running power stats by investing in the Stryd sensor. It is quite expensive for a running accessory, but if you take your running seriously, it's good to know that the option to measure running power is still available to you if you invest in the Forerunner 735XT. 
5. The FR735XT supports Garmin Advanced Running Dynamics
The fact that the Forerunner 735XT supports advanced running dynamics should make it even more attractive to passionate runners (yes the FR945 also supports this feature). 
If you aren't sure what this means, the bullet point explanations below should help: 
Ground Contact Time – the time your foot spends on the ground with each stride. 
Ground Contact Balance – Symmetry between left and right foot.
Vertical Oscillation – the amount of 'bounce' in your running motion.
Vertical Ratio – the cost-benefit ratio with stride length. This can help you find your ideal stride length for running fast over long periods of time. 
Running Cadence  – The FR735XT will display your steps per minute in real time. 
Stride Length – You can also access your stride length stats in real time. 
6. It's a good 'value for money' option for endurance athletes
The Forerunner 735 might not have all the bells and whistles that Garmin has to offer, but it delivers as a multisport GPS triathlon watch. 
It has also become much more affordable over time, and it often retails for several hundred dollars less than the Forerunner 945. 
Ultimately, if you just want a no nonsense triathlon watch, it's hard to look past the FR735XT. It delivers a strong one two combo of sports functionality and value for money. 
10 Reasons to Chose the Forerunner 945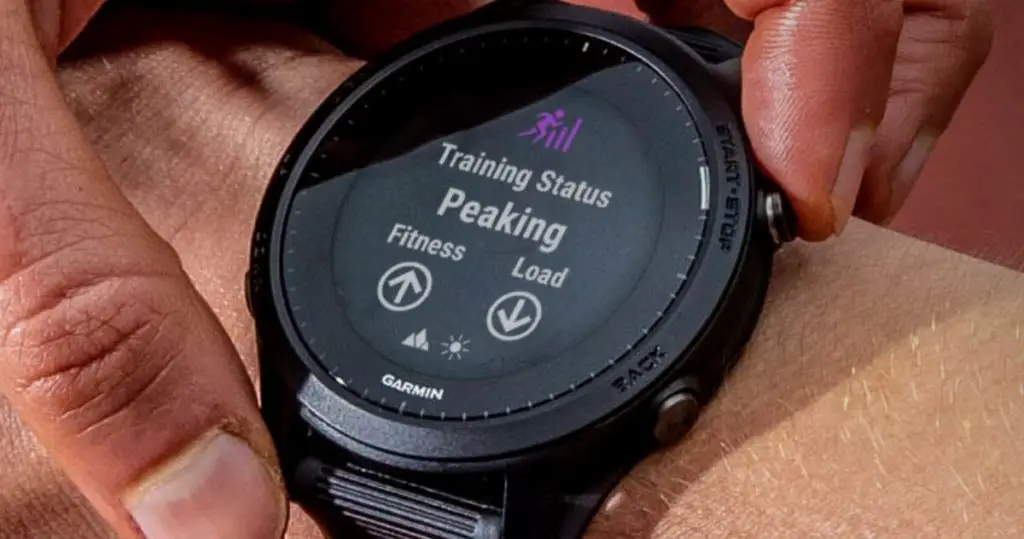 1. The Battery Life Is Much More Impressive
We touched on this earlier, but it's worth repeating. Where the battery life of the FR735XT is probably it's worst feature, the Forerunner 945 has plenty of gas in the tank with a GPS battery life of 36 hours. The bullet points below further emphasize the difference in battery life:
FR735XT GPS Battery Life – 14 Hours
FR945 GPS Battery Life – 36 Hours
FR735XT Smartwatch Battery Life – 11 Days
FR945 Smartwatch Battyer Life – 14 Days
2. The Screen Is Bigger, Brighter & Physically Stronger
With the Forerunner 945 you gain access to a 240×240 pixel screen. This is a fair bit larger than the FR735XT's 215×180 pixel equivalent. 
In addition, the lens material of the Forerunner 945 is made out of Corning® Gorilla® Glass DX. This is more scratch resistant and tougher than the Chemically strengthened glass lens in the FR735XT.
Lastly, the screen isn't just bigger and stronger. It's also a fair bit brighter. As a result, You will find it slightly easier to operate the FR945 during the day, especially in bright, sunny conditions. 
3. You can store up to 1000 songs, directly on the watch
Garmin have started introducing music storage into all their high end GPS watches, which is good news for potential Forerunner 945 owners. With the FR945, you can literally store about 3.5GB of music directly on their watch. This works out to roughly 1000 songs. In addition, you can also use popular music streaming apps such as:
Deezer
Spotify
Amazon Music
iHeart Radio
4. Improved HRM with Pulse Oximeter + Underwater Measurements
The Forerunner 945 is built with Garmin's V3 elevate optical heart rate monitor. This is important for two reasons. 
Reason 1: It includes a Pulse Oximeter
The Pulse Ox is used to measure your blood oxygen levels during the course of the day. The FR945 can then use this data to analyze your stress levels and to help calculate your body battery score (more on this shortly). 
Reason 2: You can use the optical HRM in the FR945 underwater
It took a fair bit of time for Garmin to catch up with the likes of Polar and Suunto in this regard. The good news is that they've finally made up the ground here, which means you can measure your heart rate in the pool or when swimming outdoors with the Forerunner 945.
Naturally you will still get the most reliable readings from a chest strap, but it's pretty convenient to have the option of measuring you heart during swims without a chest strap (especially if you aren't an elite level triathlete). 
5. It has a barometric altimeter
The inclusion of a barometric altimeter means that the FR945 is better at measuring vertical movements when you are hiking, running or cycling. 
The Forerunner 945 literally combines the readings from the the barometric altimeter with the readings from the GPS, to paint a more accurate picture of your movements during outdoor endurance exercise. 
The altimeter also opens up additional sports modes like skiing and snowboarding, and it means you can track how many stairs you tackle during the day. 
6. You gain access to Garmin Body Battery Score
The whole point of Garmin's body battery score is to give you a holistic metric to measure your overall energy levels.
It combines your resting heart rate, sleep quality, training date and stress factors into one overarching measurement, dubbed 'Body Battery'. Although this metric isn't perfect, it's pretty cool to keep track of your Body Battery score, and it can help motivate you to make better decisions, like getting more sleep or training more frequently. 
7. It has sophisticated golf tracking abilities
Honestly, the golf features in the Garmin Forerunner 945 are comparable to those in the Garmin S40 (one of their dedicated golf watches). Basically, that means you can get:
Yardage to the front, middle and back of the green
41 000 preloaded golf courses
Yardage to layups and doglegs
Digital scorecard
Automatic measurement of your shot distance (Garmin Autoshot)
8. TOPO Maps and Garmin ClimbPro
Garmin's topo map technology is legitimately awesome. It will show you the topographical contours of a given area, which is super useful for hiking and exploring new terrains on foot or your mountain bike. 
In addition, the Forerunner 945 gives you access to Garmin ClimbPro. This leverages the map technology to give runners and cyclists a better understanding of upcoming climbs. ClimbPro will give you basic information about the hill you are actively climbing, and it will also provide details up the next climb on the map.
This technology is only baked into Garmin's premium GPS watches. It's a major difference between the FR735XT and the FR945. 
9. The Forerunner 945 is better for running specialists
There are 3 main reasons the FR945 is better than the FR735XT, for runners specifically. 
It has a barometric altimeter – This means more accurate incline and decline measurements when training or racing
You gain access to Garmin running power – This is a big win, because Garmin's running power accessories are much cheaper than the Stryd running meter. 
You gain access to Garmin running coach – This is another nifty feature. You can build customized training plans, ranging from 5km's to half-marathon distance. Better yet, these training plans stem from expert running coaches Jeff Galloway, Greg McMillan and Amy Parkerson-Mitchell
10. You get double the amount of sports and activity modes
Although the FR735XT suports most of the main endurance endurance sports, it can't compete with the Forerunner 945 in terms of total sports modes. 
To further clarify the differences in this regard, let's make use of a super simple comparison table. 
| Forerunner 735XT Sports Modes | Forerunner 945 Sports Modes |
| --- | --- |
| 01) Running | 01) Running |
| 02) Treadmill Running | 02) Treadmill Running |
| 03) Cycling | 03) Cycling |
| 04) Indoor Cycling | 04) Indoor Cycling |
| 05) Pool Swimming | 05) Pool Swimming |
| 06) Open Water Swimming | 06) Open Water Swimming |
| 07) Triathlon | 07) Triathlon |
| 08) Multisport | 08) Multisport |
| 09) Stand Up Paddleboarding | 09) Stand Up Paddleboarding |
| 10) Rowing | 10) Rowing |
| 11) Hiking | 11) Hiking |
| 12) XC Skiing | 12) XC Skiing |
| 13) Strength Training | 13) Strength Training |
| 14) Cardio Training | 14) Cardio Training |
| 15) Walking | 15) Walking |
| | 16) Hiking |
| | 17) Climbing |
| | 18) Skiing |
| | 19) Snowboarding |
| | 20) Kayaking |
| | 21) Mountain Biking |
| | 22) Golf Tracking |
| | 23) Stair Stepping |
| | 24) Indoor Rowing |
| | 25) Tactical |
| | 26) Jumpmaster |
| | 27) Indoor Track Running |
| | 28) Trail Running |
| | 29) Yoga |
| | 30) Elliptical Training |
Resources used in this post: