When the Garmin Forerunner 935 was first released, it was one arguably the most popular GPS triathlon watch at the time. It has almost all the same features as the Garmin Fenix 5, with the exception of topographical maps. 
The Garmin Forerunner 745 is technically the upgrade to the Forerunner 735XT, but it would be better to think of it as a Garmin Forerunner 945 Lite. It's a massive upgrade on the FR735XT and the FR935. 
Now let's dive into the details of this particular product comparison. 
Key Similarities - Forerunner 745 vs Forerunner 935
Forerunner 745
Forerunner 935
GPS, GLONASS & GALILEO
Wrist-based HRM
24/7 Activity Tracking
Triathlon Tracking
Running Indoor + Outdoor
Cycling Indoor + Outdoor
Rowing Indoor + Outdoor
Pool Swimming
Open Water Swimming
Garmin Running Power
Garmin Running Coach
Stryd + RunScribe Compatible
Barometric Altimeter
Gyroscope + Accelerometer + Compass
Bluetooth, ANT+, Wi-Fi
Garmin Connect IQ
Point-to-Point Navigation
Back To Start + Trackback®
Cycling Power Meter Compatible
Display Size
Waterproof Rating
Display Resolution
Display Size
Topographical Maps
Key Differences - Forerunner 745 vs Forerunner 935
FR745
FR935
Dimensions
Weight
Lens Material
Smartwatch Battery
GPS Battery
GPS Battery with Music
UltraTrac GPS Battery
Music Storage + Apps
Payments from Watch
Garmin PacePro
Garmin ClimbPro
Optical HRM Under Water
Body Battery Score
Pulse Oximeter
Safety/Incident Detection
Respiration Rate
Heat + Altitude Acclimation
Training Load + Training Focus
Daily Workout Suggestions
Golf Mode
Garmin Forerunner 745 Sports Modes
Strength Training
Cardio Training
Elliptical Training
Stair Stepping
Floor Climbing
Indoor Rowing
Yoga
Running
Treadmill Running
Indoor Track Running
Trail Running
Skiing
Snowboarding
XC Skiing
Stand Up Paddleboarding
Rowing
Cycling
Indoor Cycling
Pool Swimming
Walking
Pilates
Outdoor Track Running
Virtual Running
Kayaking
Mountain Biking
Open Water Swimming
Swimrun
Triathlon Tracking
Garmin Forerunner 935 Sports Modes
Strength Training
Cardio Training
Indoor Rowing
Running
Indoor Running
Trail Running
Hiking
Climbing
Skiing
Snowboarding
XC Skiing
Stand Up Paddleboarding
Outdoor Rowing
Jumpmaster
Tactical
Cycling
Indoor Cycling
Mountain Biking
Pool Swimming
Open Water Swimming
Triathlon Tracking
Golf Mode
Reasons To Choose The Forerunner 935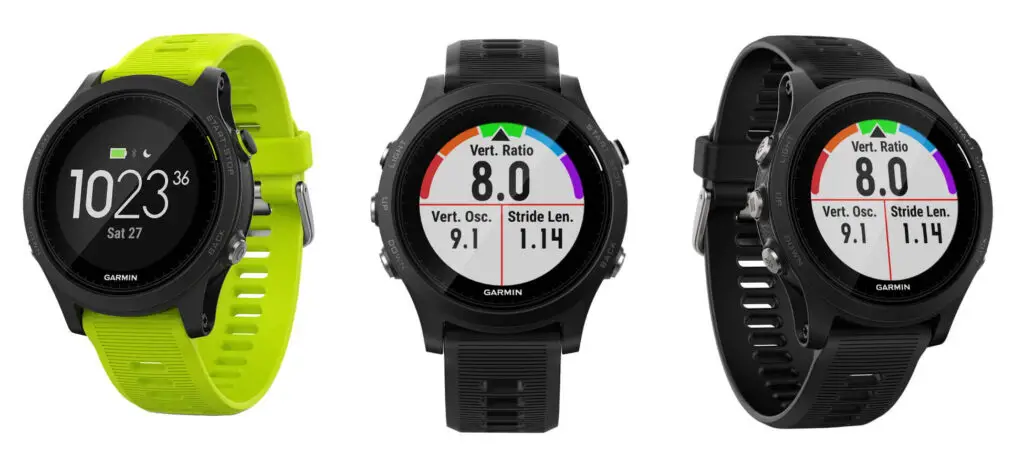 There are only 3 reasons to consider the Forerunner 935 over the Forerunner 745. 
1. Longer GPS Battery Life
The differences in battery life are considerable. This is somewhat surprising, given that the FR745 is built with the Sony GPS chip that has allowed Garmin to massively improve GPS battery life specifically in most of their watches released from 2018 and onwards. 
More importantly, the battery life differences are highlighted below. 
Forerunner 935 Battery Life
Smartwatch battery: Up to 14 days
GPS battery: Up to 24 hours
Ultratrac GPS: Up to 60 hours
Forerunner 745 Battery Life
Smartwatch battery: Up to 7 days
GPS battery: Up to 16 hours
Ultratrac GPS: Up to 21
From a functionality perspective, this is by far the biggest advantage that the FR935 has over the FR745. If you elect the Forerunner 935, you basically unlock all the features of a dedicated GPS golf watch, including: 
Yardage to the front, middle, and back of green
Yardage to layups and doglegs
Measures shot distances automatically
Digital scorecard
Stat Tracking
Garmin AutoShot
Green view with manual pin position
Hazards and course targets
TruSwing compatibility
Round Timer (odometer)
3. It's more likely to be discounted
While these watches share the same recommended selling price (around $499), the simple truth is that the Forerunner 935 is far more likely to be discounted. 
This is not to say that it will always be on special. However, if you're a deal hunter, you're far more likely to actually find a deal on the FR935. 
Reasons To Choose The Forerunner 745

The Forerunner 745 supports 3.5GG onboard music storage, which works out to about 500 songs. The FR745 also supports popular apps like Spotify, Deezer, Amazon Music, and iHeart Radio. 
2. Pulse Oximeter (Blood Oxygen Measurements)
This wrist-based heart rate monitor in the FR745 measures blood oxygen saturation levels to provide a clearer picture of how you're sleeping and how you're adjusting to altitude.
3. Under Water Heart Rate Monitor
The FR745 is built with Garmin's V3 Elevate heart rate monitor. This is good news because it means you can use the optical HRM when swimming, without the need for a chest strap. 
Like most of Garmin's new activity trackers, the Forerunner 745 includes contactless payment technology. This is pretty convenient, especially when you want to get a drink or a coffee after a run, without taking your wallet along for the ride. 
5. Daily Workout Recommendations
For training guidance that takes you and your fitness level into account, get daily run and ride recommendations based on your current training load and training status.
With Body Battery Score, the Forerunner 745 basically combines your heart rate data, training data, and sleep data into one overarching metric called body battery. It's a nice way to keep tabs on your energy levels. 
At this point it should be crystal clear that the Forerunner 745 is a better watch than the Forerunner 935. With that being said, if you're still undecided, these final tips may help: 
Go for the Forerunner 935 if: 
You play golf regularly
You need a longer GPS battery life
You can find the FR935 on special
Go for the Forerunner 745 if: 
You like listening to music while you train
You want all the latest fitness technology that Garmin has to offer
You want the better sports watch overall