The Polar Vantage V is Polar's top triathlon watch at this moment in time. It's built with premium materials, an excellent wrist-based heart rate monitor and tons of triathlon specific features designed specifically for professional athletes.
Then we have the Garmin Fenix 6 Pro and Fenix 6 Sapphire. Released in the latter half of 2019, the Fenix 6 is literally the cream of Garmin's crop.
Like the Vantage V, it also boasts triathlon capabilities, but the features don't end there. You also get smartwatch features like music storage, contactless payments and power management abilities. Plus, it's an excellent companion for outdoor adventures, given the insanely detailed TOPO map navigation technology that can be leveraged in a variety of interesting ways, including mountain biking, trail running, hiking and skiing.
Polar Vantage V vs Garmin Fenix 6 - Key Similarities
Vantage V
Fenix 6
GPS + GLONASS + GALILEO
Wrist-based HRM
Indoor + Outdoor Running
Indoor + Outdoor Cycling
Indoor + Outdoor Swimming
Indoor + Outdoor Rowing
More than 20 Sports Modes
Triathlon Mode
Bluetooth
Accelerometer
Barometric Altimeter
Route Guidance & Back To Start
Vantage V vs Fenix 6 - Key Differences
Vantage V
Fenix 6
Price
Sports Modes
Running Power
Wrist-HRM Accuracy
Smartwatch Capabilities
Pulse Oximeter
Music Storage & Apps
Payments from Watch
TOPO Maps
Changeable Straps
Sophisticated Golf Tracking
WiFi Connectivity
ANT+ Connectivity
Pre-loaded Ski Maps
Pre-loaded Golf Course Maps
Advanced Running Dynamics
Temperature + Altitude Acclimation
Power Management Options
Solar Charging
Standard GPS Battery
Extended GPS Battery
Please note – the standard version of the Garmin Fenix 6 doesn't support music storage. You need to choose the Fenix 6 Pro, Fenix 6 Sapphire or Fenix 6X Solar in order to unlock the music capabilities. 
What are the main differences between the Polar Vantage V and the Garmin Fenix 6?
1) Touchscreen + Button Interface: The Polar Vantage V has a touchscreen + button interface. The Fenix 6 relies exclusively on buttons to work the watch. 
2) Impressive Navigation Capabilities: The Fenix 6 is built with TOPO map technology. This comes in handy when hiking, trail running, mountain biking, skiing or snowboarding. 
3) In-built Running Power: The Polar Vantage V gives you running power from the wrist. With the Fenix 6, you have to use an accessory to unlock running power. 
4) Music Support & Other Smart Features: The Fenix 6 can store up to 2000 songs, and it has smart notifications, safety tracking, payment capabilities and the ability to customize the watch using Garmin Connect. 
5) The Vantage V is much cheaper: This is not to say the Vantage V is cheap (it's  quite far up the wearable tech food chain). However, the Fenix 6 is one of the priciest sports watches on the planet. 
But this is just the tip of the iceberg. To further understand the differences, take a look at the main advantages of each watch listed below, or have another look at the comparison table at the top of the article. 
Main Reasons To Choose the Polar Vantage V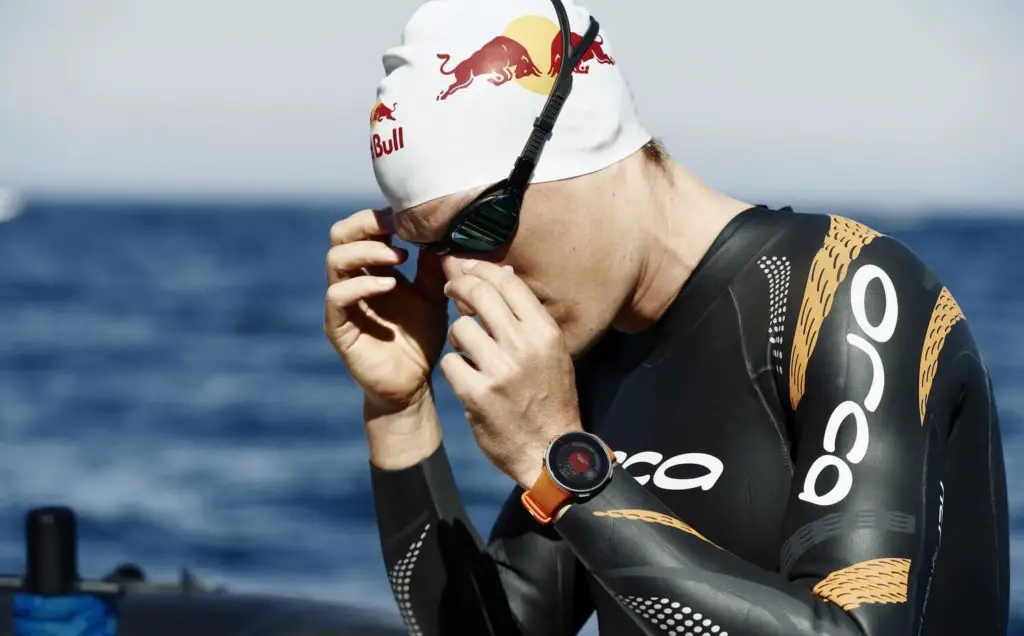 Built-In Running Power from the Wrist
Running power has become one of the most coveted stats in running for good reason. It represents one of the purest ways to measure your energy output when running uphill, downhill and on flat terrain. 
In fact, 3rd party companies like Stryd and RunScribe have built entire businesses by creating accessories capable of measuring this statistic. 
With the Polar Vantage V, you gain access to running power, without the need to purchase any additional accessories. This separates it from the Garmin Fenix 6. which requires you to purchase the Garmin HRM-Run, Garmin HRM-Tri or the Garmin Advanced Running Pod in order to unlock running power stats. 
It has a touchscreen, but you can also just use the buttons
In a way, I find it a little bit surprising that more companies don't offer the combination of a touchscreen + button interface. 
For everyday use, the touchscreen comes in handy, making the Vantage V feel like a Smartwatch that's very easy to navigate. However, when it comes time to exercise, you don't have to worry about sweaty fingertips midway through your run or cycle. Instead, you can just fallback to plain Jane buttons, which are generally a lot easier to use during intense exercise.
It's very well suited to serious runners and triathletes
Polar's target market for the Vantage V is literally professional endurance athletes. In other words, the Vantage V is built for people that are primarily interested in training and performance data that can help them improve over time, and maintain periods of peak performance.
This is good news for anyone who takes running or triathlon seriously. You essentially get a GPS watch that can genuninely help make you a better athlete, if you work with all the training, performance and recovery data that becomes available to you through the Vantage V and Polar connect. 
It's better Value for Money
If your main concern is to invest in a high quality GPS sports watch that excels at running, cycling, swimming and triathlons, there are very few watches that can compete with the Polar Vantage V. 
It might not be quite as cheap as the Polar Vantage M, but the Polar Vantage V is comfortably one of the best value for money triathlon watches available right now. 
The Garmin Fenix 6 is basically on the other end of the spectrum in terms of price. It's literally one of the most expensive sports watches that you can buy. 
Main Reasons To Choose the Garmin Fenix 6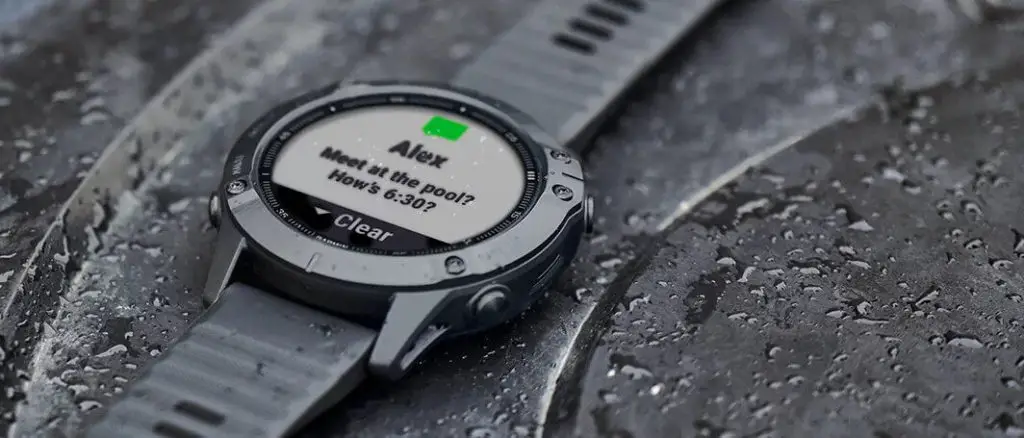 It has world class navigation technology
The Polar Vantage V simply doesn't have an answer to the detailed TOPO maps and other naviation technologies built into the Fenix 6. Here's a short roundup of the navigation tech that you get:
TOPO Maps  -Use topographical maps to navigate your adventures. These are particularly useful for hiking and mountaineering.
Ski Maps – 2000 Pre-loaded ski maps baked directly into the watch.  
Round Trip (Back To Start) Routing – Enter a distance you want to travel, and get suggested routes that will bringe you back to your starting point. Trendlin popularity routing helps you find the best local paths.
Turn by turn Navigation – Follow a route or course with help from turn-by-turn directions, which let you know ahead of time when the next turn is coming.​
The Fenix 6 Has Excellent Running Features
There are 3 major bonus benefits that runners can look forward to if they decide to go with the Fenix 6. 
Please note, in order to unlock Garmin Advanced Running Dynamics and Garmin Running Power (discussed below), you need to invest in either the Garmin HRM-Run, Garmin HRM-Tri, or Garmin Advanced Running Dynamics Pod. 
Running Benefit 1: Advanced Running Dynamics
Ground Contact Time – The time your foot spends on the ground with each stride.
Ground Contact Balance -Symmetry between left and right foot.
Vertical Oscillation – degree of 'bounce' in your running motion.
Vertical Ratio  – the cost-benefit ratio with stride length.
Cadence – Real time cadence stats displayed on your watch.
Stride Length – Real time stride length stats displayed on your watch. 
Running Benefit 2: Garmin Running Power
Admittedly the Vantage V trumps the Fenix 6 by having native (built-in) support for running power. Regardless, you can still access running power stats with the Fenix 6 if you invest in one of the accessories mentioned above (HRM-Run, HRM-Tri, Running Pod) and download the Garmin running power app. 
Running Benefit 3: Garmin PacePro
This is a relatively new feature that helps you hit your target race times. It does this by factoring the speed impact of hills, while giving you the target pace for every stage of the race, in real time. 
Garmin PacePro is a bit like having a running bus (a group of runners who run at a specified pace with the intention of finishing the race in a specified time), directly on your watch. If you're aiming to smash your marathon PB or simply hit very particular race goals this year, Garmin PacePro could be a dealbreaker. 
It's the better choice for cyclists
The main reason the Garmin Fenix 6 is better than the Polar Vantage V for cyclists, is because it supports ANT+ connectivity. 
This means the Fenix 6 can connect with 3rd party cycling apps (such as Wahoo bike monitors and heart rate monitors) with ease.
With the Vantage V, you essentially have to settle with Polar's range of cycling accessories. This isn't the end of the world, because Polar make plenty of good cycling products. Nevertheless, support for ANT+ gives the Fenix 6 the edge for cyclists specifically. 
The Fenix 6 Has Signficantly More Smart Features
The Fenix 6 is definitely the more competent smartwatch. Here are some of the main features that you can look forward to if you choose the Fenix 6. 
Garmin Pay – This allows you to make payments directly from the watch
Music Storage & Apps – You can store up to 2000 songs
Smart Notifications – Read messages from your Smartphone directly on the watch
Safety Tracking – When paired with your phone, your watch can automatically notify your emergency contacts if it detects an incident (like a sudden collision and no further movement on your behalf). 
Garmin Connect IQ App Store – Garmin Connect IQ is a bit like Apple's App store, but for Garmin apps specifically. It allows you to download custom watch faces, dedicated apps like Strava Suffer Score, and even customize the data fields available on the watch when running. Basically, you can geek out with Connect IQ if you are technically inclined. 
You can store up to 2000 Songs and use apps like Spotify & Deezer
This benefit is pretty self-explanatory. The Fenix 6 Pro, Fenix 6 Sapphire and Fenix 6 Solar all support music storage and music apps. You can essentially store up to 2000 songs and use apps like:
Spotify
Deezer
iHeart Radio
Amazon Music
It's the better choice for Golfers
Even though the Polar Vantage V has a golf mode, the tracking capabilities are rudimentary in comparison to the Fenix 6. 
In fact, it's completely fair to say that the golf mode on the Fenix 6 rivals the golf mode of dedicated golf watches such as the Garmin S40 and the Garmin S60. The main stats and features that you get include:
Yardages to front, middle and back of green
Yardages to hazards and bunkers
Green view with manual pin position
Automatic shot distance tracking
Digital scorecard
The Battery Life & Power Management Features Are Very Impressive
The exact battery stats will vary according to which version of the Fenix 6 you choose, but the main point here is that the options available to you are very impressive. For instance, when looking at the standard Fenix 6 Pro, you essentially get the following battery options by default: 
Smartwatch battery: up to 14 days
GPS: up to 36 hours
GPS and music: up to 10 hours
Max battery GPS mode: up to 72 hours
Expedition GPS mode: up to 28 days
Battery saver watch mode: up to 48 days
Then you can also create customized battery modes, or simply switch to a battery saver mode if you do find yourself running low for whatever reason. Long story short, the Fenix 6 has a battery mode that will suit just about any occasion. 
The Fenix 6 Is Better for Skiing and Snowboarding
This is another area where the Polar Vantage V may offer a similar mode (skiing and snowboarding are supported), but it's not nearly as detailed as the Garmin equivalent.
From the get-go, you get 2000 pre-loaded Ski Maps. This gives you detailed data about the slope rating, together with a basic map of the actual resorts (making it much easier to navigate without an instructor). 
Then the actual skiing and snowboarding modes are excellents
The Top End Fenix 6X Supports Solar Charging
Even though we aren't necessarily sold on this benefit (because the solar charging has an almost negligible effect on total battery life), it's worth mentioning that the top end version of the Fenix 6 supports solar charging.
In order to access solar charging, you will need to invest in either the Fenix 6 Pro Solar – Titanium Carbon Gray DLC with Black Band, or the Fenix 6 Pro Solar – Titanium with Vented Titanium Bracelet, featured below. ​​
Resources Used In This Post: