Everybody loves a weight-loss transformation story and runners are no different. For this post, we have gathered 7 amazing before and after weight-loss photos, where running has been the primary vehicle for dropping the excess pounds.
Meet Nick - The 32 Year Old Father of Two That Dropped 60 Pounds In 1 Year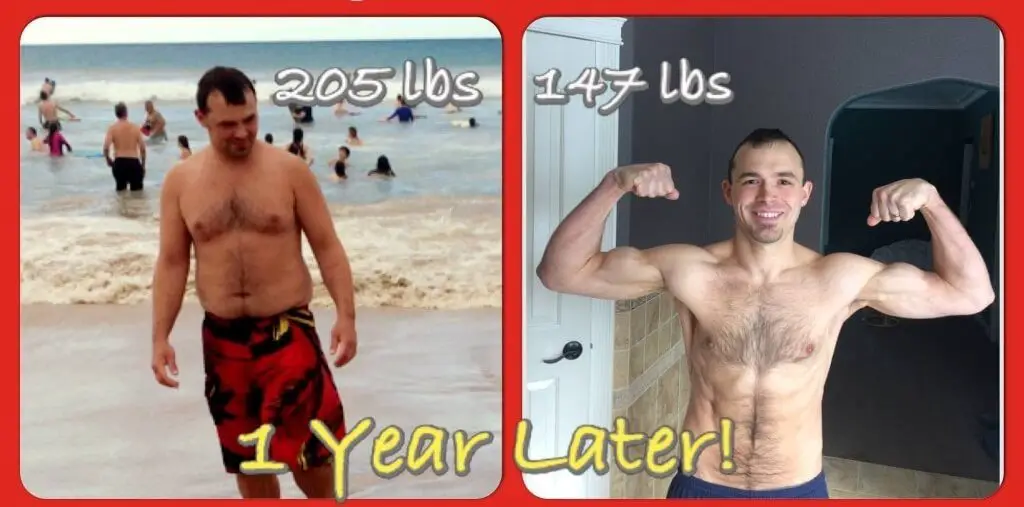 Like so many young lads, Nick's waistline started increasing steadily after he left college. Rather than spending his afternoons playing ice hockey and basketball, the transition from student to working professional paved the way for a sedentary lifestyle that would ultimately prove to be his downfall. 
Then he had two daughters while managing a successful business, and the stage was set for a permanent and ever-growing Dad Bod. But then he found himself staring out the window of his office block, transfixed by all the runners participating in a 10k on the streets below. He soon realized that he had actually run that very race, albeit 10 years earlier when he was a fit and healthy 20 something. In this moment of inspiration, Nick made a bold claim. 
"I looked at a coworker and told him, I'm going to run that race next year. I didn't know what that statement was going to mean at the time, but standing there at 205 lbs, I thought that I'd be happy just being able to finish the race."
But Nick did more than just finish the race. The challenge he set himself that day sparked a slow and steady lifestyle transformation that ultimately allowed him to drop 60 pounds. 
The 5 Keys to Nick's Weight Loss Success
He started eating healthy at work and at home
He set the goal of reaching 10 000 steps per day, and invested in a Fitness Tracker to help him achieve this goal
He tracked his weight every week rather than every day,  knowing it was essential to give himself enough time to actually drop the weight. 
His primary goal  was to live a healthier lifestyle rather than achieving a set weight or target
He got hooked on running, so much so that his biggest challenge was to overcome and avoid injuries
To read more about Nick's story, just head on over to
strengthrunning.com
 where his coach and mentor, Jason Fitzgerald, gives a more in-depth breakdown of Nick's journey. 
Meet Rebecca - The Blogger That Dropped 100 Pounds & Kept It Off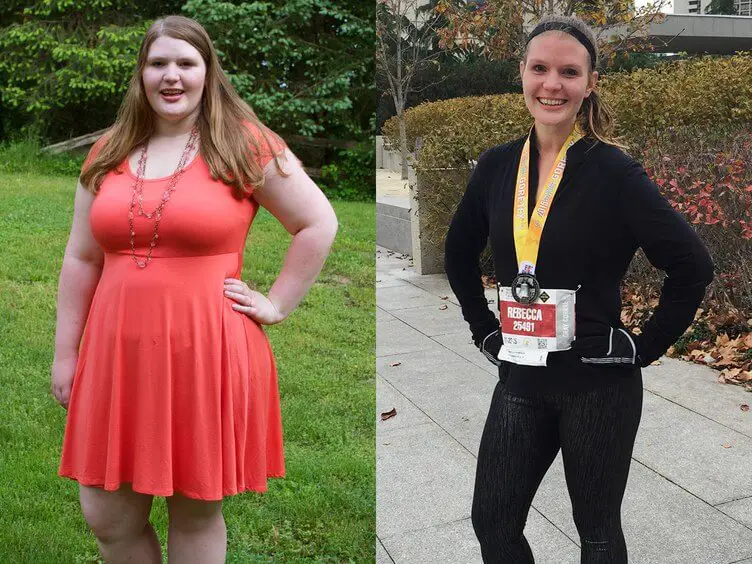 After peaking at 246 pounds, Rebecca used a planned holiday to Jamaica to kickstart her epic weight loss journey. 
"I didn't want to go on the trip, come back and look at pictures from my fun tropical vacation and not be able to remember how much fun I had". 
Even though she never enjoyed running growing up, Rebecca stuck to her guns, and started running three times a week. Eventually, she ran for 30 minutes without stopping. This was  huge turning point in her weight loss journey. She had officially become a runner. 
From that point onward, Rebecca's consistency paid off.  She continued to drop the pounds by running 3 times a week and doing Zumba or workout DVD's on the days that she didn't run. 
The 5 Keys To Rebecca's Weight Loss Success
She used her treadmill at home log most of her miles
She measured her calorie intake using MyFitnessPal, and she measured how many calories she burned using a Polar Sports Watch. This helped her keep her food demons at bay, which she called her biggest challenge
She was active every day during the week. She would run 2-3 times per week, and do Zumba or Jillian Micheal's workout DVD's on the days that she didn't run
She signed up for short distance running races. This helped her drop the last 30 pounds, and achieve her goal weight of 190 pounds.
She completely overhauled her attitude toward running. Growing up she hated running, but now she is extremely passionate about collecting kilometers. Changing your attitude toward this amazing sport could unlock similar benefits for you. 
This Is Adam - A Guy Who Dropped His Body Weight In Half (332 to 160 lbs)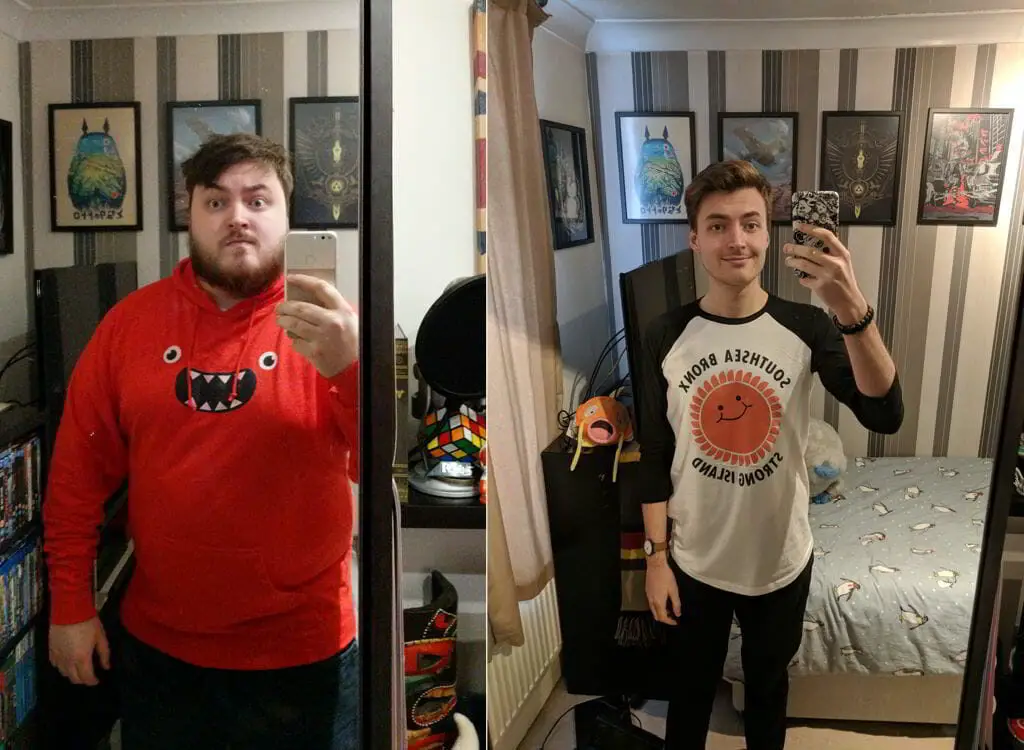 Before making a firm decision to start losing weight Adam would spend his days doing very little exercise, eating whatever he wanted. 
At 332 pounds, it was clear that Adam's lifestyle choices were leading him down a dangerous path. He didn't know anything about proper nutrition, and his desire to run was non-existent. 
Then one of Adam's friends forced him to come on an evening run. He laced up a pair of unused Brooks and set out for the evening jog with his mate.
It only took 30 seconds for Adam to realize that there was a problem. At the age of 24, he was unable to run for more than a minute. That short stint in the evening was the wake-up call that Adam desperately needed. 
From that point onward, Adam started running consistently. At first he would walk/run once a week. This soon increased to four times a week, and his improved fitness meant that he didn't have to walk anymore.
The weight  started dropping off Adam's body very quickly. During an 11 month period, Adam dropped 14 pounds per month on average. 
Here are the 5 Keys to Adam's Weight Loss Success:
He started walking to work, accumulating 20 000 steps per day during work days
He cut his calorie intake and immediately noticed a drop in weight. This gave him the faith that it was possible to lose weight. 
He started running 4 times a week, although it took him some time to achieve this level of consistency. 
He built his total mileage up to 30 miles a week, and now maintains this weekly distance. 
He stopped procrastinating, and accepted that the time had come for him to accept that losing weight was no longer a choice, but a necessity for him to lead a healthy life. 
 To read more about Adam's weight loss process, you can view the full article on
Running Shoes Guru
. 
Meet Toni - 35 Pounds Lighter After Starting Couch To 5K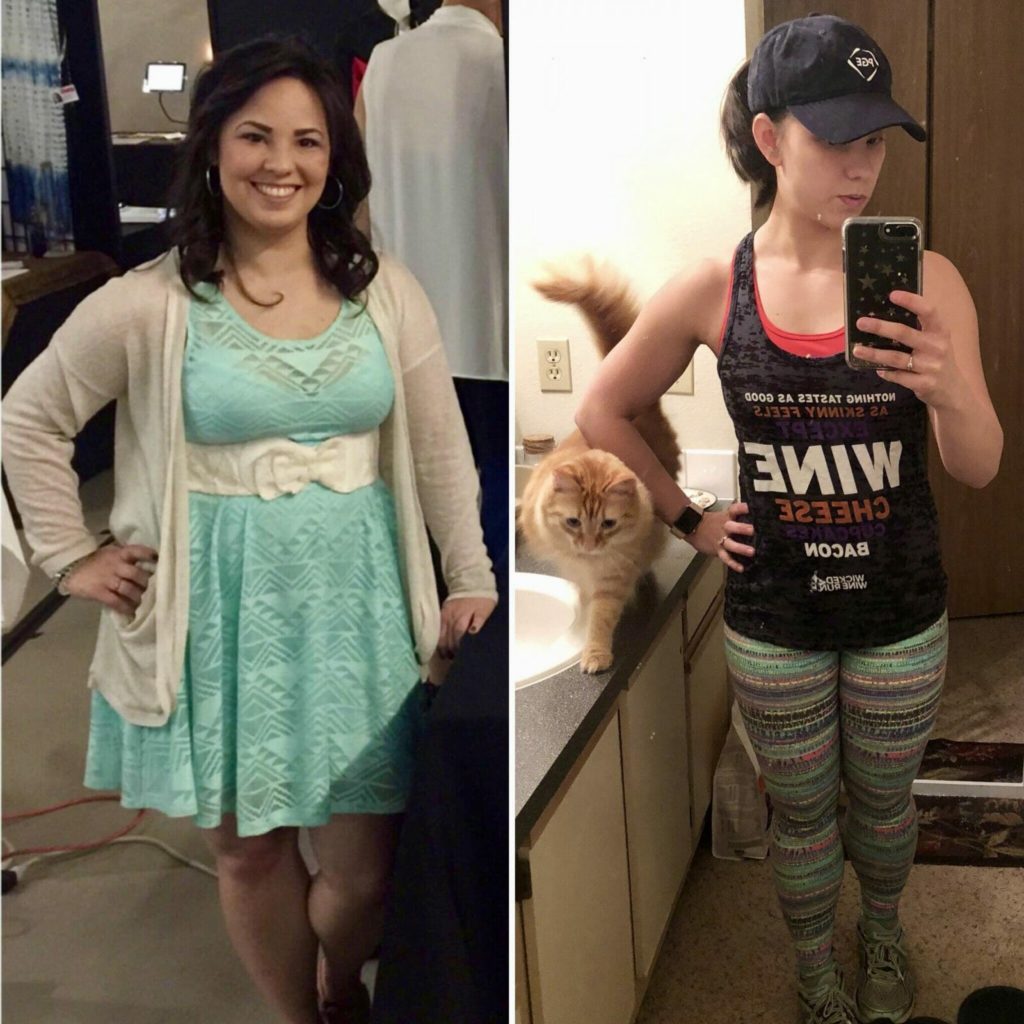 Like so many people, Toni gradually gained weight as she progressed through adulthood. Eventually, she found it difficult to recognize herself in photos! 
Instead of accepting her status as an overweight individual, Toni decided that it was time to make a change. She signed up to the Couch To 5K running program, and quickly discovered that she was a passionate runner. 
5K's turned to 10k's, and 10k's turned to half-marathons. In other words, Toni got hooked on running.
However, Toni also discovered that full marathons aren't for her. In fact, after training for a full marathon, she lost interest in running altogether, and took 6 months off. 
The running bug didn't die though. She was soon back to her very best, focusing on 10k's and half-marathons, and smashing her PB's in the process. Toni's story proves that marathons aren't for everyone, and the weight loss gains from shorter distances can be just as impressive. Don't let anyone tell you otherwise!
The 5 Keys To Toni's Success
She made a conscious decision to start losing weight, when she could no longer identify herself in photos
She signed up for the Couch To 5K training plan, which kick-started her journey as a runner
She started eating foods that would make her a better runner (bananas, chicken, brown rice, oats and berries for instance)
She learnt how to overcome her food cravings, even if she had some bad days here and there
She took a long term perspective, knowing that her improved diet and total running mileage would help her drop weight over time. She was 100% right. 
To find out more about Toni's journey, head over to Running Shoes Guru for the in-depth interview
75 Pounds Dropped - This Is Julian's Journey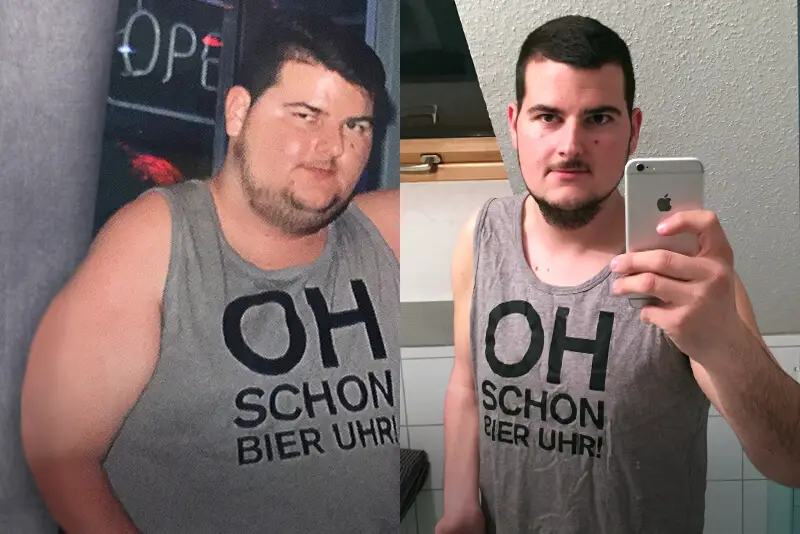 At the age of 23, Julian Fritz stood on the scale and realized that there was a problem. He had reached a record weight of 240 pounds. 
Rather than beating himself up and feeling guilty about what lead him to this point, Julian decided it was time to make a change. His first battle was with the treadmill. 
"Back then, the treadmill was the enemy I had to defeat!"
His first major goal was to run for 60 minutes on a treadmill… without stopping. It took him some time, but eventually, he built up the fitness needed to hit the 60 minute mark. Then he went into overdrive. 
During the summer months, Julian would do cardio for 60 minutes, 5 times a week. He also made the decision to stop smoking, which has plenty of additional health benefits. 
The other key to Julian's success was food tracking. Julian actually did this manually, writing down all his meals, snacks and drinks over the course of the day. "Food tracking taught me to be more aware of my diet and pay attention to what I was eating".
It didn't take long for Julian to start dropping the pounds. In a few a short months, he lost 40 pounds, through the combination of regular cardio sessions and consistent food journalling. 
The 5 Keys To Julian's Success
He transformed the treadmill from an enemy into an ally.
He built up the fitness needed to run for 60 minutes on a treadmill
He did 60 minute cardio sessions, 5 times a week
He gave up smoking
He used a food journal religiously. It was the combination of cardio and better food choices that allowed him to drop 75 pounds in total
To read more about Julian's Journey, check out this article on the Runtastic blog. 
106 Pounds Later - This Is Audrey's Story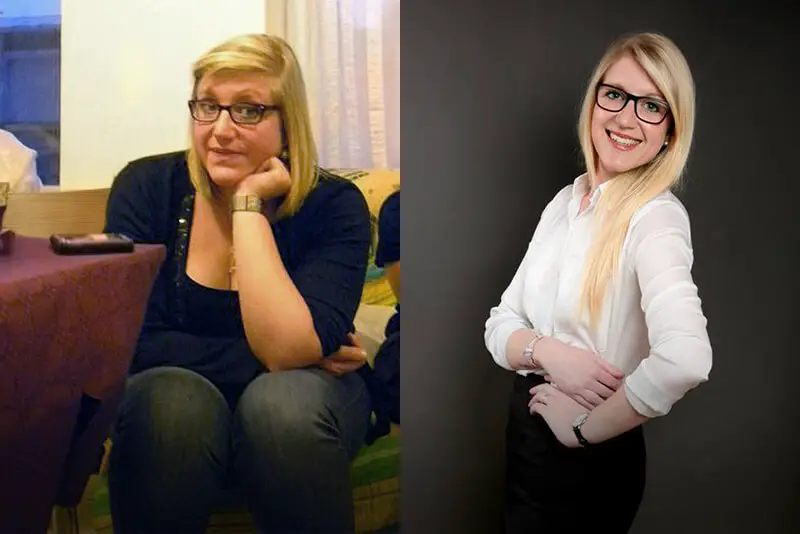 It was during her final year at school that Audrey became a victim of bullying because of her weight. Prior to that point, her school mates would celebrate her personality and sense of humor, but this all changed in her final year. 
The bullying was harsh, and it extended from the playground to Facebook, leaving Audrey with no escape from her ruthless classmates. 
During this awkward and painful time, Audrey also visited the doctor, only to discover that she weighed 238 pounds! Despite this shock to the system, Audrey wasn't ready to take any action. 
Audrey's Light Bulb Moment
After graduating from school, Audrey moved from the countryside to the city in order to attend University. During this change in environment, Audrey had an epiphany. 
"Be the person you want to meet!"
This light bulb moment sparked immediate action. Audrey decided to change her eating habits, pretty much overnight replacing carbohydrates with vegetables, and following a strict eating schedule. She also started controlling her portion sizes, one of the simplest ways to restrict calories when you are hoping to lose weight. 
The results were nothing short of amazing. By changing her eating habits, Audrey managed to lose 84 pounds in just over 6 months. To cut the last 22 pounds, Audrey turned to running, and which helped her shred some of the stubborn fat that was a bit more difficult to lose. 
The 5 Keys To Audrey's Success
Draw inspiration from Audrey's revelation and "Become the person you want to meet"
She replaced carbohydrates with vegetables and followed a strict eating schedule
She controlled her portion sizes
She downloaded the Runtastic running app and started logging miles every week
She used a sudden moment of inspiration to completely overhaul her eating habits 
You can read more about Audrey's weight loss journey on the Runtastic blog. 
This Is Gina's 76 Pound Weight Loss Journey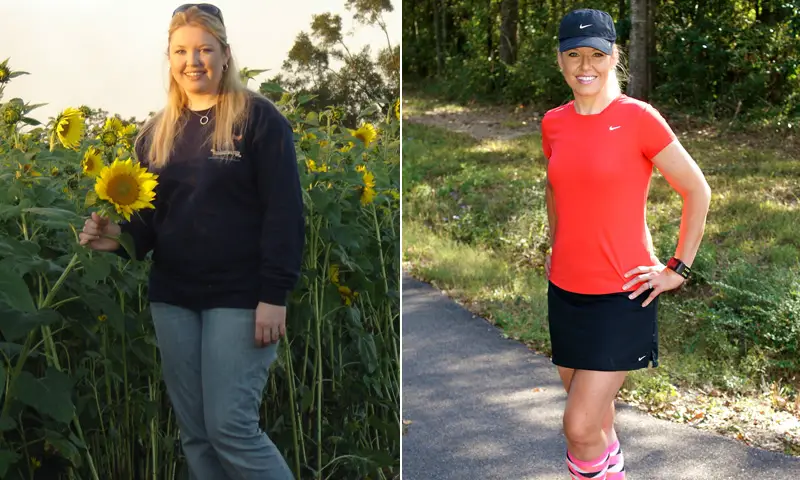 Surprisingly, Gina managed to go through three successful pregnancies before her weight loss struggles began. It was only after her fourth pregnancy that things took a turn for the worse. 
It was during this fourth pregnancy that Gina developed high blood pressure, a condition that would continue after she gave birth. She also started battling depression, which completely drained all her exercise motivation. 
"Because I felt down, I didn't feel like exercising and because I didn't exercise, I gained weight. I would eat pretty much anything. When I tried to 'diet', I would end up starving and overeating again. The doctor put me on depression meds, and it caused more weight gain. It was a never-ending, miserable cycle."
Despite her depression, Gina fell pregnant again, and her fifth child turned out to be a blessing in disguise. While nursing her youngest daughter, Gina started losing a bit of weight. Sensing an opportunity, she decided to ride this wave of momentum as long and as hard as she could. 
She started taking walks with the stroller more often, and with the help of her other children, unknowingly started a run/walk program. Her eldest daughter would push the pram, and Gina would run ahead and then run back to the pram. Slowly but surely, the distances grew, and her weight continued to drop. 
Then on the 8th of February 2018, Gina attempted her first ever 5K run. She completed the 5K successfully, and knew that the tide had turned. Gina had officially become a runner. 
After this transition, Gina focused less on dieting, and more on eating healthy foods that would help fuel her runs and allow her to recover faster. Because she was burning so many calories by running consistently and eating much healthier foods, Gina continued to lose weight. In the end, she dropped 76 pounds by becoming a runner and improving her eating habits.  
The 5 Keys To Gina's Success
Momentum. Even the smallest feeling of momentum can spark a drastic lifestyle change. Gina turned her initial post-pregnancy weight-loss into a lifestyle transformation trigger. 
She used a run/walk method in the beginning. This helped her build her stamina slowly but surely. 
She used her fifth pregnancy to exit the cycle of depression that she had fallen into. This is a dangerous trap. Exercise is one of the best ways to dig yourself out of this hole. 
She ran her first successful 5K run. This is what transformed her into a runner. Now she runs 5k's, 10k's and half-marathons regularly. 
 She started eating healthier foods that would fuel her during her runs and allow her to recover faster as well. 
To read more about Gina's Journey, you can view the full article on
Huffington Post
. 
It's plain to see that running can play an integral part in your weight loss journey, especially if you combine it with healthy eating and you train consistently. 
All the before and after photos in this post provide concrete confirmation that it can be done. You just need upgrade your eating habits, and increase your weekly mileage. When you put these two forces together, losing weight becomes almost inevitable.