First Off -What Is Plantar Fasciitis?
This definition from Mayo Clinic sums it up perfectly. "Plantar Fasciitis is an inflammation of the fibrous tissue (plantar fascia) along the bottom of your foot that connects your heal bone to your toes. Plantar Fasciitis can cause intense heel pain." 
So in really simple terms, Plantar Fasciitis is that horrible pain that you get in your heel, when you run too much, or spend to much time on your feet. The following image illustrates the problem better than words can: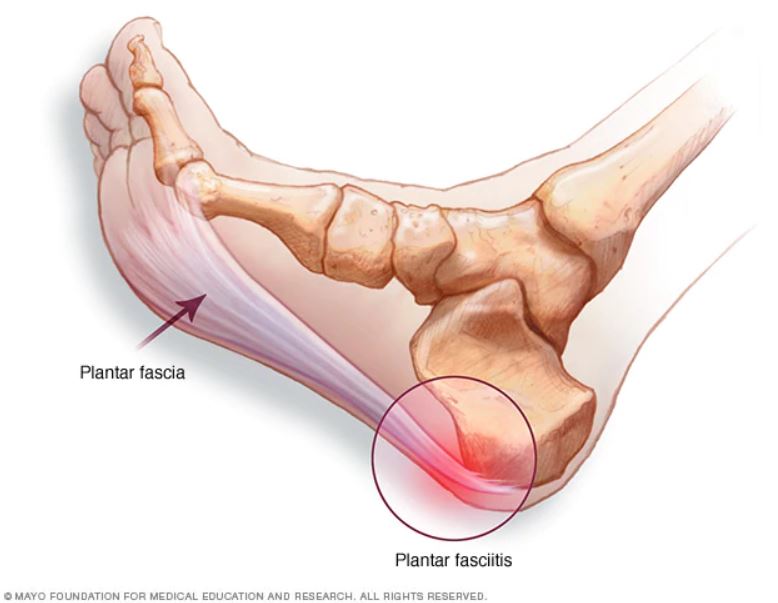 It should be pretty clear from the image above that what really matters here is cushioning. In particular, cushioning underneath the heel area of your foot.
You want something designed to soften the blow, every time your heel makes contact with the ground. You will be glad to know that ASICS have designed cushioning technology, specifically for this purpose.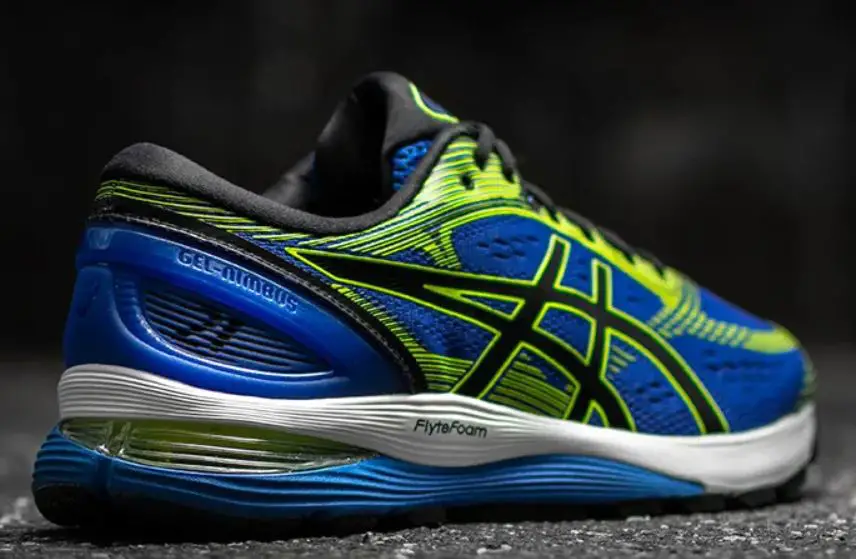 If you have a close look at the image above, you should see a pocket of gel-cushioning in the heel section of the shoe. This cushioning technology is one of the reasons that ASICS has become one of the world's leading running shoe manufacturers.
In short, it reduces the impact force during each stride, and increases shock absorbtion when your foot makes contact with the ground. In so doing, the heel based gel-cushioning makes running a lot more comfortable for people who experience Plantar Fasciitis. 
Do All ASICS have Gel-Cushioning?
Nope. There are plenty of ASICS running shoes that don't feature gel-cushioning.
However, to help simplify things, we've only included ASICS that have rear foot (heel based) gel-cushioning in this round up. It's a prerequisite for being recommended as a remedy for Plantar Fasciitis.
Now that all the explanations have been laid bare, it's time to reveal the shoes 
Best Neutral ASICS for Plantar Fasciitis
The following shoes are all suitable for neutral runners. 
The Gel-Nimbus range is the most popular distance running shoe made by ASICS, and for good reason. 
With the Gel-Nimbus 21, you get rear foot (heel based) gel cushioning and forefoot gel-cushioning, which makes it well suited for people who experience plantar fasciitis. 
In addition, the Gel-Nimbus is built with SpEVA 45 foam, which means it has excellent shock absorption qualities. 
It also includes FlyteFoam, which delivers lightweight yet highly functional cushioning.
Collectively, these three qualities can reduce the impact that you experience during each foot strike, and help reduce the inflammation in your heel over time. 
Bonus Tip – The Gel-Nimbus 20 actually has higher reviews on Amazon than the Gel-Nimbus 21. You will be glad to know that the Nimbus 20 and the 21 have the same cushioning technology, so it's safe to go with your gut when choosing between the two. 
Like the Gel-Nimbus, the Gel-Cumulus also features gel-cushioning in the heel area of the shoe, and it is also built with SpEVA 45 Foam. 
The main difference between the Cumulus and the Nimbus is that Cumulus only offers gel-cushioning in the rear foot. This separates it from the Nimbus, which offers gel-cushioning in the rear foot and the forefoot. 
The Gel-Cumulus is basically a slightly lighter (and cheaper) version of the Nimbus. It's better for speed training and shorter distances, but not quite as beefed up for long distance training.
It's also the only shoe in this roundup that caters for neutral runners, and people who underpronate (the opposite of overpronation). 
So if you want a fast ASICS that still has enough cushioning to help remedy your Plantar Fasciitis, the Gel-Cumulus is definitely worth a look. 
The GT-2000 range is another heavy hitter from ASICS. Like the Nimbus, it features rearfoot and forefoot gel-cushioning, making it ideal for those who suffer with intense heel pain. 
The GT-2000 is also the only shoe in this round up that caters for Neutral Runers and Stability runners. From a stability perspective, it's sandwiched between the Gel-Nimbus (neutral) and the Gel-Kayano (stability).
So if you can't figure out if you need a neutral shoe or a stability shoe, the GT-2000 is a pretty safe option. You will essentially be opting for a premium distance shoe with maximum cushioning and a good amount of arch support.
Best ASICS Stability Shoe for Plantar Fasciitis
Interestingly, ASICS only has one pure stability running shoe for Plantar Fasciitis. It's called the Gel-Kayano 25. 
In terms of popularity, the Gel-Kayano rivals the  mighty Gel-Nimbus. It's also a premium quality long distance running shoe used by marathon runners across the world.
With the Gel-Kayano 25 you get gel-cushioning in the rear foot and forefoot, together with the following shock absorbing technologies:
DuoMax Support System: This duel-density midsole system enhances support and stability. 
DuraSponge Outsole – This rubber compound provides enhanced cushioning and durability in the forefoot. 
FlyteFoam – This is ASICS lightest ever foam, that is also highly responsive, and helps to cushion your foot during each stride. It is the platform on which all the latest ASICS running shoes are built. 
Long story short, the Kayano 25's are best for people who need stability running shoes, and also suffer from Plantar Fasciitis.
In this post, we've provided a pretty solid roundup of all the ASICS running shoes that are particularly well suited for people who suffer Plantar Fasciitis. The only thing left to do is choose the model that's right for.
We hope this summary of the available options has been helpful. If you want any more tips or info, please let us know using the comments below. 
Are You 100% Sure About the Neutral vs Overpronation Thing?
This is a fair question. When you buy premium running shoes, you want to know to know that you are choosing the right shoe for your foot type.
Fortunately, ASICS have created this pretty simple guide below. 
It clearly shows that:
Gel-Cumulus caters for: Underpronation + Neutral 
Gel-Nimbus caters for: Neutral
GT-2000 caters for: Neutral + Overpronation
Gel-Kayano 25 caters for: Overpronation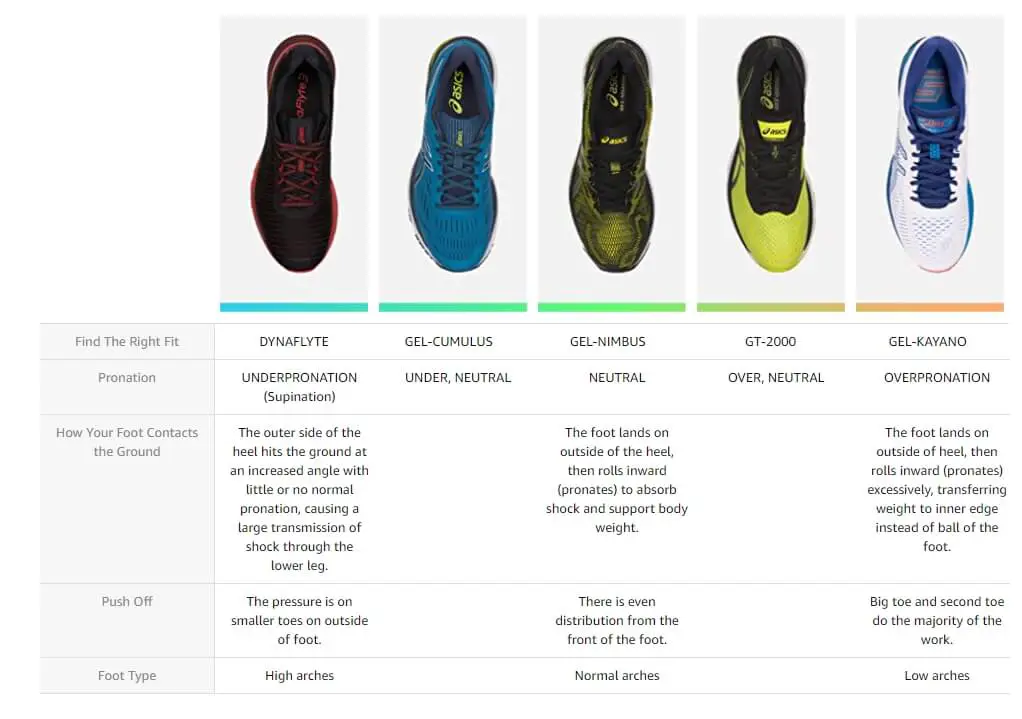 Resources Used In This Post