We have one simple mission with this post. To provide a breakdown of the key differences between the original Fenix 5, and the upgraded Fenix 5 Plus. Let's get stuck in.
Features Exclusive to Fenix 5 Plus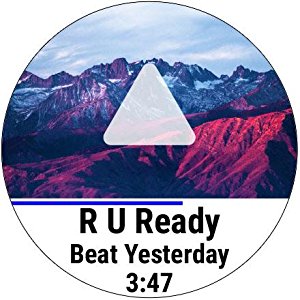 All the Fenix 5 Plus models give you the ability to store music on your watch (about 500 songs). You can also play music through streaming services like Deezer. Basically, there's no reason to carry your phone for music, if you upgrade to any model in the Fenix 5 Plus family.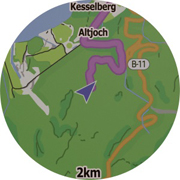 TOPOActive Maps In All Models
With the first generation, only the Fenix 5X included topo maps. This is now standard in all the 5 Plus models. Topo maps provide topographic detail with terrain contours, searchable points of interest and turn-by-turn directions on roads and trails.
Basically, this is what makes the Fenix 5 Plus the best GPS watch for hiking, trail running, mountain biking and mountaineering.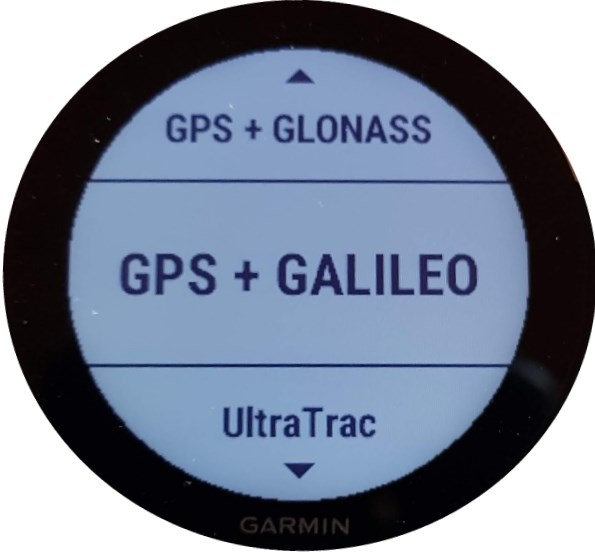 Galileo is the European global navigation satellite system (GNSS) that went live in 2016.  For those that don't know, GPS is essentially American tracking technology, GLONASS is Russian tracking technology, and Galileo is European tracking technlogy. 
Personally, I don't think this is a deal breaker, but it needs to be pointed out.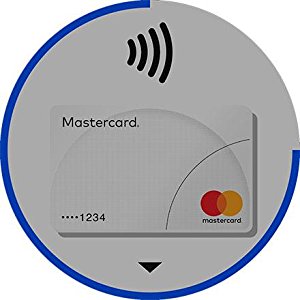 This feature is exclusive to the Fenix 5 Plus family. Long story short, it allows you to make payments using your watch. Together with the in-built music storage, it means you don't need to carry your phone or your wallet when you train. That's pretty cool. It's essentially the same technology that's built into the Apple Watch.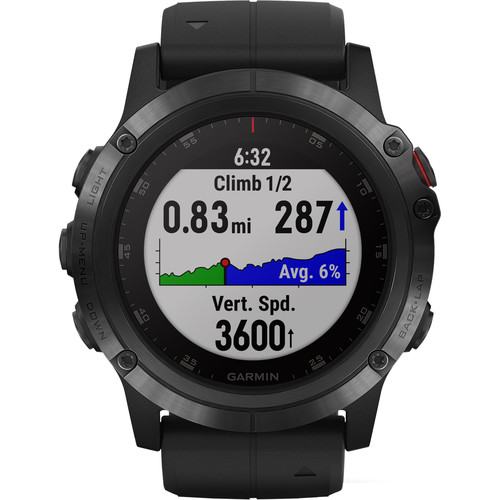 ClimbPro gives you a better understanding of all the upcoming climbs along your training route. It detects all the climbs, and makes all the important information available to you as you approach it. This includes:
Distance remaining in the climb
Ascent remaining in the climb
A chart with a profile of the climb
Average gradient for the climb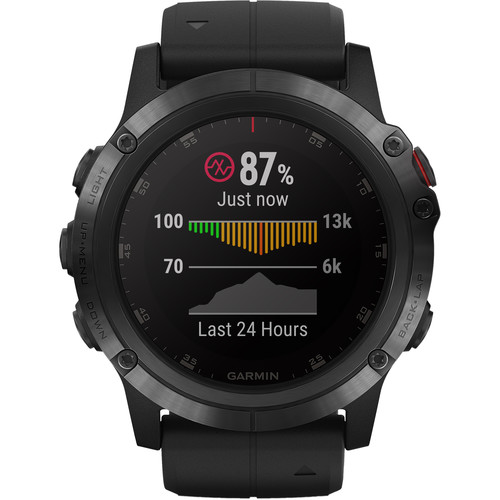 Pulse Oximeter (Fenix 5X Plus Only)
As mentioned, only the Fenix 5X Plus includes the pulse oximeter. What does this even mean? Basically, the 5X Plus can measure the proportion of oxygenated haemoglobin in the blood in pulsating vessels, especially the capillaries of the finger or ear.
This is only relevant to people that want to ascend mountains such as Kilimanjaro, Mount Everest and K2. It's inconsequential to 99.9% of the population.
Similarities Between Fenix 5 and Fenix 5 Plus
We've already highlighted the main differences between the Fenix 5 and the Fenix 5 Plus. Let's take a quick look at the features they share, so you can get a better understanding of just how powerful the original Fenix 5 is.
GPS + GLONASS
Wrist Based HRM
24/7 Activity Tracking
Built-in Compass and Gyroscope
Barometric Altimeter
Open Water Swimming
Multiple Sports Modes
Suitable for Triathlons
Wi-Fi and Bluetooth Connectivity
Smartphone Notifications
Running Power
Fenix 5 vs 5 Plus - Comparison Chart
We summed up the key differences between the original Fenix 5 and the Fenix 5 Plus at the beginning of the article. The comparison chart below simply highlights those differences in a table, together with a few extra details.  
Galileo Tracking
Pay using watch
Music Storage
TopoActive Maps
Garmin ClimbPro
Pulse Oximeter
Price
So which one should you buy?
To answer this question, it can be super helpful to use the guideline questions below. 
If you enjoy listening to music while you train
This one is pretty obvious. You should go with the Fenix 5 Plus. The built-in music storage will serve you very well. 
If you're a trail runner, mountain biker, hiker or mountaineer
If this is you, it's definitely worth upgrading to the Fenix 5 Plus. It gives you access to:
Topo Maps
ClimbPro technology
Built-in compass
Gyroscope 
Barometric altimeter
All of the features above will be super helpful when you head into the mountains. 
If you want the most advanced multisport GPS Smartwatch in the world
Again, you have to go for the Fenix 5 Plus. It is the very best that Garmin has to offer.
If you're a triathlete, you don't necessarily benefit all that much from the additional features offered by the 5 Plus. If you fall into this camp, it's perfectly safe to opt for the original Fenix 5, or the Forerunner 935.
The only exception here is if you enjoy listening to music when you train. If that is the case, the Fenix 5 Plus is the way to go. 
Again, it comes down to whether or not you want music while you train. If you do, look at the Garmin Forerunner 645 Music or the Fenix 5 Plus. If you don't need music playback,  the original Fenix 5 or the Forerunner 235 are perfectly capable and a whole lot cheaper than their music playing counterparts. 
My hope is that this article has made it simple enough to understand which Fenix 5 model is right for you.
Regardless of which one you choose, you can't really go too far wrong. They are both extremely powerful multisport GPS watches that will serve you well in just about every endurance sport known to man. 
While Fenix 5 Plus may be the better of the two units, you have to be deeply invested in music playback to truly justify the extra cost.