The goal here is simple. You enjoy triathlons, and you want to figure out exactly which watch you should buy. We are going to help you make that decision with confidence.
Best Budget Friendly Triathlon Watches
Before we even get started it's worth mentioning that each of the smartwatches included below can power you through a full length Ironman. That's how good these units are. We've also refined the list so that it only includes the most reputable brands. 
Let's have a look at these budget-friendly beasts.
Suunto Spartan Trainer Wrist HR
When Suunto released the
Spartan Trainer Wrist HR
back in 2017, the sports tech world took notice. After years in the wilderness, Suunto assembled a very well priced multisport GPS watch that could easily be dubbed a poor man's Fenix 5.
I should probably edit that out, but the point is, from a triathlon perspective, they are actually comparable. Why do I say this? Mainly because the Spartan Trainer Wrist HR excels in the following areas:
Outdoor Running

Outdoor Cycling

Open Water Swimming
Together with the wrist-based HRM and highly accurate GPS, it has all the key ingredients needed for a fully fledged triathlon watch. 
Minor Drawback of the Spartan Trainer Wrist HR: The only minor drawback of the Suunto Spartan Wrist HR is that it doesn't measure heart rate data 24/7. In other words, it measures your heart rate with the Wrist-based hrm, but only when you select an exercise mode.
Regardless, that's a small price to Pay for such a powerful triathlon watch.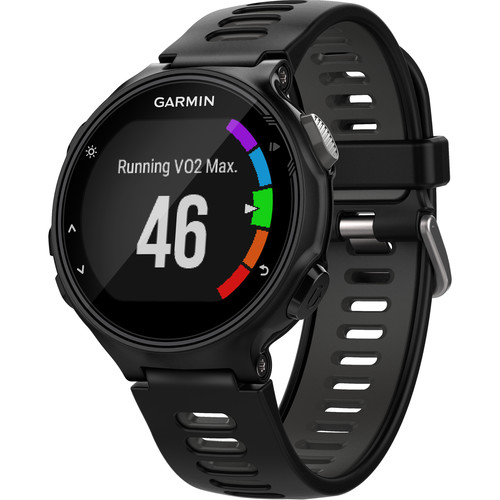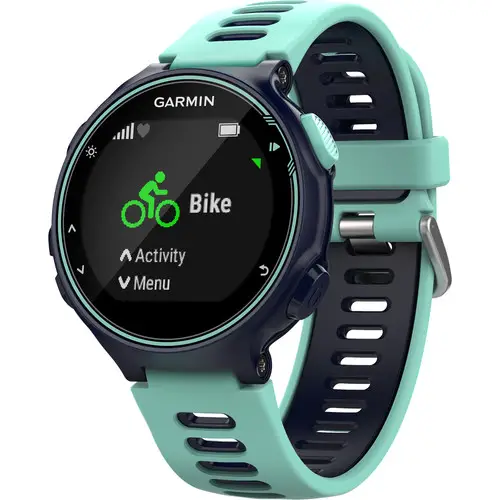 When the F
orerunner 735XT
was originally released, it was a little bit pricey. However, as the years have gone by, the price has dropped significantly, to the point that it can now be considered a budget friendly unit. 
Let's start off with the some of the best features. The Forerunner 735XT was designed primarily for triathletes. It's a fully fledged multisport watch, which basically means you can shift between sports during a single training session (or race). This is precisely what makes it so good for triathlons, because you only need to push one button to shift from swimming to cycling and then to running. 
As a running watch, it is very capable. It gives you all the functionality of the Forerunner 235, which is a dedicated running watch. This includes pace, distance, elevation, stride length, cadence, heart rate and even your strava suffer score. 
For swimming, it's worth mentioning that the HRM effectively switches off. Most optical (Wrist-based) heart monitors don't handle swimming very well, and the FR735 is no exception. In essence, this means you need a chest strap to record your heart rate when swimming. It will still track your distance and pace when swimming, so this definitely isn't the end of the world, but it needs to be said. 
With cycling, the
Forerunner 735XT
is also very capable. It gives you all the metrics you would expect, and after some firmware updates, it can actually sync to certain bike computers, if you want to view all the data from your watch on your bike computer.
The other option is to use a plastic bike mount if you don't want to glance at your watch when cycling. 
Minor Drawback – Battery Life: The average ironman contestant takes 12 hours and 35 minutes to complete the race. The GPS battery life of the 735XT is only 14 hours. That is too fine a margin if you ask me. It means the battery life could cut off if you do the Ironman in an average time or slightly slower than average. 
This shouldn't be a problem for most people, but if you're planning on tackling a full length Ironman, you might need to invest in a watch with a slightly longer battery life. 
Polar have really hit the nail on the head with the Polar Vantage series. The Vantage M is exactly where Polar want it to be – in that zone where amazing technology comes at a reasonable price. 
1) World's Best Wrist-based HRM – Simply put, Polar's updated optical heart rate technology makes every other product seem juvenile in comparison. 8 LEDs and 4 metallic contact points combine to create an average reading, that requires the watch to be in full contact with your skin, in order to register correctly. 
2) Insane Battery Life – With a 30 hour battery life in GPS Mode, the Vantage M dominates some of the higher end watches in this round up (most notably the Garmin Forerunner 935). Long story short, it will cover you comfortably during any endurance event. You could realistically complete two full length ironmans, and the Vantage M would still be going strong. 
3) 130+ Sport Profiles – From a multisport perspective, the Vantage M is stacked to the nines. There are 130 sports modes to choose from, so it's pretty safe to say that it has you covered, regardless of which endurance sport you enjoy.
From a triathlon perspective, it excels where you need it to, giving you excellent performance with outdoor running, open water swimming and cycling tracking. It also tracks indoor running, indoor cycling and pool swimming with ease, so you know it has you covered with every conceivable form of triathlon training.
Minor Drawback of the Vantage M – No Barometric Altimeter:  This is not a huge drawback, but it's worth mentioning. This is mainly relevant for trail running where an altimeter gives you better incline and decline measurements when tracking your route. 
Bare in mind that the Suunto Spartan Trainer Wrist HR and the Forerunner 735 also don't have altimeter, so it's not the only budget-friendly triathlon watch that's missing this particular feature. 
Bonus tip
 – To improve you heart rate readings when using the Vantage M (or any smartwatch for that matter), you need to move the watch higher up your wrist. It should be about 2 inches from the base of your hand. If the watch is too close to the base of your hand, you could get compromised readings. Now you know 
Best Triathlon Watches That Money Can Buy
Ok. Now that the super powerful lightweights have been introduced, it's time to bring in the heavy hitters. I've only included the best of the best in this section. I've also concentrated on the bundle version of each product, because the simple reality is that you need a chest strap to get the best possible heart rate readings in all three triathlon disciplines. Let's get stuck in. 
Garmin Forerunner 935 Bundle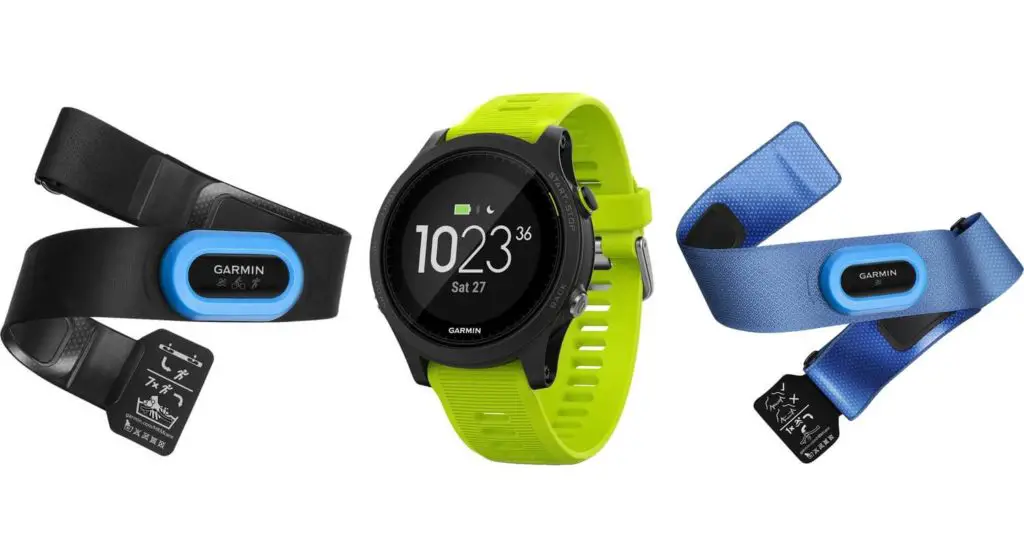 There's a good reason that
the Garmin Forerunner 935
has become the most popular triathlon watch in the world. It wears this crown, because it
includes every single triathlon specific function that Garmin has to offer. 
It is ultimately what the Forerunner 735XT wishes it could be, a Fenix 5 tailored specifically for triathletes. So why has the FR935 achieved such widespread popularity?
Advanced Running Metrics: When paired with the HRM Tri Belt (included in the bundle), the FR935 gives you advanced running metrics, including cadence, stride length, ground contact time and vertical ossiclation. These stats can also be unlocked using the Garmin Running Dynamics pod, if you choose not to go for the bundle. 
Wrist-based HRM: All the watches in this roundup include wrist-based HRM, and the FR935 is no exception. 
Excellent Multisport Features:
 Like all the watches in this roundup, the
Forerunner 935
excels where it needs to, namely running, cycling and open water swimming. Naturally it also tracks the indoor versions of these sports, together with a bunch of other sports. 
Quick-release Mechanism: This might not seem like a big deal… unless you're a triathlete of course! This is a huge plus for the FR935, because it means you can attach the unit to your bike (rather than your wrist) during the cycling section of the race. 
Includes 2 Chest Straps (Bundle version only): As mentioned, the unit comes bundled with two chest belts: Now you might be wondering, why do I need two chest belts? Check out the quick answer below:
HRM Swim: This is your go to chest strap for pool swimming specifically. It sticks to your body much better than a standard Chest strap. In other words, you don't have to wear a swim suit or tri suit to keep this chest belt firmly in place. 
HRM Tri: You use this chest strap on race day, or when you are doing multiple disciplines (swimming + running or cycling) during a training session. 
Enhanced Battery Life: We pinpointed battery life as the key weakness of the 735. Fortunately, the 935 is perfectly capable in this regard. At 24 hours in standard GPS mode, it can power you through just about any endurance event in the world. If need be, you can also set the battery to UltraTrac mode, which pushes it to 60 hours. 
The Polar Vantage V might just be the best the best Triathlon Watch that has ever been made.
With this watch, Polar took aim at elite triathletes, and they hit the nail on the head!
Here are 4 reasons that make the Vantage V a force to be reckoned with. 
1) World's Best Wrist-based HRM: Like the Polar Vantage M, the Vantage V also includes the world's leading optical heart rate technology (include point about HRM swimming). Long story short, Polar's updated optical heart rate technology leaves every other competitor in the dust. 
2) Running Power From The Wrist: The Vantage V is the only activity tracker in the world that gives you running power from the wrist. Every other watch in this roundup which require a footpod in order to measure running power. By opting for the Vantage V, you can save all the money that you would need to spend on a Stryd sensor.
3) Optimized for Running, Cycling & Swimming: Polar really have done something special here. The Vantage V excels in each triathlon discipline.
4) Excellent GPS Battery Life: The Vantage V gives you 40 Hours of battery life in standard GPS mode. All the other watches require a diluted GPS mode to achieve this kind of performance for such a long time. Not so with the Vantage V. It gives you 40 hours of uninterrupted, pure GPS measurements. Whichever way you slice it, that's impressive.
Minor Drawbacks of the Polar Vantage V:
1) The smartwatch features could be better – It's perfectly fine that Polar focused almost exclusively on how well this watch measures your performance during endurance exercise. The only issue is that they dropped smart notifications in the process. This is set to be fixed with a firmware update but still, it should have been available from the very first day the watch hit the market. 
2) It lacks routing technology. In other words, you can't select a route and then let the watch guide you through it. This is something that can be done on the Forerunner 935, the Fenix 5 and even it's predecessor, the Polar V800. 
If you aren't familiar with the Suunto brand, take note. The
Suunto 9 Baro
is the best multisport watch in Suunto's lineup. 
It usurped the Suunto Spartan Ultra as Suunto's No.1 during the latter half of 2018. It is Suunto's response to the Fenix 5 Plus, and it can also grapple comfortably with the Forerunner 935 and the Polar Vantage V. So let's just say that it's a pretty big player. 
Let's take stock of the best features of the Suunto 9 Baro:
1) Insane Battery Life – In terms of battery life, the Suunto 9 is literally as good as it gets. Depending on what setting you choose, the battery can last from 25 – 120 hours, depending on what setting you choose. This puts the Fenix 5 Plus, the Forerunner 935 and the Polar Vantage V to shame. So if you're looking for the triathlon watch with the longest battery life, it's safe to say you've found it.  
2) FuseTrack Technology – This is the technology that allows the Suunto 9 to achieve such amazing feats with the battery. Here's how it works. In ultra saving battery mode, the GPS signal is intermittant (approximately every 60 seconds). FusedTrack fills in the dots between each GPS communication, using motion sensor data from the built-in accelerometer. 
3) Pairs well with Stryd Sensor – Yes, you need to purchase the Stryd sensor in order to actually benefit here. The point is, the Suunto 9 does a great job of displaying running power and cycling power stats, essentially allowing you to customize the watchface when you switch from running to cycling. 
4) Excellent Multisport Features – Like the Suunto Spartan Trainer Wrist HR, the Suunto 9 can guide you through any triathlon race. The biggest difference is that the Suunto 9 Baro includes a Barometric Altimeter, which essentially means that it is much better for trail running and hill training. Then obviously the battery life of the Suunto 9 is much better than the Spartan Trainer, and it also comes in a bundle with a chest strap (a must have for triathletes). 
Biggest Drawbacks of the Suunto 9 Baro


a) Suunto dropped GLONASS reception. The industry trend is to have GPS, GLONASS and even GALILEO, so a lot of Suunto fans will be left disappointed by this decision. It's a noticeable chink in the armour. 
b) No female friendly version – The Suunto 9 is very similar in size to the men's Fenix 5 Plus. A lot of women might find it too big for a smaller wrist. This is not the end of the world, but if you are looking for a female friendly version of the same thing, the Fenix 5S or the Fenix 5S Plus might be the better option.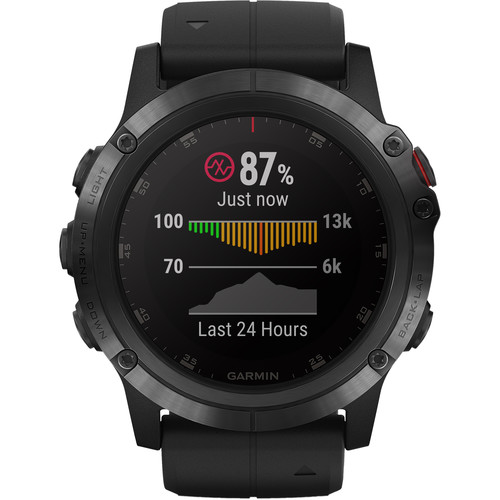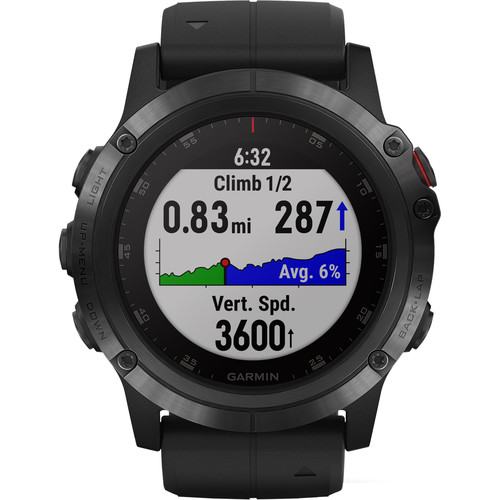 Of course we have to mention the
Garmin Fenix 5 Plus
. Smart watches don't get more beefed up than this. 
For a quick summary, the Fenix 5 Plus essentially has all the features of the Garmin Forerunner 935, plus a whole lot more. Of these features, these are the ones that matter most:
Built-in Music Storage:  The 5 Plus is the only watch in this post that has the ability to store music on the watch. That's a really nice addition, especially for indoor training which can be a lot more enjoyable with tunes. 
TOPOMaps: This is more relevant to trail runners, but it needs to mentioned. The Fenix 5 Plus includes TOPOActive maps, which gives you amazing route and navigation capabilities when you head into mountainous terrain. 
Contactless Payments: The Fenix 5 Plus also gives you the ability to pay for things using your watch only. Again, the Fenix 5 Plus is the only watch in this roundup that boasts this ability. 
In addition to the features listed above, the Fenix 5 Plus also gives you:
Wrist-Based HRM
Advanced Running Metrics
Excellent Multisport (Triathlon) Capabilities
So what are the drawbacks of the Fenix 5 Plus?
In short… the price. The Fenix 5 Plus is almost 3 times more expensive than the Polar Vantage M, which is a lot to pay for a multisport watch. It's a highly capable unit, but if you are on a tight budget, you need to look elsewhere. 
Which one would I choose, if I had to pick, today?
To me, this boils down to a two horse race. The strongest contenders in the world right now are:
If you're purely interested in triathlon specific performance data?
Go for the Vantage V. It's as good as it gets for triathlon specific metrics. Running power from the wrist is a massive bonus, and the training recovery stats can help you tweak your training to unlock performance gains. 
If you want the most well rounded product with excellent triathlon features?
Go with the Forerunner 935 bundle. It will give you everything you need for a full length triathlon and it's also a very capable smartwatch. It's essentially a Garmin Fenix 5 without the overbearing pricetag. You can't go wrong with this choice.