The Garmin Venu is an extremely well-rounded GPS sports watch with a beautiful AMOLED HD touchscreen. It's extremely similar to the Garmin Vivoactive 4, except it has a higher resolution screen, and a slightly higher price tag.
Then we have the Apple Watch Series 5. As one of the most impressive Smartwatches in the world right now, the Apple Watch 5 delivers where it really matters for wearable tech fans.
It has a gorgeous high res touchscreen, the battery life has been improved, the operating system is super smooth and super fast, and you can download a ton of different apps. It also has a respectable measure of in-built sports modes, together with an impressive optical heart rate monitor and a pretty accurate GPS coverage.
But which of these two watches is better suited to your needs? To help you make the right call, we are going to use some super simple comparison tables to make the differences and the similarities crystal clear. 
Garmin Venu vs Apple Watch 5 - Key Similarities
Apple Watch 5
Garmin Venu
GPS
Wrist HRM
Activity Tracking
Indoor + Outdoor Running
Indoor + Outdoor Cycling
Indoor + Outdoor Swimming
Music Storage & Apps
Accelerometer + Gyroscope
Barometric Altimeter
Compass
Bluetooth + WiFi
Payments from Watch
Menstrual Tracking
Running Power Support
Waterproof Rating
Advanced Running Dynamics
Triathlon Mode
Apple Watch 5 vs Garmin Venu - Key Differences
Apple Watch 5
Garmin Venu
Screen Resolution
Weight
Cellular (LTE) Version
Open Water Swimming
Android Compatible
GLONASS + GALILEO
Sleep Tracking
24/7 Activity Tracking
Golf Mode
Stress Tracking
ANT+ Support
Smartwatch Battery Life
GPS Battery
Sports & Fitness Modes
Comparison of Sports Modes
| Apple Watch 5 Sports Modes | Garmin Venu Sports Modes |
| --- | --- |
| 01) Indoor Running | 01) Strength Training |
| 02) Outdoor Running | 02) Cardio Training |
| 03) Indoor Cycling | 03) Elliptical Training |
| 04) Outdoor Cycling | 04) Stair Stepping |
| 05) Indoor Rowing | 05) Floor Climibing |
| 06) Yoga | 06) Indoor Rowing |
| 07) Hiking | 07) Yoga |
| 08) Pool Swimming | 08) Running |
| 09) Open Water Swimming | 09) Treadmill Running |
| 10) High Itensity Interval Training | 10) Indoor Track Running |
| 11) Indoor Walking | 11) Skiing |
| 12) Outdoor Walking | 12) Snowboarding |
| 13) Elliptical | 13) Cross Country Skiing |
| 14) Stair Stepper | 14) Stand up paddleboarding |
| 15) "Other" | 15) Rowing |
| | 16) Cycling |
| | 17) Indoor Cycling |
| | 18) Pool Swimming |
| | 19) Golf Mode |
| | 20) Walking |
Reasons to choose the Garmin Venu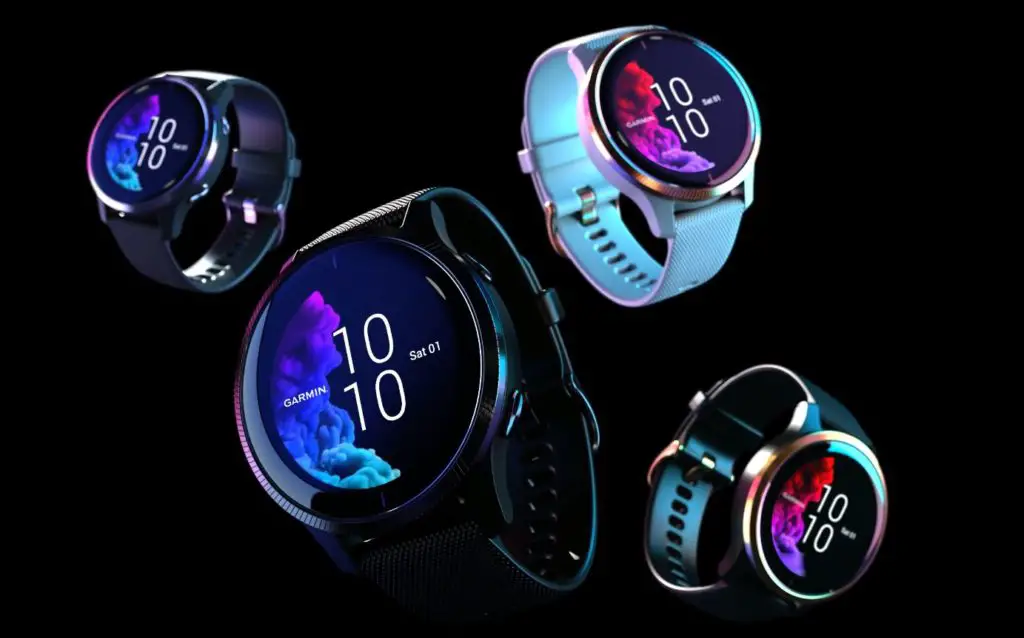 Even though Apple has introduced some minor battery upgrades to the Apple Watch 5, it still doesn't cut the mustard when compared to leading Garmin, Polar and Fitbit products.  The super short 18 hour battery life means the Apple Watch can't track your sleep (unless you take your powerbank to bed with you).
On the other hand, the Garmin Venu has advanced sleep tracking. It will measure your total sleep, together with a breakdown of light, deep and REM sleep stages. 
Garmin's body battery score is a pretty cool concept. It basically combines your heart rate data, training data and sleep data into an overarching metric called 'Body Battery Score'. It's a fun and simple way to keep tabs on how your body is reacting to your lifestyle (be it good or bad). 
Pulse Oximeter (Blood Oxygen Measuring Device)
While both watches have a built-in wrist-based heart rate monitor, you will have to choose the Garmin Venu if you want access to a Pulse Oximeter.
Just in case you don't know, the point of a pulxe oximeter is to measure your blood oxygen saturation levels. In essence, the Garmin Venu uses the pulse oximeter to assess how well your body is absorbing oxygen during the day and while you sleep. This is a stat that you simply can't access with the Apple Watch 5. 
Garmin actually rely on FirstBeat's technology to measure your stress levels. The Venu uses changes in your resting heart rate to assess how stressed or relaxed you are feeling over the course of day. This data is then used to provide automatic notifications when abnormalities occur or something seems to trigger a stressful event. 
The Garmin Venu Is Better For Runners
There are 2 main reasons the Venu is better for runners.
1 – The GPS Battery Life is much longer (20 hours on the Venu, 8 hours on the Apple Watch). This means you can make it through a full length ultra marathon without worrying about battery life cutting off before your reach the finish line. 
2 – You gain access to Garmin Coach: This is surprisingly cool feature that allows you build customized training plans for 5K, 10K and 21K races. You enter your target time, and the Garmin Venu does the rest, pre-planning all the training sessions you need to follow in order to hit your target time on race day. 
The Garmin Venu Is Better For Cyclists
Again, there are 2 reasons for this.
Reason 1 – Because the battery life and the GPS battery life are so much longer on the Garmin Venu, it's much easier to engage in multiple training sessions during a typical weak without running into battery issues. 
Also, if you enter a super long race, you could potentially run out of battery with the Apple Watch 5. You are unlikely to counter this problem with the Garmin Venu's 20 Hour GPS battery life.
Reason 2 – The Venu supports ANT+ connectivity. ANT+ is a bit like bluetooth for cycling accessories. It allows you to pair your device with heart rate monitors, cycling computers and other cycling accessories in real time. 
Sadly, the Apple Watch 5 doesn't support ANT+ connectivity, and this is unlikely to change any time soon. 
It has more built-in Sports Modes
With the Apple Watch 5 you get 15 sports and fitness modes baked into the watch. With the Garmin Venu, you get 20 sports and fitness modes. 
The main differences are the outdoor sports modes like Rowing, Stand up paddle boarding, snowboarding and skiing. 
Even though you might be able to download a similar 3rd party app on the Apple Watch 5, it's unlikely to compete with Garmin connect in terms of the metrics and data that the watch can record during these outdoor activities. 
Ultimately, if you do lots of different sports or you specialize in running or cycling, the Garmin Venu is probably the better choice. 
Reasons To Choose the Apple Watch 5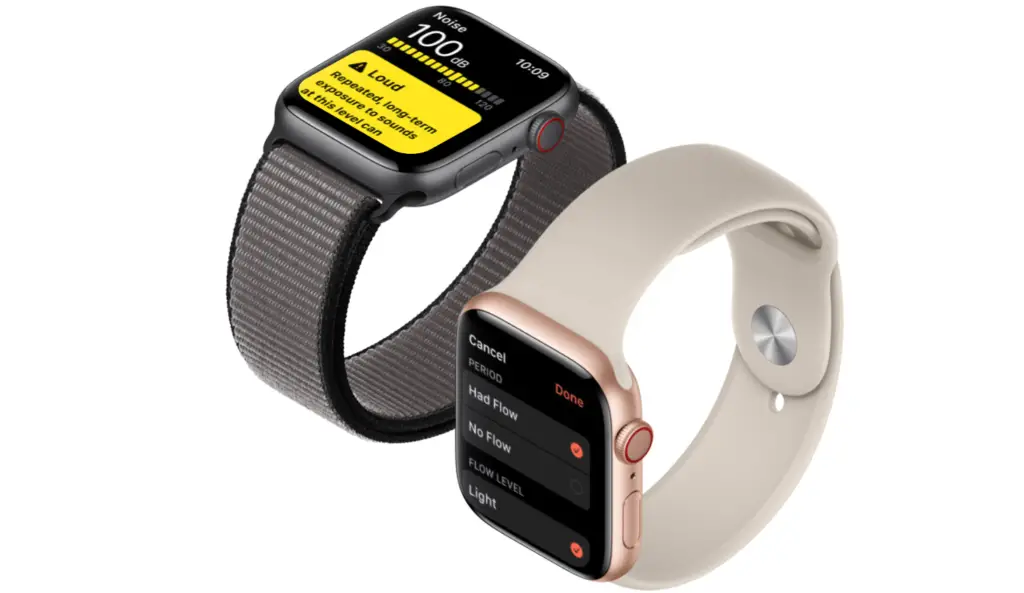 Higher Resolution, More User-Friendly Screen
First off, it's worth clarifying that the Garmin Venu also has a super high definition screen. In fact, it's one of the key selling points of the watch. 
However, it can't quite match the overall quality of the Apple Watch 5. In essence, it will give you higher pixel density, a sharper overall image and deeper colors. Also, the square shape of the Apple Watch touchscreen is a bit more practical than the circular equivalent in the Garmin Venu.  
The Operating System Is Better
You don't have to be an Apple fan boy to appreciate just how impressive Watch OS really is. Where the Garmin Venu gives you very limited options for customization, the Apple Watch 5 is basically an iPhone packaged into the form factor of watch.
Any smartphone user will find the Apple Watch 5 very seamless to navigate. Ultimately, everything loads smoothly, and it requires very little time to become confident in your abilities to navigate through Watch OS, activating whatever app, fitness mode or setting that you would like to open. 
It Supports Thousands of Apps
While there are quite a few apps available for the Garmin Venu through Garmin Connect IQ, the simple reality is that the Apple Watch 5 gives you access to a boatload more apps. 
Perhaps more importantly, these apps aren't limited to sports and fitness modes. You can download to-do list apps, games, calculators, music apps, messenger apps and so much more. 
Ultimately, it safes to say that the Apple Watch 5 is much closer to a Smartphone than the Garmin Venu will ever be. 
While both watches offer full-on swim tracking with SWOLF metrics, only the Apple Watch 5 can measure open water swimming. To help clarify this difference, let's use some simple bullet points:
Garmin Venu – Pool Swimming Only
Apple Watch 5 – Pool Swimming + Open Water Swimming
It removes the need to carry your phone (LTE version only)
If you opt for the LTE version of the Apple Watch 5, there is literally no need for you to carry your phone when you go hiking, trail running or mountain biking. 
This is because you can literally make phone calls with the LTE version. It's a bit like having a phone on your wrist.
Regardless of whether you use this feature or not, it's reassuring to think that if something did happen during one of your outdoor activities, you could contact emergency services or loved ones if you needed to. 
Apple Pay Is Better Than Garmin Pay
There are 2 main reasons that Apple Pay Beats Garmin Pay. 
Apple pay is supported by more banks in the United States and the United Kingdom
Garmin Pay is limited to 30 dollars (in the US), whereas Apple pay doesn't have a spend limit
Personally, I wouldn't rely on my watch to pay for most things (call me old school, it's okay). However, if your local stores support NFC payments, it's pretty nifty that you can pay for anything with the Apple Watch 5, if you want to.  
In terms of price point and features, the Apple Watch 5 and the Garmin Venu are actually quite well matched.
Where the Apple Watch 5 has a significant advantage over most Garmin watches in terms of screen quality, the Venu can actually hold it's own with it's HD AMOLED touchscreen. Ultimately, choosing between these two watches comes down to this (in my opinion):
If you want a super versatile smartwatch with an excellent screen and an impressive selection of sports modes – Go for the Apple Watch 5. 
If you want a good looking GPS sports watch with a high-res screen, excellent health and fitness features and a boat load of sports modes – Go for the Garmin Venu.
Resources Used in this Post