In this post, we are going to compare two of the biggest hitters in the wearable tech arena.
The Polar Vantage V vs the Garmin Fenix 5 Plus
. Both of these watches were released in 2018, and they both carry the flag of being the best multisport GPS watches that Polar and Garmin have ever released.
To begin, we are going to unpack some of the most imporant differences between these two watches.  
Polar Vantage V - Built Specifically For Endurance Athletes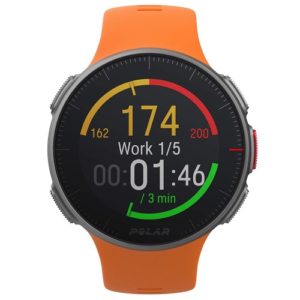 One thing is clear from the release of the Polar Vantage V. Polar is no longer trying to compete with Garmin in terms of total features.
The Vantage V is a streamlined product, meaning that every ounce of functionality is connected to either running, swimming or cycling. Polar have essentially designed a product that will satisfy the needs of the best Ironman triathletes in the world. If you are runner, cyclist, swimmer or triathlete, the Vantage V will give you everything you need and more.
Garmin Fenix 5 Plus - Built For Everything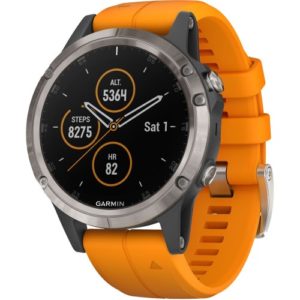 The Fenix Plus is the most advanced multisport GPS watch in the world (right now), catering to the needs of everyone that exercises in just about any setting. Here's a very basic formula which explains what the Fenix 5 is, from a Garmin perspective. Garmin Fenix 5 Plus = Garmin Forerunner 645 Music + Garmin Forerunner 935  + Garmin Vivoactive 3. It combines everything that Garmin has to offer, in a single package.
Polar Vantage V - Best Wrist-based Heart Rate Monitor In The World Right Now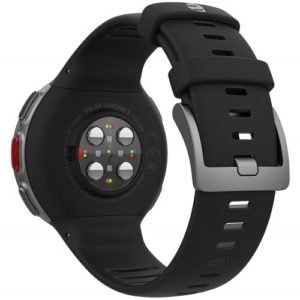 Traditionally, Polar has always been the industry leader in heart rate monitoring technology for athletes. With the Polar Vantage V, they have continued this lineage, with an optical HRM that blows everything else out of the water.
In essence, the Vantage V combines optical heart rate measurement with skin contact measurement to rule out unreliable readings. There are also 9 LED's packed into this HRM, which improves the reading for darker skin tones.
This review from clevertraining.com sums up the power of the optical HRM quite nicely: "This is hands down the best wrist HR I've ever used from a fitness device and being darker skinned I've had many issues from other devices,  especially Garmin. "
The optical HRM in the Garmin Fenix 5 is exactly the same as the optical HRM in the Forerunner 30, the entry level GPS watch in Garmin's range. Garmin's elevate HRM technology is perfectly fine for most people, but the Vantage V clearly dominates the Fenix 5 in this regard.  
Garmin Fenix 5 Plus - Built-in Map & Routing Technology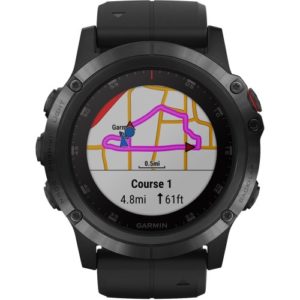 Every product in the Fenix 5 Plus Family includes TOPO mapping. This is insanely powerful route navigation technology, which sets apart the Fenix 5 from every other product in the market right now. 
This technology is extremely useful for trail runners, hikers and mountain bikers that tackle mountanous terrain regularly. 
The Fenix 5 Plus also gives you access to trendline routing, which uses millions of routes from Garmin Connect to show you popular tracks that you might never discover without Garmin's technlogy. This can make your training more interesting, more fun, and more adventurous.  
Is is also worth mentioning that the Polar Vantage V doesn't  have routing capabilities. While you can obviously see your training routes after you finish your training, you aren't able to plan a route, and then let the watch guide you.  
A lot of Polar fans have been left disappointed by the Vantage V in this regard. It's actually a step backward from the V800, which was released way back in 2014. This is a strange decision by Polar. Let's hope they reintroduce this functionality via a firmware update in 2019.
Garmin Fenix 5 Plus - Built-In Music Storage
The Fenix 5 Plus includes 3.5GB of in-built music storage, which works out to about 500 songs. The Polar Vantage V doesn't include built-in music storage. In fact, Polar are unlikely to ever release a product with built-in music storage, given their decision to strip out functions that aren't fundamentally important to endurance activities.  
For some people, built-in music storage might seem like an optional extra, but for people who enjoy exercising with earphones, it's an absolute gamechanger. The main benefit is that you don't have to carry your phone in one of those awkward running pouches. All you need to do is invest in a decent pair of bluetooth headphones, download your favorite tracks onto your Fenix 5, and then hit the ground running… literally. 
Polar Vantage V - Built-In Running Power from the Wrist
The Vantage V is the only multisport GPS watch that can calculate running power from the wrist. In other words, you don't need any accessories in order to access and analyze your running power stats.
It is possible to access your running power stats using the Fenix 5 Plus, but to do so, you need to invest in either the Garmin HRM-Run Chest Belt, the Garmin HRM-Tri Chest Belt, or the Garmin Running Dynamics Pod. This will add between $100 and $200 dollars to your total cost, if you decide to purchase one of these accessories, and the Fenix 5 Plus. 
Garmin Fenix 5 Plus - Contactless Payments
The great thing about contactless payments is that you really don't need to carry your credit card when you take the Fenix 5 Plus for a spin in an urban setting. Together with the music storage functionality, this eliminates the need for your phone and your wallet during training sessions. The net result is a super convenient training experience.
Garmin Fenix 5 Plus - Significantly better smartwatch capabilities
The Fenix 5 Plus is most definitely the better Smartwatch. Music storage, contactless payments, smart notifications and a host of other features make the Fenix 5 Plus more favorable as a Smartwatch. The Vantage V will introduce smart notifications via a firmware update, but it really isn't trying to do battle with the Fenix 5 on this front.  
Garmin Fenix 5 Plus - Golf mode
This only pertains to golfers, but it needs to be mentioned. The Fenix 5 has built in golf mode features which allow you to download your favorite courses and then use your GPS to get accurate distances when you are on the course. Polar is unlikely to ever release a watch with golf functionality, given their decision to focus their efforts primarily on running, cycling, swimming and other endurance exercises.
Ok. So now we have a pretty good understanding of the key differences between the Polar Vantage V and the Garmin Fenix 5 Plus. But we're not done just yet. Now let's take a quick look at the both the similarities and the differences, side by side, using some simple tables. 
Which one would I choose, if money was no object?
I'm a huge fan of the wrist-based HRM technology in the
Vantage V
and both watches would give me more features and technology than I actually need. 
I also like the look and feel of the Vantage V. It has a simple yet sophisticated design, and the bevel of the watch buttons give it a premium feel that a lot of GPS watches don't have. 
But the winner of this duel is the Fenix 5 Plus, if you remove money from the equation.
It remains the gold standard in terms of what a Multisport GPS Smartwatch is capable of. It is Garmin's pinnacle multisport product, and there is nothing in the market that can truly compete with it in terms of overall functionality. 
Which of these two products gives you better value for money?
This is also a no-brainer. The Polar Vantage V gives you much better bang for your buck. It's a triathlon ready Multisport GPS watch with an exceptional optical heart rate monitor and in-built running power from the wrist. Polar has built it to cater to the needs of professional athletes that need advanced training load and physical recovery metrics. In fact, you could argue that the Vantage V is the better choice for triathletes, period. 
There are 1 or 2 drawbacks (lack of routing tech and pending smartphone notifications), but for most people, this isn't particularly important. For instance, I deactivate smartphone notifications on all my watches, because I find it very annoying to be disrupted all the time. Also, if you really want route data, you can just use mapmyrun to discover some awesome new routes in your area. 
I think most Polar fans will be very happy with the overall quality of the Vantage V. It's so much better looking than the Polar V800, the optical HRM is world class, and it has everything a professional endurance athlete needs to monitor their training and recovery metrics in extreme detail. 
On the other hand, Garmin fans will be glad to know that the Fenix 5 Plus is still king of the wearable tech market. 
Regardless of which option you choose, if you invest in either one of these products, you will have made a pretty good decision. With that being said, it all boils down to this.
If your primary concern is quality data to enhance your endurance training, the Vantage V the better choice and it's significantly cheaper.
Alternatively, if you want a watch that can go anywhere, do anything and make most of your friends jealous, the Fenix 5 Plus is what you need.